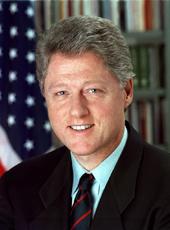 Remarks at the State Dinner Honoring President Carlos Menem of Argentina
Good evening. Welcome to the White House and to this wonderful dinner. As you can see, we had so many people who wanted to be here, who love Argentina and respect you, Mr. President, that we're in more than one room tonight. But we're all happy to be here, and Hillary and I welcome you all.
Mr. President, we hope that we have, in some small way, repaid the hospitality you showed us during our unforgettable visit to Argentina in October of 1997. At our dinner in Buenos Aires, I cited the memory of Domingo Sarmiento, who loved the United States but who complained that we ate our meals far too fast, often in 5 minutes or less. [Laughter] Tonight I hope our guests from Argentina will see that we value constructive criticism. This will be a long, leisurely meal. [Laughter]
The friendship between our two peoples reaches back to our earliest days as sister republics. In fact, our first envoy to Buenos Aires was sent well before there was a nation called Argentina. In 1810, as Joel Poinsett was leaving to take up his post in Argentina, he was instructed by the State Department to "promote the most friendly relations" between us, and remember that all nations lie under—and I quote—"a common obligation to maintain that system of peace, justice, and good will which is the only source of happiness for nations."
Mr. President, those words are still a good description of our warm, rich, friendly relations. We share aspirations old and new, to deepen democracy, to strengthen justice, to educate our children, to preserve and enhance what we have inherited from our descendants, and to give other peoples a chance to live as peacefully and as prosperously as possible at the dawn of this new century.
Now, there are certain disputes we will never resolve, like which country has the better beef or whose cooks have better mastered the ancient art of barbecue. [Laughter] But as we approach the 200th anniversary of our official relationships, our friendship has never been stronger. We have a common enthusiasm for the future and a common parallel in our history: two nations generously blessed, blessed by nature, blessed by hard-working immigrants eager to build a better life.
Mr. President, I know how much this legacy means to you personally. It says a great deal about Argentina that a child of Syrian immigrants would grow up to be its President. It is remarkable to consider how far you have come and how far the nation has come under your leadership in the last 9 years.
Over the last decade, the world has undergone a remarkable transformation. Nowhere has it been more dramatic or complete than in the Americas, where Argentina has led by its example at home and its commitment abroad to freedom and democracy, to peace and prosperity. A great deal of the credit for South America's achievements and for its promise belongs with the man we honor this evening.
Borges once wrote a poem about our great 18th century theologian Jonathan Edwards. It included this line: "Today is tomorrow and yesterday." Tonight let us remember the best days of our past and plan even better days yet to come. But first, let us enjoy an unhurried dinner together. [Laughter]
I ask you to join me in a toast to the President and to the people of Argentina.
NOTE: The President spoke at 8:33 p.m. on the State Floor at the White House. The transcript released by the Office of the Press Secretary also included the remarks of President Menem.
William J. Clinton, Remarks at the State Dinner Honoring President Carlos Menem of Argentina Online by Gerhard Peters and John T. Woolley, The American Presidency Project https://www.presidency.ucsb.edu/node/229171