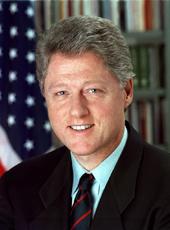 Remarks at the State Dinner Honoring President Andres Pastrana of Colombia
Ladies and gentlemen, good evening. Mr. President, Mrs. Pastrana, members of the Colombian delegation, distinguished guests, it's a great pleasure to welcome all of you to the White House for this dinner in honor of the President and the First Lady of Colombia.
Today President Pastrana and I worked hard to advance the partnership between Colombia and the United States. Tonight we celebrate our friendship, among friends. It is a long friendship, indeed, going back to our struggles for independence, including, as President Pastrana discussed today, an alliance in war as well as peace.
After all these years, the United States remains captivated by Colombia, by the power of Colombian art, the force of Colombian literature, and I might add, the strength of Colombian coffee. [Laughter] Indeed, if ever a prize is given to any of the people who negotiated the peace treaty at Wye, something will have to be given to Colombia, for without the coffee it would not have occurred. [Laughter]
The United States is grateful for the many contributions Colombians make to our national life, as students, teachers, athletes, and every occupation between.
Mr. President, your election this summer marks the beginning of a new era in your country's history and in our long relationship. Bravely, you have placed Colombia on the path to peace. You have taken hard steps toward renewed prosperity. We look forward to walking with you into the 21st century. We still have much to learn from and to give to each other.
We live in a hemisphere on a planet growing ever smaller. In our independence, every day we grow more interdependent. If we would be strong, we must lift others. If we would fulfill our own promise, we must help others live their dreams. We must, in short, go forward together.
In the last phrase of what has famously become known in the United States as my favorite novel, "One Hundred Years of Solitude," our guest and friend tonight, Gabriel Garcia Marquez, says, "Races condemned to 100 years of solitude did not have a second opportunity on Earth." In the 21st century let us move away from isolation, solitude, loneliness, to build 100 years of an American family together.
Ladies and gentlemen, I ask you to join me in a toast to the President and First Lady of Colombia and to the people of their great land.
NOTE: The President spoke at 8:50 p.m. in the East Room at the White House. In his remarks, he referred to Nohra Pastrana, wife of President Pastrana. The transcript released by the Office of the Press Secretary also included the remarks of President Pastrana.
William J. Clinton, Remarks at the State Dinner Honoring President Andres Pastrana of Colombia Online by Gerhard Peters and John T. Woolley, The American Presidency Project https://www.presidency.ucsb.edu/node/225323