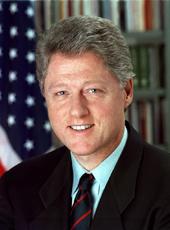 Remarks at the State Dinner Honoring King Mohamed VI of Morocco
Ladies and gentlemen, Your Majesty, members of the Moroccan delegation, welcome all of you to the White House this evening. No foreign guest is more deserving of a warm welcome here than King Mohamed.
Your Majesty, as I said this morning, it is well known that when the 13 separate States of America declared themselves the United States, your ancestor, Sultan Sidi Mohamed, was the very first sovereign to recognize our new Nation.
The greatest heroes of our early history were the strongest proponents of friendship with Morocco. The treaty of friendship between our Nations was urged on Congress by Benjamin Franklin, drafted by Thomas Jefferson, signed by John Adams, and affirmed by George Washington in a letter to the Sultan. Our treaty of friendship is the oldest American treaty of its kind still enforced today.
In the two centuries since it was first signed, we have seen much to admire and be grateful for in our friendship. As the Arab nation which lies closest to the West, you have been a bridge across cultures. You have a proud tradition of independence, known the world over for your generosity and hospitality. The oldest property owned by America on foreign soil is one of the most beautiful buildings in Tangier, a gift to our country from yours.
Your Majesty, Hillary and Chelsea have visited your country three times now. They have been charmed again and again by the special character of Morocco, the warmth and hospitality of your people, the beauty of the mountains and the Madinahs, and especially your generosity of spirit.
For centuries, your land has been a model of religious tolerance. When she was there, Hillary asked people throughout your country, "Where did you learn this tolerance?" And over and over again they said, "We learned it from our parents." In Morocco, Your Majesty, that appears to be especially true of kings.
During World War II, your wise and courageous grandfather blocked efforts of the Vichy government to identify and label Moroccan Jews. Decades later, your father bravely opened a dialog with Israel, paved the way for the Camp David accords, and proved it is possible to be commander of the faithful and a bridge between faiths.
I was honored and humbled to represent the United States in Rabat last year to show our respect and affection for your father. I will never forget setting forth on foot from the Royal Palace to the mausoleum and seeing hundreds of thousands, indeed, millions of mourners on rooftops and treetops and along the side streets, surging toward the cortege, expressing their deep devotion to him.
I am pleased to tell you tonight that we are establishing, in honor of your father, the King Hassan II Memorial Scholarship Program to enable students from Morocco to study here in America and to study subjects close to the King's heart, international affairs and conflict resolution.
The people of Morocco also have immense devotion to you, Your Majesty. You have emphasized the need to improve schools for children and create jobs for their parents. You have moved to heal old wounds, promote political freedoms, protect human rights, and reach out to your people.
You have shown the courage and vision to elevate Morocco as a model of openness, prosperity, and inclusion. This is vital, not only for Morocco but also for people far beyond your borders. Friends of peace and tolerance are needed now, perhaps more than ever, as we approach the moment of truth in the Middle East peace process.
Your Majesty, America is eager to continue and to deepen our two-century-old friendship. We are eager to work with you toward a world of greater hope and understanding across cultures and continents. In that spirit, we welcome you again to the land shown such favor by your forefathers.
Welcome to America. Thank you for your friendship, and may it last forever.
NOTE: The President spoke at 9:24 p.m. in a pavilion on the South Lawn at the White House. The transcript released by the Office of the Press Secretary also included the remarks of King Mohamed VI.
William J. Clinton, Remarks at the State Dinner Honoring King Mohamed VI of Morocco Online by Gerhard Peters and John T. Woolley, The American Presidency Project https://www.presidency.ucsb.edu/node/227117