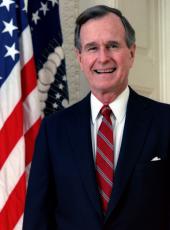 Remarks to the Staff of the United States Mission to the United Nations in New York, New York
Thank you all so much, and thank you, Jim. First, I should say I think our Secretary and his distinguished team did an outstanding job out there in Wyoming. I hope, in a sense, what happened there will make your work easier during this session of the General Assembly. But in any event, I think it sent a good, positive signal around the world, and we're very grateful to him, and Susan, too, who was out there as well in Wyoming for this unique diplomatic effort. The Secretary introduced the fishing because he caught fish and Mr. Shevardnadze didn't. [Laughter] It was a vicious assault on the Soviet Union.
But I want to thank the Pickerings. If you want to get a job done, you send the best. And Tom has served as perhaps our most senior Foreign Service officer, and it was thus for me a great privilege, really, to nominate him here. The fact that he was -- willingness to come to New York and take on this most important diplomatic assignment that we have I think sends a good signal to the United Nations as to the importance we place on it, and I think it sends a good signal to the Foreign Service. I hope it does because I have great respect for the Foreign Service. But all I know is, we've got a class act up here in both Pickerings, and I'm delighted that we're here with them today.
Barbara asked me to see how many would confess to being old enough to have been here in 1971 and '72. There's the little cadre of old folks over here, and they don't look so old. Wait a minute. [Laughter] Right out here. There's a few.
But I don't want to get too nostalgic, but my first introduction to the formality of diplomacy, as one who had a Nash Rambler when he came here and then was driving around in a great big Cadillac, was when we came out of one of these crowded receptions -- you know, where the traffic is held and you go around the block and everything. And I'm always a little restless and want to get on to the next thing. And some may remember Jerry Aprile -- well, Jerry would stand on the corner. All the other drivers would be standing out there, you know, and Jerry would be in the corner and go -- [the President whistled] -- [laughter] -- down here, and Barbara and I loved the guy and -- sped things up terrifically.
But look, I know that it's not easy serving in New York. I know the difficulties of housing and all of these things, but I am grateful to all of you. Tom tells me we've got an outstanding mission here. I'm going to go over there today and express the support I feel in my heart for the efforts of the United Nations. And I hope, in a sense, that that might not be necessary, but I hope it's helpful to your very important work, whether it's in the Economic and Social Council, or whether it's in the Political Office here, or whether it's in -- whatever it is, whatever side of the equation. Because I think the U.N. is in a very interesting phase here where it's moving much more effectively in the peacekeeping field, as well as continuing its longstanding efforts -- and productive efforts, I'd say -- in economic and social side.
So, keep up the good work. This gives us a chance to come back and say thank you very, very much for what you did way back there, this handful of sturdy souls who remain, and say to the rest that have come here since we left: You're doing a first-class job, and your country is proud of you.
Thank you very much.
Note: The President spoke at 10:55 a.m. at the U.S. Mission. In his remarks, he referred to Secretary of State James A. Baker III and his wife, Susan; U.S. Representative to the United Nations Thomas R. Pickering and his wife, Alice; and Soviet Foreign Minister Eduard A. Shevardnadze.
George Bush, Remarks to the Staff of the United States Mission to the United Nations in New York, New York Online by Gerhard Peters and John T. Woolley, The American Presidency Project https://www.presidency.ucsb.edu/node/263381