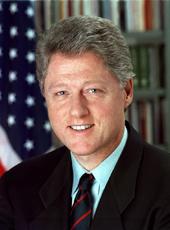 Remarks on the Situation in the Balkans
Good morning. Before we depart, I'd like to say a few words about the situation in Kosovo. Over the last several days, we have struck hard at Serbia's machinery of repression and at the infrastructure that supports it. Our humanitarian relief operation is bringing life-saving supplies to refugees in Macedonia and Albania. Our military is doing its part to help there, too.
I'm gratified by the efforts of all involved and confident that, after 2 weeks, NATO is determined to persist and prevail. If anything, Mr. Milosevic's actions have strengthened the unity and resolve of our allies.
As our strikes have intensified, Mr. Milosevic has tried to rearrange the facts on the ground by declaring a cease-fire while holding his borders—closing his borders to fleeing refugees. But the fundamental reality is unchanged. Attacks on innocent people continue. Refugees who were pushed from their homes by force now see their escape routes blocked by force.
Mr. Milosevic still thinks he can manipulate the situation by cynically using innocent people. He hopes that we will accept as permanent the results of his ethnic cleansing. We will not, not when a quarter of Kosovo's people are living in refugee camps beyond Kosovo's borders, not when hundreds of thousands more are trapped inside, afraid to go home, but unable to leave.
If we settle for half-measures from Mr. Milosevic, we will get nothing more. And what we have from Mr. Milosevic today is not even partial compliance but the illusion of partial compliance. We and our allies have properly rejected it.
President Milosevic must withdraw from Kosovo his military police and paramilitary forces; they are responsible for the violence. He must permit deployment of an international security force, for we have seen in the past that this is the only way to ensure his promises are kept. He must allow the unconditional return of our refugees because their expulsion from their homes and their land cannot be tolerated.
He must take these essential steps as we move toward self-government and security for the people of Kosovo. In the meantime, we will continue to do all we can to help the victims of the tragedy.
Today the First Lady is going to Dover Air Force Base in Delaware, the main east coast departure point for humanitarian supplies, where a C-5 aircraft, our largest transport plane, loaded with humanitarian daily rations headed for Albania and Macedonia, will be stocked. Thus far, we have seen 800,000 of the 1.1 million daily rations we've pledged for the region.
I am deeply gratified that the American people have placed over 15,000 calls to the 1-800 number I announced Monday to make donations. I also know that many churches and other religious institutions have been taking up collections and sending them in; we are grateful for that as well. I ask the American people to continue their steadfast support. I believe that they will. I am confident we will prevail.
Thank you very much.
NOTE: The President spoke at 10:53 a.m. on the South Lawn at the White House, prior to his departure for Philadelphia, PA. In his remarks, he referred to President Slobodan Milosevic of the Federal Republic of Yugoslavia (Serbia and Montenegro).
William J. Clinton, Remarks on the Situation in the Balkans Online by Gerhard Peters and John T. Woolley, The American Presidency Project https://www.presidency.ucsb.edu/node/228873