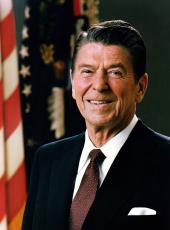 Remarks at the Signing of the United States-Costa Rica Extradition Treaty in San Jose
I don't know how long he's going to talk.1 I, of course, could not understand without interpretation, but I was informed that he was expressing the Communist viewpoint. And I think, again, a tribute to democracy-he was allowed to do so here in this democracy. We wouldn't be allowed to do so in a Communist country. [Applause] Thank you. Thank you very much.
1 Following the signing of the treaty, President Monge spoke, and President Reagan was to respond. Before the President could begin, however, the leader of the Peoples Revolutionary Movement, a member of the Legislative Assembly, interrupted the proceedings by reading from a letter he had written.
I hope he'll forgive me, but a refugee from the Soviet Union told me of a story that was widespread among the people of Moscow. And what they told each other in a line of humor was that if an opposition party should be allowed in the Soviet Union, they would still be a one-party country, because everyone would join the opposition. [Laughter]
But, Mr. President, and you ladies and gentlemen, I thank you for your gracious welcome. From the schoolchildren who greeted me at the airport last night to you distinguished leaders gathered in this beautiful hall, the people of Costa Rica have extended to our party open-hearted and generous hospitality. I know you're world-famous for this, but I feel so very much at home here. I hope that ours is a special bond.
I'm especially grateful for the opportunity to renew the personal dialog with President Monge, a distinguished statesman committed to the democratic ideals I share. Americans and Costa Ricans—we are all of the New World. Our people live the peaceful revolution of democracy, secure under the rule of law and prospering through economic freedom. But there are outsiders who would exploit our rich, new world by undermining the democratic systems that make us free.
We of this hemisphere must stand together so that we can continue to improve the quality of life for our people. We must be strong enough, our people prosperous enough, and our democracy stable enough to remain independent, at peace, and free.
Now, there are many who speak of democracy and pluralism and of their respect for the rule of law. But as a Costa Rican President of the last century, Jose Joaquin Rodriquez, said, "I am not impressed by hearing proclamations of great principles. What I admire is the men who know how to put them into practice." Well, Costa Rica is a proud example of a free people practicing the principles of democracy. And you have done so in good times and in bad, when it was easier and when it required great courage.
Your commitment to freedom was evident last February when, as every 4 years, you elected a new government. In October, you led the region's democracies toward recognition of principles for a lasting, humane peace in Central America. And just last month, President Monge spoke eloquently in Washington about democracy and of the commitment of all democratic nations of the region to an Elections Institute, an advisory body to assist other countries in developing the practice of democracy and which will be a specialized branch of the Inter-American Institute of Human Rights in San Jose.
Costa Rica's foundation of democracy and law, as President Monge said in Washington, is your guarantee of peace. He put it this way: "Violence, war, and guerrillas lose their support when the people enjoy free elections and when their vote is respected." James Fenimore Cooper, an American writer of our frontier, said much the same when he suggested that "the man who can right himself by a vote will seldom resort to a musket."

President Monge and I have met three times this year, and I've learned from him and from the record of this country the depth of Costa Rica's dedication to the founding principles of Western civilization. And I've learned of the significant progress toward democracy elsewhere in Central America.
Today, Central America faces renewed challenges to its self-determination as agents of unrest seek to impose new forms of the imperialism and tyranny that we threw off so many years ago. These counterfeit revolutions also threaten the prosperity that is the legacy of peace in this beautiful land. The future challenges our imagination, but the roots of law and democracy and our inter-American system provide the answers we seek.
In your efforts to bring new opportunity, stability, and peace to the region, the Costa Rican people can be very sure you will have the steadfast support of the people of the United States.
The only real route to peace, to lasting peace, is the well-chartered course of Costa Rica—commitment to democracy, rejection of extremism and the force of arms, and respect for human rights and the rule of law. It also includes reliance on international law such as the Rio Treaty, essential to your national defense and fundamental to our common security. Our new bilateral extradition treaty, President Monge, is indicative of our joint commitment to the rule of law.
What we strive for is a hemisphere where the future is determined not by bullets but by ballots, a hemisphere of countries at peace with themselves and one another and at peace with the world. The peace we've known has been a precious asset for the Americas. Instead of allocating a great share of their resources on military spending, the developing countries of this hemisphere have invested in the future. And this has been no accident. From the Pan American Union to the Treaty of Rio de Janeiro and the Organization of American States, this hemisphere has been in the forefront of multilateral, international cooperation. No other region of the world can match our record.
These are not mere words. We have, and will continue to practice, what we proclaim. The United States will continue to support the new democratic institutions in Honduras and the developing democratic processes of El Salvador. Any nation destabilizing its neighbors by protecting guerrillas and exporting violence should forfeit close and fruitful relations with the people of the United States of America and with any people who truly love peace and freedom.
The meeting of democratic nations here in San Jose on October 4th showed us anew the way toward peace and stability. We applaud the Costa Rican Government for that initiative and for its continued leadership in this regional democratic effort. We join you willingly. Democratic states have a unique role in the moral history of the world, because our governments are accountable to the governed and are less likely to abuse their own citizens or to attack their neighbors.
The principles of the San Jose Final Act provide a reciprocal, just, and verifiable basis for peace. I call on all states in this region to join in this process of genuine, peaceful reconciliation. In that same spirit, we must also work together to solve the serious economic problems jeopardizing social and political progress.
Central America recorded impressive economic growth in the 1960's and during much of the seventies. This was particularly true in Costa Rica, where hard work and neighborly cooperation in the Central America Common Market paid major dividends. Now those gains are threatened by worldwide recessions, threatened here in Costa Rica and, indeed, throughout the hemisphere.
In order to overcome the recession, we must lay the foundations in each of our national economies for noninflationary, sustained growth. To do this we will need the kind of commitment and determination Costa Rica is showing. Self-discipline is necessary, too. So, too, is mutual accommodation. Borrowers must move to restrict their deficits, but it's just as important that lenders not withhold new funds from countries which adopt effective stabilization plans. Lenders and borrowers must remember that each has an enormous stake in the other's success.
Similarly the integrity of the world trading system must be preserved, so it can serve once again as the great engine of growth. Closed markets must be carefully opened. Open markets must be shielded from protectionism. Our challenge is to make our trading and financial relationships remain a source of prosperity and strength; not become a source of discord and disagreement.
The debt problems facing many nations today are imposing, and we must act together to ensure that we have the tools to deal with them. The resources of the International Monetary Fund are one of the most important of these tools. To assure the adequacy of the IMF resources, the United States has proposed that in addition to an increase in the IMF quotas, there should also be a special borrowing arrangement to meet the demands that may be placed on the IMF where countries need assistance as they seek IMF funding. Those able to do so must act to provide bridging funds.
With regard to the Caribbean area, the United States Congress already has approved the first stage of our strengthened commitment to economic recovery: a supplement to our vigorous economic assistance effort in the Caribbean Basin, bringing to nearly $1 billion the total aid for fiscal year 1982. Our request to the Congress for future aid to the region will also reflect this new, high priority. But the other elements of the program are even more crucial. Investment incentives and duty-free access for most of your products will encourage increased production and stimulate more jobs.
This Caribbean Initiative is not a charity program. We will grow and prosper together to the direct benefit of the workers and enterprises in both of our countries. As I speak here, our Congress has reconvened in Washington, and the trade and investment portions of the Initiative are high on their agenda. From the heart of Costa Rica's remarkable democracy, I appeal directly to the legislative leaders of my country to act quickly and responsibly on this most important legislation. Together, we can attack the social and economic injustices which lead to dissatisfaction and support for radical solutions. And, just as Colombia has already joined the original Nassau four, I call on other developed countries—all of them—to contribute to our efforts.
Earlier this year in Washington, there was an exhibit of pre-Columbian art from Costa Rica. The title of the show was, "Between Continents—Between Seas." Well, this was fitting. But Costa Rica and Central America as a whole are now caught between something else—a struggle of ideas between the violence of false revolutionaries and the reaction of false conservatives. You will always be between continents and seas. But to live peacefully and democratically will require the continued courage and commitment of all the Americas.
I am confident that, together, we will achieve in practice the goals that we have together proclaimed: a Central America where not just some but all countries are democracies, where institutions are based on free and regular elections in an atmosphere of political reconciliation within each state; a Central America returned to the path of substantial economic and social development; a Central America at peace with itself and the world; a halt to foreign support for terrorist and subversive elements working toward the violent overthrow of other governments; an end to arms trafficking, the importation of heavy weapons, and the buildup of armaments and forces beyond that required for legitimate defense; and under fully verifiable and reciprocal conditions, the withdrawal of all—I repeat—all foreign military and security advisers and troops from Central America; in sum, a Central America that lives by the principle of nonintervention, where disputes are settled peacefully and where respect for human rights and the fundamental freedoms of speech, assembly, and religion are as alive and well as they are in the Republic of Costa Rica.
My government will give you and your neighbors the full support of the United States. Our commitment to the Rio Treaty and to the principle of collective security will remain a basic tenet of our policy. Together, we will work toward the economic growth and opportunity that can only be achieved by free men and women. We will promote the democracy that is the foundation of our freedom and stand together to assure the security of our peoples, their governments, and our way of life.
In this way, the land between the continents and between the seas will achieve the vision of another President of Costa Rica. Juan Mora dreamed that this land be "content in peace . . . and its children cut one more ear of corn each day, and cry one tear less."

Thank you very much, and Dios les bendiga y Dios bendiga a Costa Rica. God bless you; God bless Costa Rica.
Note: The President spoke at 11:16 a.m. in the National Theater to members of the Legislative Assembly and their guests.
Earlier in the morning, President Reagan and President Luis Alberto Monge Alvarez met privately at the Casa Presidencial. They then met together with their delegations.
Ronald Reagan, Remarks at the Signing of the United States-Costa Rica Extradition Treaty in San Jose Online by Gerhard Peters and John T. Woolley, The American Presidency Project https://www.presidency.ucsb.edu/node/245929