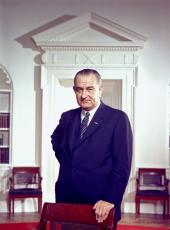 Remarks at the Signing of the Cape Lookout National Seashore Bill
Distinguished guests, Chairmen Jackson and Aspinall, Members of Congress, my friends:
A few months ago I stated that the clear water and the warm sandy beaches of our coastline are our Nation's real treasure, but I also observed that this kind of a treasure is not always secure. The question that many, times faces us is: Will it be owned by a handful of the wealthy people, or will we preserve it for the pleasure of every American?
Will it be strewn with broken glass and rusting cans and commercialized beyond recognition, or will we leave a part of it as God created it and as man found it?
Today our generation meets here in the historic East Room of the White House to repeat its pledge to preserve some of our inheritance, unspoiled, for the generations that are to follow us. Today I repeat my pledge that in the time that may be allotted me as your President I will never slacken for a moment my efforts to make this a more beautiful nation.
This administration intends to be a conservation administration. I do not want my children, or my grandchildren, or those who may come after me that may bear my name, to ever be able to point to blight and trash as their inheritance from me.
We have come here this morning to sign a bill for the creation of the seventh national seashore in America. It is located at Cape Lookout, North Carolina. I am very happy to observe and pleased to compliment you Members of Congress who participated in this record that we have made, by saying that 3 of those 7 national seashores have been established in the little over 2 years of this administration.
Thanks to the generosity of the State of North Carolina and its vision, and the effectiveness and the vision of a truly great conservation Congress led by men who are conservation minded and who are knowledgeable in that field, we are today setting aside a 58-mile stretch of wild and beautiful shoreline for the use of future generations of all Americans.
This will be another important link in the great network of national parks that some of us have worked so long to establish. Today we have more than 26 million acres in 215 park areas from one end of this land to the other. There are really just a few park areas that are left and we are proceeding to meet that challenge with due dispatch.
But despite all the progress that we have already made, the real challenge of conservation is just beginning. Great national parks and great national seashores located in faraway, distant places do not satisfy the needs of the people who are a part of our urban civilization. The serenity of nature must be more than a once-a-year experience-that is, if we are to be a whole and happy people. This experience should touch our daily and weekly lives.
Unless we begin now to restore the environment in and around our cities, where more than 3 out of 4 people are going to be living in the year 2000, we will be condemning a large part of our population to an ugly, drab, and mechanical fate.
I believe that we can avoid that fate.
I see an America where city parks and plazas, as numerous as today's parking lots, bring rest and relaxation to shoppers and to office workers. If I were the mayor of any big city in America today, I would immediately put the best minds in my city to work to plan and program areas within reach of my population, and see if I could effect a coordination between the city, the State, and the Nation so that the people who make up the industrial genius of this empire will have a place to take their kids and to relax and to rejuvenate themselves for the mighty production that may be ahead in the following years.
I see an America where city streets are lined with trees and city courts are filled with flowers.
I live in a little community of 600. My daughter wrote an article last year and they paid her for it. She took the money and put four live oak trees down the plaza of that town. They were planted in memory of her grandmother, as I observed last week. And it made the town look like a different place. The bank planted some flowers in front of its doors. The merchants down the street got some shrubs and put them up there.
That can be and should be and is being done all over America. Because that is an assignment that doesn't have to come out of Washington. That is something that every lady who belongs to a garden club can make a contribution to. That is an assignment that every businessman can contribute to. That is a business getter. People will come to look at his lawn and his window and admire it and maybe make a purchase while they are there.
I see an America where our air is sweet to breathe and our rivers are clean to swim in.
I see an America where bicycle paths, running through the hearts of our great cities, provide wholesome, healthy recreation for an entire family. Instead of our having to appropriate hundreds of millions to take care of juvenile delinquents, how much better it would be if we would just spend a part of it where they could enjoy themselves and have useful recreation.
I see an America where picnic areas are within an hour's drive of every city. I look back to the days of 1935 when President Roosevelt first started our highway parks and I built some 400 of the roadside parks in our State along our highways. And every day when I drive through that area I see family after family out there enjoying that vision that a great leader demonstrated 30 years ago.
I see an America where nearby lakes offer weekend camping and fishing and boating for all of our people.
This is the great conservation. This is the way that we must go.
This will be a large part of the Great Society, because the kind of lives that our children and our grandchildren will lead will depend on the plans that we make today and that you execute tomorrow. They, and history, are going to judge each of us accordingly.
I want to be judged--as we judge the great conservationists of yesterday--as benefactors of our people and as builders of a more beautiful America. We can't leave it as we found it, but we can improve on what we have.
Thank you very much.
Note: The President spoke at 11:10 a.m. in the East Room at the White House. In his opening words he referred to Senator Henry M. Jackson of Washington, Chairman of the Senate Committee on Interior and Insular Affairs, and Representative Wayne N. Aspinall of Colorado, Chairman of the House Committee on Interior and Insular Affairs. During his remarks the President referred to his daughter, Lynda Bird Johnson.
As enacted, the Cape Lookout National Seashore bill is Public Law 89-366 (80 Stat. 33).
Lyndon B. Johnson, Remarks at the Signing of the Cape Lookout National Seashore Bill Online by Gerhard Peters and John T. Woolley, The American Presidency Project https://www.presidency.ucsb.edu/node/238374