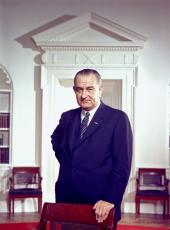 Remarks at the Signing of the Budget Message, Fiscal Year 1970.
Director Zwick, Mr. Hughes, Mr. Schultze, Senator Young, Chairman Mahon, Congressman Bow, other distinguished Members of Congress, and honored guests:
I am so pleased that you could come here and be with us this morning in the East Room of the White House where we will sign and later officially transmit to the Congress the sixth Budget Message since I have been President.
In the budgets covering the years of the Johnson administration, including this one, we will have recommended the expenditure of almost a trillion dollars. When we talk about credibility--it concerns me sometimes because so often it was said we have had to neglect, forgo, abuse, and take from our people because we have defended freedom. Yet, we have provided $969 billion for programs to improve the lives of our citizens and to protect the Nation's security. And more than two-thirds of that total increase in the outlays has gone for domestic activities. So it is true that we are not doing all we should do. We are not doing all we must do. But it is not true that we have ignored or neglected our domestic needs. We have faced up to them, and we have tried to begin to lay the foundation and the platform.
This Government is a compassionate Government and an understanding Government.
I don't know the exact figures, but I believe the budget was in the neighborhood of $5 billion a year when I came here. And to think of the $195 billion we are signing this morning, that shows how far we have moved forward from $5 billion to $195 billion--in my lifetime.
Now, during this period that we have recommended that we spend $969 billion, we have had to defend freedom in a good many parts of the world. We have had an active war going on in Vietnam.
To those of you who lived through World War I and World War II, you know it is very difficult to pay for all of those wars while they are going on. But thanks to the Congress and although they were a little bit late--it took them 2 years to agree to go along with my tax recommendations. And I had to withdraw from the race for President to even get them to do it then because I was convinced that the Republicans really weren't anxious to make me look good as long as I was a candidate---or maybe not any time. I don't know. [Laughter]
But we did get the tax bill passed very shortly thereafter, which saved the American dollar and preserved our fiscal integrity.
Now, during this period when I recommended we spend $969 billion, although we were 2 years late on a tax bill, we took in $936 billion in revenues. The total deficit for this 6-year-period, then, is estimated at $33½ billion.
During that period, we had two tax bills that reduced taxes, and we reduced taxes by $35 billion. So I would like to have it said that we had an overall balance of $1.5 billion during that period. [Laughter]
I am very proud of my family. I think it is the greatest strength that can come to any man. And this morning I am speaking of my official family as well as my personal family. I don't think any President has ever been blessed with three more competent Budget Directors than I have--Kermit Gordon, Charles Schultze, and Charles Zwick.
But really it is the people under them that did this job and that I really want to pay tribute to, notwithstanding the many contributions these great men made. They had several things in common. They were all professors, they were all stubborn, unyielding, and tenacious, particularly with the President. But they were all highly competent. They had this Nation's best interests at heart. They always had a hearing and sometimes they demanded more hearings than pleased me. Generally speaking, they always had their way--not all the time, but most of the time. In the Budget Message this year, we say: "This Nation can and must bear the cost of the defense of freedom, and must at the same time move ahead in meeting the pressing needs we face at home. But caution and prudence require that we budget our resources in a way which enables us to preserve our prosperity, strengthen the U.S.. dollar, and stem the increased price pressures we have experienced in the past few years."
We believe that this budget that is being signed here tries to do that. We believe it will.
I am glad that I was able to report last evening that our estimates of an $8 billion deficit for this year will be turned, we hope and believe, into a $2.4 billion surplus.
I am glad as a result of the counsel between our economic advisers--and I am very proud of them, too, Mr. Okun--I have been blessed with wonderful economic advisers.
If I can just last 3 or 4 more days without a depression, I am not only not going to leave town a bitter man, I am going to leave town a happy man and a thankful man. That will be because of the good judgment that you advisers have given me.
But after conferring with Mr. Nixon's Secretary of the Treasury, his Economic Advisers, his Budget Director, his leaders in the Congress, and our leaders, and their counterparts, we concluded that it wouldn't do much good for an outgoing President to recommend a new tax bill. And with a Democratic Congress, it would be a problem if just a Republican President recommended it.
So I am glad, in the message we made last night, that the two Presidents could demonstrate to all the world that at least for this time being we are united and the two Economic Advisers, the two Budget Directors, and the two Treasury Secretaries--I think it speaks well for fiscal stability in this country. It puts the world on notice that we have fiscal integrity and that we are going ahead and live up to the obligations of the United States Government, and we are going to finance them, and we believe we are going to have a surplus of $3.4 billion in this budget that we submit.
I think it is progressive and responsible. It doesn't go as far as I want it to go in the funding of many domestic programs.
But it does provide some necessary increases. It is many billions above last year's budget--$11.6 billion exactly above last year--$12 billion more.
I don't imagine you have increased your personal budget that much yet, in anticipation of the pay raise I hope you will get.
I think as a result of the staff of the Budget Bureau and their directors that the President gets as good advice from this department as he does from the Joint Chiefs of Staff or any other department of this Government.
In 1965, we estimated that we would have a deficit of $4.9 billion. Actually, we overestimated it. It was $3.4 billion.
In 1966 we recommended we would have a deficit of $5.3 billion. That is what we told the Congress. It was actually $2.3 billion.
In 1967, we estimated $1.8 billion as a deficit. It ran $9.9 billion. We didn't get our tax bill. You will remember we suggested a 6 percent one. We had the problems of the acceleration of the war.
In 1968, we had a very bad year. We recommended a deficit of $8 billion. But we didn't get our tax bill until very late and that deficit was the big one--$25 billion.
In 1969, we thought it would be $8 billion, and it is going to be--instead of an $8 billion deficit--a $2.4 billion surplus, or a change of $10 billion there. In 1970, we expect it to be $3.4 billion. So overall, I am very proud that I can have this last ceremony with the clerical people, the men and women, the career servants that do more to make this Government stable, sure, and competent than any other single group in the Government.
And as long as I live, my family and I will be grateful for the loyal and dedicated service of Mr. Zwick, who has labored under particularly hard circumstances this year.
There is not anything, I think, more difficult than to be caught in between an outgoing President and an incoming President, neither of whom have made up their minds on what they are going to do on taxes.
Mr. Nixon and I have not always agreed on everything. But we have agreed on the desirability at the time being of the surtax and the pay raise for Congressmen. I would like for you to know that he agrees with that, too.
So we are off to a good start. And I want to express my special appreciation to the members of the Appropriations Committee; the distinguished chairmen who are here this morning, Chairman Mahon, Chairman Yarborough, and Chairman Bow--he is a Republican chairman, so I will give him that title; and all of you who have worked with us so generously and cooperatively through the years. I am very grateful to each of you.
Note: The President spoke at 11:05 a.m. in the East Room at the White House. In his opening words he referred to Charles J. Zwick, Director of the Bureau of the Budget, Phillip S. Hughes, Deputy Director, Charles L. Schultze, former Director, Senator Milton R. Young of North Dakota, Representative George H. Mahon of Texas, Chairman of the House Appropriations Committee, and Representative Frank T. Bow of Ohio, ranking Republican member of the Committee. During his remarks he referred to, among others, Arthur M. Okun, Chairman of the Council of Economic Advisers, Paul W. McCracken, Chairman of the Council of Economic Advisers-designate, Robert P. Mayo, Director of the Bureau of the Budget-designate, Joseph W. Barr, Secretary of the Treasury, David M. Kennedy, Secretary of the Treasury-designate, and Senator Ralph Yarborough, member of the Senate Appropriations Committee and Chairman of the Treasury and Post Office and Executive Office Appropriations Subcommittee.
Lyndon B. Johnson, Remarks at the Signing of the Budget Message, Fiscal Year 1970. Online by Gerhard Peters and John T. Woolley, The American Presidency Project https://www.presidency.ucsb.edu/node/236103