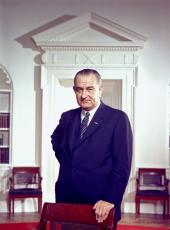 Remarks at the Signing of the Bill Providing for a National Technical Institute for the Deaf.
Members of the Congress, Secretary Celebreeze, ladies and gentlemen:
I want to welcome all of you to the White House and to the flower garden.
If these surroundings seem to be spruced up more than usual today, it is only partly because we were expecting you. It is mainly because the lady of the house returned home last night, and at the White House as in every other home in the land, everything runs better when the wife is at home.
Lady Bird made some news swimming around underwater down in the Virgin Islands. I told her I do that all the time up here without ever leaving dry land.
This is a very welcome and gratifying occasion and I am so happy that you could be here with us.
More than a hundred years ago Abraham Lincoln signed the charter of Gallaudet College here in Washington. From that time until this, Gallaudet stands as the only institution of higher learning in the world for those that are afflicted by deafness.
Americans ought to know more of that fine institution than they do because we can all be proud of it and the work which is done there.
Through a longtime friendship with the late Mary Thornberry, the mother of Congressman Thornberry, I first came to know Gallaudet College. I have been there on a number of occasions and visited with them and I have been inspired and stimulated by the great work that they are doing.
This institution will help to meet the needs of hundreds of deaf young people, both students and adults, who want to be and can be trained for various technical occupations and placed in very useful careers. Deafness is not and need not be regarded as the handicap that men thought it was in the past. Given the opportunity to learn and to prepare themselves, the deaf can fill a wide array of useful and important positions in our industries and our professions throughout our society.
Human talent is our most precious national resource. Strong and successful as America is, we cannot allow any of our human potential to be wasted or neglected. This conviction motivates us now in all that we do in the field of education.
This legislation is another example of the determination of the people of the United States and their Congress that education and all of its blessings must reach every American citizen.
I am personally very grateful to the leadership of Secretary Celebrezze, Commissioner Keppel, Commissioner Switzer for the commitment they have made to this effort. I appreciate especially the support that's been given by Senator Hill and other members of his committee, Senator Morse; by their colleagues in the House, Mr. Powell, Mr. Carey, and other members of the Labor committee; the membership of the committee of both parties in both houses have been helpful in this connection.
I am moved to make this further observation, that sometimes it seems deafness is not simply an affliction of individuals, but an affliction of nations as well. In this day of dramatic change and rapid progress, we have achieved capabilities of communication that were never dreamed of by any man before. We can now communicate sight and sound around the world in a single instant. Even at this moment, as we meet here, we are in communication with the Mariner rocket that speeds one hundred million miles away from earth toward the planet Mars. But here on earth we wait and we listen and we strain to hear with every antenna at our command for that word from other lands which will signify a willingness to talk of peace and a willingness to work for justice.
The will of free men for peace has been broadcast to all the world. We have done it again, and again, and again. The people of this peaceful Nation of which you are a member, the peaceful peoples of every nation, wait and wonder what the answer will be. Will it be the tread of marching feet or will it be the saner sound of softly moving feet of millions and millions walking towards peace.
I say here today as I have said before, our guard is up but our hand is always out; our ears are open and our minds are not closed. If it comes in a whisper or if it comes in a shout, the world will hear and will welcome any word of peace.
This is a country of both courage and compassion. We have no purpose other than peace for mankind--peace that assures freedom to all who choose it, peace that assures honor to all who help keep it. So, then, in this spirit, I am proud today to sign this legislation which in my opinion embodies the compassion and understanding of the American people. And I am glad you could be here to join with us on this occasion.
Note: The President spoke at 12:45 p.m. in the Rose Garden at the White House. In his opening words he referred to Anthony J. Celebrezze, Secretary of Health, Education, and Welfare. Later he referred to Homer Thornberry, Representative from Texas 1949-1964, and his mother, Mrs. William M. Thornberry, Francis Keppel, Commissioner of Education, Mary E. Switzer, Commissioner of Vocational Rehabilitation, Senators Lister Hill of Alabama, Chairman of the Senate Committee on Labor and Public Welfare, and Wayne Morse of Oregon, member of the Committee, and Representatives Adam C. Powell of New York, Chairman of the House Committee on Education and Labor, and Hugh L. Carey of New York, member of the Committee.
As enacted, the bill (H.R. 7031) is Public Law 8936 (79 Stat. 125).
Lyndon B. Johnson, Remarks at the Signing of the Bill Providing for a National Technical Institute for the Deaf. Online by Gerhard Peters and John T. Woolley, The American Presidency Project https://www.presidency.ucsb.edu/node/241280