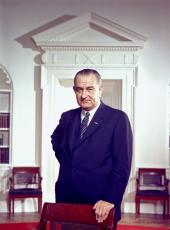 Remarks at the Signing of the Bill Extending the Peace Corps Act.
WE ARE delighted to have with us our very popular and beloved Vice President, the very able and personable Director of the Peace Corps, the dedicated Members of Congress who have worked so faithfully through the years to make this great adventure a success, and we are particularly pleased to have the Peace Corps trainees and the returned volunteers here with us this morning in the Rose Garden.
Those of you here from at least parts of this hemisphere may find it equally as hot here as you have in some of your assignments out there.
I hope that you will come in and pay your respects before you leave the Rose Garden. Bill Moyers has had me up since about 6:30, and about every 15 or 20 minutes he reminds me to be sure to invite all of you in my office before you leave to tell you how wonderful you are, and how wonderful the Peace Corps is. I could say--he did not tell me to say this, but--how wonderful Bill is.
I sometimes wonder whether Bill is really working for the Peace Corps or for the President. I guess the answer is that he is working for both of us all the time and we are very fortunate.
A few weeks ago I announced that conditions in the world--particularly in Viet-Nam--required us to increase the number of American soldiers and Marines in Viet-Nam. I made that decision very regretfully. I did it for a reason. The most awesome burden that any President bears is the responsibility for making a decision that sends the pride of our young manhood-our American boys--to foreign battlefields. But no other course lay open to me in the light of our long-standing commitment to the people of South Viet-Nam. Yet the knowledge that some of our boys would not return rested very heavily on my heart-and still does.
Today I have come here to this beautiful setting, to these very dedicated public servants. Today I shall sign into law another kind of authority that will send Americans abroad. And I pray--I pray--in the years to come only this kind of authority will ever be required by an American President, because it is an authority not for joining a conflict but for continuing the works of peace throughout the world.
The Peace Corps began as a dream. It was the dream of many of us. It was born with the great vision and leadership of that very remarkable man whom we all love and honor--President Kennedy.
I remember the many speeches--that first dozen or so I listened to with great enthusiasm-that Senator Humphrey made on the subject. Then, as the years went on, I kind of wished we would hurry up and pass the bill so we would not have to listen to those speeches every day in the Senate, late in the evening, on the Peace Corps.
I even talked about it myself out at the University of Nebraska in 1960 before the legislation was ever passed. But it began as a dream and it is now a great reality.
So great have been its achievements, such hope that it has given to millions of men and women, such a challenge for useful endeavor has it presented our own young people, that it is really difficult to remember that it was 5 years ago that it was only an idea in the minds of a very few thoughtful men.
But it was a part of the pledge of President John F. Kennedy, that he and I made, to the American people in the campaign of 1960, to lead with imagination and vigor, to constantly search for ways to better the conditions of life on this planet.
Today, under the rather dynamic, personable, and I think very farsighted leadership of Sargent Shriver, and the very unusual, highly qualified people that he has brought to his vicinity, 12,500 Americans are part of the Peace Corps. More than 8,000 are overseas serving their fellow men, and 4,700 of them are in Latin America, 3,800 of them are in Africa, and thousands more are in the Near East and in Asia.
In 45 countries--almost half the countries of the world--they are out teaching school, and they are healing the sick, and they are bringing new methods of farming to the remote areas of the world. They are calling human beings together in a hundred ways to cope with the problems of the city and the village life.
One of the most challenging assignments, and one of the great honors of my career in public life, was when Sargent Shriver and President Kennedy asked me to serve as chairman of the advisory committee for this group, and I had just a little slice of it.
I'll bet you that--I'll venture the assertion--that is a better way to put it--that Vice President Humphrey considers this one of his most noble contributions to Government is his connection with the Peace Corps. And I know you feel that way.
Because there are professors out there in all these countries. There are carpenters. There are plumbers. There are farmers. There are engineers. There are lawyers, nurses, teachers, social workers. The youngest I observed is 18 years old. The oldest is 76 years old. And in between are thousands of men and women who will be able to say to their grandchildren that they answered the call when it came. They ventured forth to an unknown land to give of themselves the very best they had.
I always, when I think of the Peace Corps, think of my high school motto. A little class of six that graduated from my high school said, "Give to the world the best you have and the best will come back to you."
That is what the Peace Corps is doing every place I have been, where I have seen it. That is what your great leader, one of the most remarkable young men in this Nation--you can count among the fingers of your two hands and he rates right up at the top--that is what he is doing and what the people associated with him are doing, from that 18-year-old to that 76-year-old.
I have been in your training camps. I have seen where you have to climb a tree and stay under water and all of those things, and I thank goodness that I did not have to qualify.
But this is a priceless heritage for the generations to come. History is going to be written about your movement, about what you have done, about the contributions you have made to save the world, what you have done to defeat the ancient enemies of mankind--disease, hunger, poverty, illiteracy, bigotry, hatred, and racial prejudice.
You will have kept afire the torch of service that has been a part of America's tradition from the time we were born. You will have reached out across the oceans with more than words and a great deal more than dollars. You will have given your skills and your talents and your understanding to those who really need them, not in condescension, not in a paternalistic way, but in a spirit of sharing what you have with others--leading, and guiding, and counseling, and cooperating, and in a spirit of brotherly love and the Golden Rule: "Do unto others as you would have them do unto you."
Your lives and the lives of your grandchildren will have been enriched beyond measure because for a time they were willingly very poor.
So, I think it is a privilege for me, this morning, to have this very special audience, these contributors. You know we have campaign contributors that buy tickets to the Jefferson-Jackson Day dinners. I don't think many of these people buy them--they sell them but we have contributors to these things, and you are a very special group of contributors to the betterment of humanity and the world.
And it is a great privilege for me to be here to sign this bill, and by doing so make it possible for a larger and a more successful Peace Corps of men and women who carry America, and who carry America's dream of peace and well-being for all men, to the four corners of the globe.
You have done your job so well that every place I have gone, and every ambassador I have talked to, and I have talked to 218 this year--that is about twice as many countries that are represented, but I have seen several of the ambassadors four and five times--but I have never yet had any of them say anything but the finest things about your work.
And now one little personal note to each of you. I appreciate the fact that you have carried on as you have when I had to borrow from your ranks to permit me to carry on. After that terrible tragedy in Dallas I had that night to pull Bill Moyers in here to help us carry on in this house.
And day after day I have had to get Sargent Shriver to come over and take a little of my load off of me--not for the Peace Corps, but in education, and in health, and work assignments, and speaking engagements. No one has helped me more than he.
The Vice President, Mrs. Johnson, and I thank you for sharing a little bit with us. I know you are envious. I know you are jealous. I know you want him full time all by yourself. But you are going to learn, as you go through life, that you just can't have everything you want.
So I do hope that you will understand if I say, "Thank you very much for sharing with us."
Note: The President spoke at 12:12 p.m. in the Rose Garden at the White House. During his remarks he referred to Vice President Hubert H. Humphrey, R. Sargent Shriver, Director of the Peace Corps, and Bill D. Moyers, Special Assistant to the President.
As enacted, the bill extending the Peace Corps is Public Law 89-134 (79 Stat. 549).
Lyndon B. Johnson, Remarks at the Signing of the Bill Extending the Peace Corps Act. Online by Gerhard Peters and John T. Woolley, The American Presidency Project https://www.presidency.ucsb.edu/node/240858