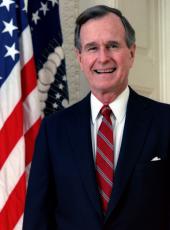 Remarks at the Signing Ceremony for the Paper Market Access Agreement With Japan
The President. May I thank Ambassador Kuriyama for being here with us today, Japan's Ambassador to the United States, and also Mike Moskow up here. Everybody knows him, and we're grateful to him for his participation in all of this.
Today does mark a milestone for both the United States and Japan, a ceremony representing another step toward our two countries becoming equal partners in trade. The agreement I sign today is an important, positive development stemming from our January trip to Japan.
And I am pleased that since January, American companies have begun to enjoy a more positive atmosphere for doing business in Japan. The broader commitment which Prime Minister Miyazawa and I made during my visit was the Tokyo Declaration, and an important part that was the Global Partnership Plan of Action, an agreement to strengthen trade between our two countries, all part of our efforts to make the relationship between us a true partnership. This is a very important relationship. And that all will ensure that U.S. firms have the same degree of access to the Japanese market that Japanese firms enjoy in the United States.
The Paper Market Access Agreement will increase opportunities and sales for foreign firms exporting paper products into Japan. And hereafter, the Government of Japan will encourage its paper distributors, converters, printers, and major corporate users to increase imports of competitive foreign paper products. That official encouragement will open the way for America's paper industry to export its products into Japan's $27 billion market.
Today's action is good for all concerned: good for the Japanese consumer, good for American industry, and good for the American worker. And it is also an important step forward in our large global trading system. As William McKinley said back in 1897, "Good trade ensures good will." And the partnership between the United States of America and Japan ensures that the hallmark of the new globalization of trade will be world-class quality, competitive pricing, and of course, excellent service.
This alliance also recognizes that interactive partnerships like this one strengthen each of us and fire up the engine of economic growth. At the same time, it strengthens the relationship between us and makes the world a better, friendlier place for our children and our grandchildren.
So I am delighted to be here. And I welcome all of you from industry and from the diplomatic corridors. And let me just say in conclusion, I view this relationship between the U.S. and Japan as very, very important. And I will do my level-best as President of the United States to keep it on a stable, forward-looking basis. It is essential, and it is in our best interest that it remain strong.
So, Mr. Ambassador, you are entitled to equal time, or should we -- why don't you go ahead, and then -- --
Ambassador Kuriyama. Well, thank you very much, Mr. President.
The President. Thank you for being with us, sir.
[At this point, Ambassador Kuriyama spoke.]
The President. Thank you, sir, very much. Now I will witness, if you all do the signing.
Note: The President spoke at 11:49 a.m. in the Roosevelt Room at the White House. Ambassador Takakazu Kuriyama of Japan and Deputy U.S. Trade Representative Michael H. Moskow signed the agreement.
George Bush, Remarks at the Signing Ceremony for the Paper Market Access Agreement With Japan Online by Gerhard Peters and John T. Woolley, The American Presidency Project https://www.presidency.ucsb.edu/node/266873