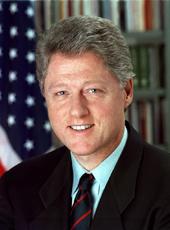 Remarks at the Signing Ceremony for the NATO-Russia Founding Act in Paris, France
President Yeltsin gave me this cane; now he's giving it to me twice. [Laughter]
Ladies and gentlemen, on this beautiful spring day in Paris, in the twilight of the 20th century, we look toward a new century with a new Russia and a new NATO, working together in a new Europe of unlimited possibility. The NATO-Russia Founding Act we have just signed joins a great nation and history's most successful alliance in common cause for a long-sought but never before realized goal: a peaceful, democratic, undivided Europe.
The United States feels a great deal of gratitude today. The world my predecessors dreamed of and worked for for 50 years is finally within reach. I want to thank President Chirac for his strong leadership in making this day possible and for hosting us. I thank President Yeltsin for his courage and vision, for his unbelievable capacity to imagine a future that is different from the past that imprisoned us. I thank his Foreign Minister, Mr. Primakov, for his negotiations in good faith to make this day possible. I especially thank Secretary General Solana for his brilliant and persistent and always good-natured efforts that made this founding act a reality. I thank my fellow leaders of the North Atlantic Treaty Organization and especially our senior leader, Chancellor Kohl, who has worked longer and paid a higher price for the dream of a united Europe than any other leader.
For all of us, this is a great day. From now on, NATO and Russia will consult and coordinate and work together. Where we all agree, we will act jointly, as we are in Bosnia where a Russian brigade serves side by side with NATO troops, giving the Bosnian people a chance to build a lasting peace. Deepening our partnership today will make all of us stronger and more secure.
The historic change in the relationship between NATO and Russia grows out of a fundamental change in how we think about each other and our future. NATO's member states recognize that the Russian people are building a new Russia, defining their greatness in terms of the future as much as the past. Russia's transition to democracy and open markets is as difficult as it is dramatic. And its steadfast commitment to freedom and reform has earned the world's admiration.
In turn, we are building a new NATO. It will remain the strongest alliance in history, with smaller, more flexible forces, prepared to provide for our defense but also trained for peacekeeping. It will work closely with other nations that share our hopes and values and interests through the Partnership For Peace. It will be an alliance directed no longer against a hostile bloc of nations but instead designed to advance the security of every democracy in Europe, NATO's old members, new members, and nonmembers alike.
I know that some still see NATO through the prism of the cold war and that especially in NATO's decision to open its doors to Central Europe's new democracies, they see a Europe still divided, only differently divided. But I ask them to look again, for this new NATO will work with Russia, not against it. And by reducing rivalry and fear, by strengthening peace and cooperation, by facing common threats to the security of all democracies, NATO will promote greater stability in all of Europe, including Russia. And in turn, that will increase the security of Europe's North American partners—the United States and Canada—as well.
We establish this partnership because we are determined to create a future in which European security is not a zero-sum game, where NATO's gain is Russia's loss and Russia's strength is our alliance's weakness. That is old thinking; these are new times. Together, we must build a new Europe in which every nation is free and every free nation joins in strengthening the peace and stability for all.
Half a century ago, on a continent darkened by the shadow of evil, brave men and women in Russia and the world's free nations fought a common enemy with uncommon valor. Their partnership, forged in battle, strengthened by sacrifice, cemented by blood, gave hope to millions in the West and in Russia that the grand alliance would be extended in peace. But in victory's afterglow, the freedom the Russian people deserved was denied them. The dream of peace gave way to the hard reality of cold war, and our predecessors lost an opportunity to shape a new Europe, whole and free.
Now we have another chance. Russia has opened itself to freedom. The veil of hostility between East and West has lifted. Together we see a future of partnership too long delayed that must no longer be denied. The founding act we signed captures the promise of this remarkable moment. Now we must implement it in good faith, so that future generations will live in a new time that escapes the 20th century's darkest moments and fulfills its most brilliant possibilities.
Thank you very much.
NOTE: The President spoke at 10:20 a.m. at the Elysee Palace. In his remarks, he referred to President Boris Yeltsin and Minister of Foreign Affairs Yevgeniy Primakov of Russia; President Jacques Chirac of France; NATO Secretary General Javier Solana; and Chancellor Helmut Kohl of Germany.
William J. Clinton, Remarks at the Signing Ceremony for the NATO-Russia Founding Act in Paris, France Online by Gerhard Peters and John T. Woolley, The American Presidency Project https://www.presidency.ucsb.edu/node/224846