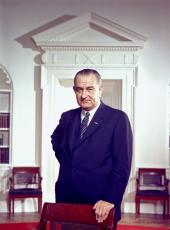 Remarks at the Signing of a Bill Establishing the Delaware Water Gap National Recreation Area
Ladies and gentlemen, Secretary Udall, Governor Hughes, Governor Scranton, distinguished Members of the Senate and the House, my friends, members of the press:
Since the dawn of civilization, man has been the unwilling pawn of the forces of his natural environment. Even when he has come to terms with those forces, the terms have really never been his own. So today, we possess the tools to reach out into our own environment. We have the skills to bend the forces of nature to our own will. We have the knowledge to become the masters of all that we survey.
We can extract fresh water from the sea, and we can eliminate drought and famine from the face of the earth. We can tame our rivers and never again suffer the ravages of flood. We can unleash unlimited electric power for the growth of commerce and industry. We can wipe out epidemics for all times to come. And even as exciting as these prospects are, they represent only half of our new-found .potential. For if we can control man's surroundings for his physical well-being, we can also control them for his spiritual well-being.
In short, we can build a new America where our people can live in peace and harmony with nature, drawing strength from its beauty and wisdom from its variety. And that is the meaning and the potential of the bill that we have come here today to act upon and that I will shortly sign.
The Delaware Water Gap National Recreation bill authorizes the creation of a 72,000-acre national park in the great State of Pennsylvania--halfway between New York and Philadelphia. And this will be much more than just a piece of American wilderness that we have reclaimed for public use. The wilderness in the East has really all but disappeared. This will be a manmade project, the second of its kind in this entire Nation.
At Tocks Island we will build a dam, and behind that dam there will form a lake 37 miles long, for every kind of water sport imaginable--and I hope to have something to do with imagining some of them. And surrounding that lake will be an area of very exceptional natural beauty, consisting of mountains and waterfalls and trails and camping areas.
A full 15 percent of this Nation's entire population, almost 30 million people, will live within 100 miles of this reservation. Confined within the discomforts of noise and ugliness, surrounded by decaying buildings and despoiled landscapes, these people of ours yearn for beauty and hunger for the opportunity to find refreshment in nature.
These yearnings have their roots deep in our American dream: an almost mystical dream of virgin forests and rich, deep soil, and a place where a man could try to discover the meaning of his life.
The Delaware Water Gap National Recreational Area will be just such a place. Here will come as many as 150,000 visitors in 1 day. Here will come more than 10 million people in 1 year. Here they will come and they will swim and they will fish and they will camp out, and their lives will be infinitely richer because they came this way.
A President really never knows how history is going to catalog him. But I would hope that I might find some small place in history as a President who cared and a President who tried and a President who, in some small measure, succeeded in preserving and in enriching the natural beauty of our land, and thus making more beautiful the lives of all of our people.
Thank you.
Note: The President spoke at 12:12 p.m. in the Rose Garden at the White House. In his opening words he referred to Secretary of the Interior Stewart L. Udall, Governor Richard J. Hughes of New Jersey, and Governor William W. Scranton of Pennsylvania.
As enacted, the bill (H.R. 89) is Public Law 89158 (79 Stat. 612).
Lyndon B. Johnson, Remarks at the Signing of a Bill Establishing the Delaware Water Gap National Recreation Area Online by Gerhard Peters and John T. Woolley, The American Presidency Project https://www.presidency.ucsb.edu/node/240714