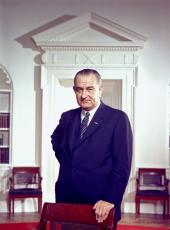 Remarks at the Signing of a Bill Establishing a Five-Day Week for Postmasters.
Mr. Speaker, Mr. Majority Leader, Mr. Postmaster General, Senator Monroney, Senator Carlson, Senator Yarborough, Chairman Dulski, Congressman Corbett, other distinguished Members of the Congress, the summer Government interns from Mount Holyoke College who are witnessing this ceremony, my employees, members of the press, boys and girls, ladies and gentlemen:
The bill that I will shortly sign culminates 15 years of effort by this Nation's postmasters to secure what most people have enjoyed all along--a 5-day week.
It is a just bill. And it is a bill that I am going to take a great deal of pleasure in signing.
I tried to get it amended. I talked to the majority leader and I talked to my own Senator to include Presidents. But I learned that I didn't have as much influence as John Gronouski had.
My only regret is that my cherished friend, the late, beloved Olin Johnston, is not here with us to see this bill that he authored become law. But he is well represented by one of the great Senators of our time--Senator Russell of South Carolina--who I am happy is here.
For more than 30 years most employees in the postal field service have had the benefit of a 40-hour week. But up until now, the postmasters had to mind the store without regard to hours. Postmasters, like Presidents, must be responsible for the function of their office 24 hours a day, 7 days a week. And that responsibility is in no way changed.
But the new law places a 5-day maximum on the number of days that postmasters will have to be physically present in their offices. And that will help some.
I am glad that I don't have to physically be present here 7 days, even though when I go to Camp David, most of the time I spend there is on Government business.
This bill has another feature which is important to clerks who, from time to time, must substitute for the postmasters who happen to be on leave. Present law regulations allow postmasters to delegate responsibility to assistant postmasters when the postmaster takes a Saturday off. Now, as any second or third class postmaster could readily tell you, clerical funds are not that easy to come by, and as a result it has been quite difficult in the past for postmasters in the small offices throughout the country to ever take a Saturday off, even if it's to go fishing, or spend it with the family, or to watch the local ball game.
And there was always another little problem. When the clerks took over for their boss, their hourly pay always dropped, so the clerks preferred to do the fishing and let the bosses do the fretting.
I suppose I ought to make one thing clear: This does not mean that post offices will be closed on Saturday while the postmaster is taking the day off. In other words, it simply establishes a long overdue system to permit postmasters to obtain some of the privileges enjoyed by most of their fellow Americans since the 1930's.
This bill will become effective the first day of the first pay period beginning on or after January 1, 1966. Even though after that date no postmaster will be required to work more than 40 hours a week, I am sure that being conscientious public servants, they will quite often put in more than 40 hours, considering the magnitude of their civic and their social responsibilities.
I know that Postmaster General Gronouski is as happy as I am that this bill has been enacted.
I want to again commend my own fine Senator, my friend, Senator Ralph Yarborough of Texas, Congressman Dulski, and all of their colleagues in both the House and the Senate, for their leadership in getting this bill enacted.
This will cost the Federal Government some money. We have some recommendations before the Congress that will add some more to our budget. We have made recommendations for pay raises, and I think there is even some talk that you might want to spend more money in that regard than we have recommended. And I shouldn't be surprised that you don't take some action along that line.
I do want to say to all of you that it is going to be pretty difficult for the President of the United States to be the first person to be the chief wrecker of a noninflationary wage and price policy. President Kennedy established some guidelines, and I have signed two military pay bills since I have been President, in 20 months. We had a substantial bill last year. We recommend one this year. And I am going to recommend one next year.
But I do hope that I am not confronted with a request from the unions and from the employers of this country that say to me: Well, now, Mr. President, you are an employer and you decided that you could give x-percent increase and we think we ought to be allowed to have the same privilege that you have. Because if you do that, you are going to promote inflation, and our whole noninflationary price policy is going by the wayside. And I hope that the postmasters who will benefit from what we are doing. today, and the other Federal employees who will benefit from the recommendations that we have made on all this legislation this year, will not ask for any special privileges over and above what we ask the rest of the country to follow.
It is wonderful to have you here in the White House. We are going to have the signing of the housing bill tomorrow. We had the signing of the National Institutes of Health bill today. It is glorious that we can be here in this peaceful attitude and be making so much progress with, I think, the best Congress that has ever assembled. And I see friends of mine like Senator Carlson, that I have known for many years, Senator Fong and other members of the Republican Party here today. I almost hesitate to mention Republican Party--I wouldn't mention it except that I want to 'point out that they are here not as Republicans, and Senator Yarborough not as a Democrat--that we are all Americans and that is what has made this Congress so outstanding. Most of our votes have been based not on party, but what is good for the country. And I commend every person who has participated in this fine program.

Thank you very much.
Note: The President spoke at 5:45 p.m. in the Rose Garden at the White House. In his opening words he referred to Representative John W. McCormack of Massachusetts, Speaker of the House of Representatives, Senator Mike Mansfield of Montana, majority leader of the Senate, Postmaster General John A. Gronouski, Senator A. S. Mike Monroney of Oklahoma, Senator Frank Carlson of Kansas, Senator Ralph Yarborough of Texas, Representative Thaddeus J. Dulski of New York, and Representative Robert J. Corbett of Pennsylvania.
During his remarks the President referred to Olin Johnston, Senator from South Carolina 1945-1965, Senator Donald Russell of South Carolina, and Senator Hiram L. Fong of Hawaii.
As enacted, the bill (H.R. 1771) is Public Law 89-116 (79 Stat. 449).
Lyndon B. Johnson, Remarks at the Signing of a Bill Establishing a Five-Day Week for Postmasters. Online by Gerhard Peters and John T. Woolley, The American Presidency Project https://www.presidency.ucsb.edu/node/241142