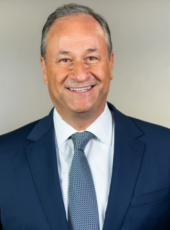 Remarks by the Second Gentleman at a Women's History Month Reception
THE SECOND GENTLEMAN: Good evening, everyone.
AUDIENCE: Good evening!
Mr. President -- (laughter) -- First Lady Dr. Biden, thank you for hosting all of us here at the White House. (Applause.)
And of course, my wife -- (applause) -- Vice President Kamala Harris is here, the first woman Vice President! (Applause.)
All right. We -- this is a celebration. And we're here to celebrate Women's History Month, to highlight the accomplishments of women across our nation, to pay tribute to the trailblazers who paved the way for future generations.
But it's also our time to reaffirm our commitment to advancing rights and opportunities for women and girls, not only here in the United States, but all around the world. (Applause.)
I've had the honor, as Second Gentleman, of traveling all across the country and all around the world, meeting with people right in their communities.
And throughout my travels, I have spoken to women who have shared their stories with me.
The mom who had to return to work just six days after giving birth.
The woman who was paid less than her male colleague for doing the exact same job.
AUDIENCE: Ooh --
THE SECOND GENTLEMAN: And a woman whose -- (laughter) -- I know, it's not good. (Laughter.) I know.
A woman whose water broke prematurely and was denied due care due to a state's abortion ban. And it wasn't until she developed sepsis, an infection that almost killed her, that the hospital finally treated her.
But I also hear some great stories. I hear about how this amazing Biden-Harris administration is ensuring that women have equal access to opportunities -- (applause) -- and how this administration is protecting fundamental rights.
And let's be clear: These aren't just women's issues. These are issues that impact everyone. (Applause.)
And we know -- because we travel all over the world -- that when the United States leads, the world follows.
So, at this moment -- at this moment in history, I know that our nation and our world are in very good hands because we have a President, a First Lady, and a Vice President who are leading this fight with all of you. (Applause.)
Our First Lady, Dr. Jill Biden. (Applause.) There's more! (Laughs.) I don't even have to say anything else. We're just going to cheer. But I will. She's traveled all around this country and all around the world, including recently to Mexico and Africa, reminding young women and girls that anything is possible. And over these past two-plus years, I've seen firsthand how she has advocated for women, families, and our veterans.
She's empowered young women to pursue their dreams, to fulfill their potential, and achieve their educational goals.
So please join me in welcoming my dear friend, our amazing First Lady, Dr. Jill Biden. (Applause.)
Doug Emhoff, Remarks by the Second Gentleman at a Women's History Month Reception Online by Gerhard Peters and John T. Woolley, The American Presidency Project https://www.presidency.ucsb.edu/node/360739