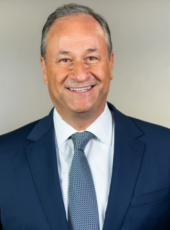 Remarks by the Second Gentleman at the United Nations High Level Side Event on Globalizing Efforts to Combat Antisemitism in New York City
[As prepared for delivery.]
SECOND GENTLEMAN DOUGLAS EMHOFF: Good afternoon.
Thank you, Ambassador Thomas-Greenfield.
I also want to recognize my colleague Ambassador Deborah Lipstadt, our Special Envoy to Monitor and Combat Antisemitism, and esteemed guests who represent other countries from around the world.
I want to start by addressing the horrific earthquakes that have devastated areas of Turkey and Syria. The images only continue to get worse. The Vice President and I send our sincere and deepest condolences to those who have lost loved ones. I also want to thank the first responders on the ground from all over the world. President Biden has authorized an immediate U.S. response, and we are working with Turkish counterparts and humanitarian partners in Syria to help those in need.
I am honored to be here at the United Nations.
As Ambassador Thomas-Greenfield mentioned, I recently returned from a trip to Poland and Germany. While there, I attended a ceremony at Auschwitz-Birkenau to commemorate International Holocaust Remembrance Day on behalf of the Biden-Harris Administration.
We honored the six million Jews who were systematically and savagely murdered by the Nazis and their collaborators during the Holocaust. We also recognized the Roma and Sinti, Slavs, people with disabilities, LGBTQI+ individuals, and political dissidents who were also killed.
I also met with our allies and partners – both inside and outside government – to deepen our coordination to combat antisemitism and hate in all of its forms.
President Biden and Vice President Harris have made revitalizing our partnerships and alliances a priority. And that extends to fighting hate and antisemitism.
That is what brings me to the United Nations today.
To continue this work with all of you.
My message to all of you is the same message I carried with me throughout my trip:
We must speak out against antisemitism and call out those who don't. Silence is not an option.
We must build coalitions to tackle this epidemic of hate.
We must bring together people from all backgrounds, faiths, and ethnicities. Because hate is interconnected. It affects everyone.
And we must make sure every one of our communities feels safe. All people must be able to live and worship, and be who they are freely, without fear and without being subject to violence.
A threat to any community is a threat to all communities.
Lastly, education. We must instill knowledge in the next generation of leaders to help fight antisemitism.
It is important that we tell the truth about the Holocaust.
It is important that we educate others on this history.
And it is important that we push back against Holocaust denial, distortion, and disinformation.
We know that antisemitism has been around for thousands of years. It's one of the oldest forms of hatred.
But in recent years, there has been a dramatic spike of antisemitism in the United States, in Europe, and around the world.
Throughout my time in Poland and Germany, I was encouraged by all those speaking out and also those taking action.
And we agreed:
There must be consequences for those who engage in antisemitism.
There must be accountability.
But in order to combat antisemitism, we need everyone to be unified in their commitment to this mission.
Too often, we see comedians use antisemitism to draw cheap laughs. High-profile entertainers openly spouting tired antisemitic tropes. Politicians making comments laced with not-so-subtle innuendo.
And that is why this convening is so important.
I'm the first Jewish spouse of a U.S. President or Vice President. That is why antisemitism has a special significance for me personally.
And yet, this is not just about me.
It's not just about Jews.
It's about all of us.
Antisemitism is often accompanied by other forms of hatred and intolerance.
The same hatred that fuels antisemitism is often the same hatred directed at other ethnic or religious minority groups, immigrants, or the LGBTQI+ community.
There is a chilling interconnection between all of these forms of hate.
As the Vice President always says, we must build coalitions — across all groups — to combat hate.
In Berlin, I hosted an interfaith roundtable which include clergy and lay persons.
They are all working together to promote tolerance and inclusiveness.
One of the people I met was Burak. Burak is a young activist in Berlin who spoke passionately to me about a project he is leading. It's called "Young Muslims in Auschwitz."
Burak and his project seek to engage German Muslim teens in dialogue about history, antisemitism, and stereotypes through a visit to Auschwitz.
The Muslim teens see what they have in common with the Jewish community – their lived experience being a target of right-wing violence and belonging to an often-stigmatized minority. This powerful realization often leads to solidarity and understanding.
We need more of this dialogue, not less.
By joining forces, we can build on each other's experience, expertise, and reach. To stand together against antisemitism and hatred of all kinds.
We can make clear to the antisemites that there is so safe harbor for them.
We know we're living in difficult times right now. Acts of violence are taking place at houses of worship. Religious leaders are facing threats. Graffiti displaying dangerous messages are taunting communities. People are forced to practice their faith behind guarded doors.
President Biden and Vice President Harris are taking concrete steps to ensure that everyone can live openly, proudly, and without fear.
Make no mistake: the United States will lead the way on this issue.
The Biden-Harris administration has increased funding for physical security of nonprofits and synagogues. The largest increase ever.
We have appointed leaders to focus on hate crimes, including special envoy, Ambassador Deborah Lipstadt, to track and fight antisemitism.
We hosted the first-ever United We Stand Summit to take on hate-fueled violence – including antisemitism.
And in December of last year, I convened a roundtable with Jewish leaders. I heard directly from them about how the rise in antisemitism is impacting their communities. We discussed how we can work together to overcome this hate.
Following that roundtable, President Biden established a working group to counter antisemitism and other forms of discrimination and bias.
On Monday, we hosted our first Principals Committee Meeting with leaders from all across the government.
The purpose of the interagency group is to increase and better coordinate U.S. Government efforts to counter antisemitism.
Through our coordinated efforts, we will create a national strategy plan that will raise people's understanding about antisemitism and the threat it poses to the Jewish community and all Americans.
Our conversations here in New York — and around the world — will help to shape our national strategy as we draw on lessons learned from other countries.
The United States strongly supports the ongoing work of the United Nations to combat antisemitism. We were proud to sponsor last year's resolution to condemn Holocaust denial and distortion.
In our administration, you have a willing partner to do what is needed to address this rise in antisemitism.
This moment requires bold collective action and urgency, not just concepts.
We will meet this moment together.
Thank you.
Doug Emhoff, Remarks by the Second Gentleman at the United Nations High Level Side Event on Globalizing Efforts to Combat Antisemitism in New York City Online by Gerhard Peters and John T. Woolley, The American Presidency Project https://www.presidency.ucsb.edu/node/359630