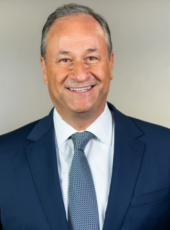 Remarks by the Second Gentleman at the Heshimu Bahari Project Launch in Dar es Salaam, Tanzania
[As Prepared for Delivery.]
SECOND GENTLEMAN DOUGLAS EMHOFF: Good afternoon.
Representatives of the Government of Tanzania, USAID Mission Director Somvongsiri, and distinguished guests, it is an honor to join you today.
My wife, Vice President Kamala Harris, and I are in Tanzania to strengthen our democratic partnership and advance our shared priorities.
Our trip follows the U.S.-Africa Leaders Summit that was hosted by President Biden and Vice President Harris last year. Today's event is a part of our efforts to build upon our commitments.
One of those commitments being to work with our global partners to advance our shared climate adaptation and resilience goals.
Let me be clear: we are experiencing a climate crisis. Extreme climate change is an existential threat facing the United States and our world.
Prior to today's event, I met with female fishers, community leaders, and government representatives, on Coco Beach. Each of these leaders is well-versed in the challenges of the local fishing industry.
We spoke about the effects of extreme climate change and the threats it poses to Tanzania's marine ecosystems.
When ecosystems are disrupted, it can lead to dire consequences:
Devasted local economies and severe food and water insecurity.
Millions of people displaced - fleeing their homes because they have no other choice.
And even a rise in gender-based violence as women and girls are forced to walk longer distances for water.
As the infinite cost of extreme climate change reaches irreversible highs, now is the time for bold collective action.
During my meeting with the fisherwomen, we also spoke about the barriers Tanzanian women face to their full participation in the fishing industry.
Even though women make up nearly half of the overall workforce and comprise 90 percent of fish processing jobs, women still experience longstanding gender discrimination.
Women's contributions to the sector are widely underpaid and undervalued.
It is past time to change this.
The United States believes that around the world, there must be equitable opportunities for everyone.
Together, we can conquer the challenges that face our great nations.
Together, we will tackle the climate crisis and protect ecosystems.
And together, we will close gender gaps around the world.
Today, I am proud to announce the Heshimu Bahari Project.
The United States, through USAID, will provide an initial $8.4 million to help conserve coastal and marine biodiversity. This funding will strengthen fisheries production in both mainland Tanzania and Zanzibar.
The program will support Tanzania's capacity to sustainably manage marine resources and protect coral reefs.
The program will also help to mitigate the impact of extreme climate change that has disrupted ecosystems and impacted the tourism potential of the country.
Through the Heshimu Bahari Project, we will also prioritize gender equity to address persistent inequalities that exist in the fisheries sector.
The program will elevate women's voices in decision making and strengthen their economic livelihood opportunities.
Advancing women's economic security is critical to ensuring that all countries can meet their full economic potential and that women are able to fully, meaningfully, and equally contribute to, and benefit from, global prosperity.
When women are economically secure, they invest in their families and communities, spurring economic growth and creating more stable societies.
It is important for men to lift up women. There is power in allyship.
And it's the right thing to do. When we lift up women, we lift up the economy. We lift up our society. It is not an either or. When women succeed, we are all lifted up for the better. That is what the Heshimu Bahari project will do here in Tanzania.
A few days ago, in Ghana, my wife, Vice President Kamala Harris delivered a speech at the Black Star Monument.
During her speech, she said that the United States will not be guided by what we can do for our African partners but by what we can do with our African partners.
The Vice President and I are excited and optimistic about the future of Tanzania. We look forward to continuing our partnership and creating a future that is fair and equitable for all.
Thank you very much.
Doug Emhoff, Remarks by the Second Gentleman at the Heshimu Bahari Project Launch in Dar es Salaam, Tanzania Online by Gerhard Peters and John T. Woolley, The American Presidency Project https://www.presidency.ucsb.edu/node/360277