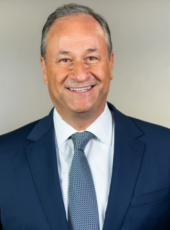 Remarks by the Second Gentleman at Oklahoma State University in Stillwater, Oklahoma
[As prepared for delivery.]
SECOND GENTLEMAN DOUGLAS EMHOFF: Thank you, Tionne. You are inspiring the next generation of environmental engineers. After touring the Industrial Assessment Center, and learning more about the great work that the staff and students do, I could not be more excited about the future of the engineering industry.
Good morning.
Welcome to the Investing in America Tour!
It's actually my first time in the Sooner state as Second Gentleman. On behalf of President Biden, Vice President Harris, and First Lady Jill Biden, I am thrilled to be in Oklahoma with my good friend Secretary Jennifer Granholm.
Secretary Granholm is on the frontlines every day working for the American people—helping to create a clean energy economy and bringing new jobs to communities across our nation. Thank you for all that you do.
OSU President Dr. Kayse Shrum, Governor Kevin Stitt, thank you for hosting us and welcoming us to Oklahoma.
The Investing in America tour is meant to spotlight how the Biden-Harris Administration is growing our economy and creating new jobs.
And how have we done that?
We are unleashing a Made in America manufacturing and innovation boom.
We are rebuilding our infrastructure and bringing back supply chains.
We are lowering costs for hardworking families.
And we are creating jobs that don't require a four-year degree across
the country.
DOE's Industrial Assessment Centers are training the next-generation of energy savvy engineers.
These centers help small and medium sized United States manufacturers save energy, improve productivity, and reduce waste by conducting no-cost energy assessments.
And the best part is that these centers are run by engineering students and faculty at universities and community colleges, just like the great team here at OSU.
Students are transforming the future of the workforce.
They are innovators.
They are problem-solvers.
And they are the next generation of leaders.
Through the IAC program, our administration is able to build a clean energy economy that is lowering energy costs, strengthening our energy security, and meeting our climate goals.
And in addition to creating a clean energy economy, we are also creating jobs. Good-paying jobs.
They go hand and hand. There is no either or.
Today's funding announcement, through the Bipartisan Infrastructure Law, will create pathways to high-quality jobs with the free and fair choice to join a union reduce industrial emissions and enhance American manufacturing competitiveness in a net-zero economy.
From day one of the Biden-Harris Administration, President Biden and Vice President Harris have driven an economic agenda that is rebuilding our economy from the middle out and bottom up, not top down.
Since President Biden and Vice President Harris have taken office, the economy has created more than 12 million jobs.
The Investing in America agenda is not only making our economy work for families, it's creating jobs that don't require a four-year degree, encouraging private sector investment, and strengthening communities that for too long were left out or left behind.
Over the course of these few weeks, our administration will be hitting the road, traveling across the country, and meeting with people.
We want to hear directly from Americans about the impacts that our administration is having on their communities: from investments in manufacturing and clean energy, to awarding funding for over 23,000 new infrastructure projects, to bringing affordable, high-speed internet to over 17 million households.
Our administration will continue to expand economic opportunity in every state across the country and lower costs for American families.
The Biden-Harris Administration is investing in America. We are investing in families, we are investing in communities, and we have your back.
Thank you again for having me here today.
Doug Emhoff, Remarks by the Second Gentleman at Oklahoma State University in Stillwater, Oklahoma Online by Gerhard Peters and John T. Woolley, The American Presidency Project https://www.presidency.ucsb.edu/node/360471