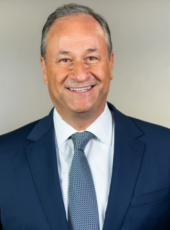 Remarks by the Second Gentleman at an Interfaith Roundtable on Combating Antisemitism in Berlin, Germany
[As prepared for delivery.]
Thank you, Dr. Lehrer. I'm grateful to be here with you today.
The issues we are talking about are best done together when in a group like this.
Today is the last day of my trip to Poland and Germany. It's been intense. I've seen a lot and it's really going to inform the work moving forward.
And what is that work:
Honoring the victims of the Holocaust.
Telling the truth and educating others on what the truth is.
And deepening our relationships with European partners to combat the rise in antisemitism.
This trip is critical to advance our global efforts to combat antisemitism.
These engagements will also inform what we are doing across the Biden-Harris Administration to promote tolerance and inclusiveness.
Over the past several days, I've spent a lot of time reflecting on a dark, difficult history of the Holocaust and current challenges we face.
I've met with leaders and community members to discuss the bold actions we need to take to combat antisemitism and hate in all of its forms.
I am deeply encouraged by those discussions.
Antisemitism is not only a threat to Jews.
Antisemitism is often accompanied by other forms of hatred and intolerance. Hatred directed at other ethnic or religious minority groups, immigrants, or the LGBTQI+ community.
There is a chilling interconnection between antisemitism and other forms of hate.
Let's be clear: A threat to any community is a threat to all communities.
We are witnessing an epidemic of global hate.
President Biden and Vice President Harris are committed to countering this hate. In our words and our actions.
As the Vice President often says: we must build coalitions — across all groups — to combat hate in all its forms.
We share common traditions, common history, and common values.
There is so much more that binds us together than what tears us apart.
I believe interfaith dialogue such as this is a critical part of the solution.
To build relationships, break down stereotypes, and combat prejudices.
We are committed to working with our partners in Germany to prioritize the promotion of religious freedom. We will do this in close cooperation with the German interfaith community.
Our Embassy here in Berlin has been active in supporting German efforts to cultivate interfaith dialogue, and will continue to do so.
We need to see more of this, and we hope you will work with us on expanding these types of dialogues.
As long as I have this platform, I am going to do everything I can to bring together these different groups and make progress.
I will always speak out against hate and call out those who don't.
In a moment like this, I think about my great-grandparents who escaped persecution from what is now Poland around 120 years ago.
They were able to live their dreams in the United States of America.
They were the lucky ones.
They found opportunity and freedom.
Now, I am here today in Europe — as the first Jewish spouse of a U.S. president or vice president — working to combat hate and antisemitism.
It is a remarkable full circle. It's a reminder what is possible.
There is so much potential when we work together. I look forward to hearing all of your perspectives and ideas.
Thank you.
Doug Emhoff, Remarks by the Second Gentleman at an Interfaith Roundtable on Combating Antisemitism in Berlin, Germany Online by Gerhard Peters and John T. Woolley, The American Presidency Project https://www.presidency.ucsb.edu/node/359527