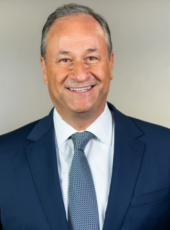 Remarks by the Second Gentleman at Grand Teton National Park
[As prepared for delivery.]
SECOND GENTLEMAN DOUGLAS EMHOFF: Thank you, Chip. And thanks to you and the team for your important work.
Good afternoon, everyone. It's great to be here.
I am smiling extra wide because as I was getting ready for this trip, I looked backed at some photos of when the now vice president and I took Cole and Ella to Yosemite, a few years ago.
What did those photos show?
We were together as family. We were hiking. We were gazing at waterfalls. We were smiling.
And that's what national parks do. They bring people and families together.
Just like Yosemite, Grand Teton is no different. This national park is just unbelievable.
As Second Gentleman, this is the third national park within the United States that I have visited.
I also traveled to Bryce Canyon National Park and to Crater Lake. Both are incredible.
Just before this, I saw two sites where park staff is working to restore and preserve core sagebrush habitats.
And what is sagebrush?
It's a plant that communities, farmers, and animals depend on.
Sagebrush provides food and shelter for the animals who reside in Grand Teton.
Restoring sagebrush helps us build healthy ecosystems, which support access to water, local communities, and economies.
It is critical that we protect these habitats to allow them to grow and strengthen climate resilience.
Thanks to investments that the Biden-Harris Administration is making today, I'm proud to say that we are advancing restoration and conservation efforts.
Our administration has already put hundreds of billions of dollars into creating new infrastructure, fixing roads and bridges, bringing broadband to communities, and creating new, high-paying jobs.
And today, I am formally announcing $44 million from President Biden's Investing in America agenda.
This funding will help the National Park Service improve our parks, protect endangered species, and provide clean air and water for all Americans.
This funding will also benefit Grand Teton National Park and help to restore critical species including the Whitebark pine tree which protect our watersheds and provide communities with clean drinking water.
This new investment will support 43 projects across 39 states, D.C., Puerto Rico, and the U.S. Virgin Islands to make parks and communities everywhere more resilient to climate change – the existential threat of our time.
There is a climate crisis happening right now. We see it everywhere. There is no disputing it, and there is no denying it.
We feel the extreme heat especially people out West.
We see the rising tides and flooding in communities.
There are wildfires happening all across the country, including in my home state of California.
And we know that we must act now before it is too late and preserve iconic landscapes – like Grand Teton – for future generations to enjoy.
Since day one of our administration, President Biden and my wife, Vice President Harris, have been fighting back against the climate crisis.
Yesterday, President Biden stood right outside the Grand Canyon, where he spoke about the historic and aggressive steps that our administration is taking to tackle the climate crisis.
He also designated a new national monument that will protect lands and water supplies near the Grand Canyon.
And the vice president has been meeting with students, entrepreneurs, community and labor leaders so that we can all work together to build a clean energy economy.
She knows that poor, rural, Native, and communities of color are often the hardest hit by the climate crisis and the least able to recover.
She has fought to address this inequity and for resources for every community that has been left out and left behind.
And lastly, when we talk about tackling the climate crisis, we are also talking about the creation of jobs ? tens of thousands of good-paying, clean-energy jobs.
Including jobs right here in Wyoming and across our public lands to help protect our natural resources.
All Americans love national parks.
Preserving this land matters to everyone.
And having clean air and clean water means protecting both people and the planet.
So, we are going to meet this moment.
Thank you to the park rangers and staff who work so hard every day to protect these national treasures. We are going to continue building a better, cleaner, and healthier future for generations to come.
Thank you.
Doug Emhoff, Remarks by the Second Gentleman at Grand Teton National Park Online by Gerhard Peters and John T. Woolley, The American Presidency Project https://www.presidency.ucsb.edu/node/363723