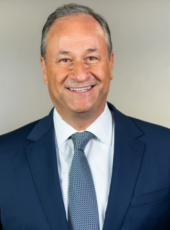 Remarks by the Second Gentleman in Apia, Samoa
[As prepared for delivery.]
SECOND GENTLEMAN DOUGLAS EMHOFF: Thank you, Ms. Adi.
Thank you to the people of Samoa for the warm welcome on this historic trip. I am grateful for your generous hospitality and the chance to visit this beautiful country.
I had a good meeting with the Acting Prime Minister earlier today.
And it's been great to see firsthand all the work the Biden-Harris Administration is doing with Samoa.
President Biden and Vice President Harris are committed to our partnership with Samoa.
Our relationship has never been stronger. And, we will strengthen it further.
We are neighbors and friends.
We have shared goals: tackling the climate crisis, investing in economic development, and empowering women.
And we have longstanding people-to-people ties.
I am here to help strengthen these ties.
The United States is proud to invest in Samoan women and families through Women in Business Development Incorporated.
Thank you to WIBDI for everything you do to promote economic development.
We are with you. And we'll continue to invest in your work.
President Biden and Vice President Harris are fighting every day to empower women and girls – both at home and abroad.
My wife has spent her career fighting for women and children — as a prosecutor, a United States Senator, and now as Vice President.
I've seen Kamala all around the world – from Southeast Asia to the continent of Africa – meeting with women entrepreneurs, and investing in them.
Because she knows, when you lift up women, you lift up the status of families and communities, and all of society benefits.
President Biden and Vice President Harris are also committed to deepening our engagement throughout the Pacific region.
Last July, Vice President Harris participated in the Pacific Islands Forum leaders' meeting and announced an expanded U.S. diplomatic presence.
Then in September, President Biden hosted the first-ever U.S.-Pacific Island Country Summit at the White House.
He announced $810 million in additional investments for the region.
Since then, the Biden-Harris Administration announced our plan to invest over $7.2 billion in new funding and programs for the region.
And President Biden and Vice President Harris are looking forward to welcoming Pacific Island leaders back to Washington for a second Summit later this year.
A core part of our engagement with this region is on the climate crisis.
We know that Samoa and other island nations are on the front lines. We know this is an existential threat.
And that is why the United States stands with our Pacific partners in tackling the crisis head on.
Today, I am proud to announce $2.6 million from USAID in disaster risk reduction for Samoa and other Pacific countries.
These funds will help local farmers improve their resilience against disasters and help improve messaging around preparedness.
This builds on the great work Samoa is already doing, alongside our friends and partners, to prepare for emergencies.
The United States would like to further support Samoa and listen to its needs, such as the threat of tsunamis.
On that note, I am announcing today that the U.S. National Oceanic and Atmospheric Administration will provide additional expertise to the Pacific Islands to assess risks and prepare plans. This includes committing $117,000 to work with Samoa.
We are eager to continue these conversations.
As always, we are here to listen and learn.
I want to conclude by expressing my gratitude for the collaboration with the Samoan government and all of our partners here.
As your friend and neighbor, the United States will continue to stand proudly with Samoan people moving forward.
Thank you again for the warm welcome.
Doug Emhoff, Remarks by the Second Gentleman in Apia, Samoa Online by Gerhard Peters and John T. Woolley, The American Presidency Project https://www.presidency.ucsb.edu/node/363725