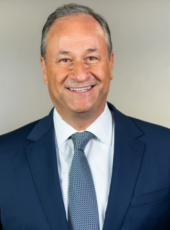 Remarks by the Second Gentleman at an Anti-Hate and Tolerance Roundtable with Special Envoy Jacinda Ardern in Auckland, New Zealand
[As prepared for delivery.]
SECOND GENTLEMAN DOUGLAS EMHOFF: Thank you, Special Envoy Ardern.
On behalf of President Biden and my wife, Vice President Kamala Harris, thank you for having me. I appreciate the warm welcome.
Your tenure as Prime Minister was so inspiring — as is your work now.
In your meetings and work with the Vice President – in Washington, and most recently in Bangkok – together, you took on the pressing opportunities and challenges of our time.
Combating the climate crisis and fighting for a clean energy future.
Ensuring security and stability in the Indo-Pacific and addressing the threats from North Korea.
And establishing international rules and norms for the responsible use of space.
As I travel around the United States and the world, people of all ages always tell me what an inspiration Kamala is to them. They are so excited to see a woman lead on the world stage. They want to follow in her footsteps.
I know you receive a similar global reaction.
You both are incredible role models. Thank you.
Another area you and the Vice President worked on when you met at the White House was standing up against hate and violent extremism.
And that is what brings us here today.
I'm the first Jewish spouse of a U.S. President or Vice President. And I spend a lot of my time taking action against the rise in antisemitism – so this work is very personal for me.
And yet, my work is not just about Jews.
It's about all of us. And calling out hate in all its forms.
A threat to any community is a threat to all communities.
We are witnessing a global epidemic of hate – accelerated by online radicalization, misinformation, and disinformation.
We must speak out against hate and call out those who don't. Silence is not an option.
We must bring together people from all backgrounds, faiths, and ethnicities. Because hate is interconnected. It affects everyone.
And we must make sure every one of our communities feels safe. All people must be able to live and worship without being subject to violence.
President Biden and Vice President Harris are deeply committed to combating hate – in our country and around the world.
The President has said he decided to run for office after seeing antisemitic chants in Charlottesville. And as President, he then led the most ambitious effort in U.S. history to counter antisemitism with a new national strategy.
The Vice President spent her career standing up against hatred. As District Attorney of San Francisco and Attorney General of California, she made it a priority to prosecute hate crimes.
In 2017, after she was sworn in as a United States Senator, the first piece of legislation she introduced was to guarantee legal counsel to those detained at our borders because of the ban on those coming from Muslim-majority countries.
Now, in the White House, President Biden and Vice President Harris are taking concrete steps to ensure that everyone can live openly, proudly, and without fear.
As the Vice President often says, we must build coalitions – across all groups – to combat hate in all its forms.
So, our Administration is focused on building coalitions with governments, the private sector, and civil society.
The Christchurch Call is an excellent model of coalition-building that brings all of society together.
I want to commend the global leadership of New Zealand and your personal leadership, Special Envoy Ardern, in this area.
The United States is committed to working with our global partners, including New Zealand, to counter violent extremism and hate through the Christchurch Call.
Together, the United States and New Zealand's work will help promote our shared values and promote inclusive communities around the world.
So, I look forward to hearing from all of you and the progress you've made and best practices.
And I am grateful for your leadership, Special Envoy, and for the partnership between our countries.
Thank you.
Doug Emhoff, Remarks by the Second Gentleman at an Anti-Hate and Tolerance Roundtable with Special Envoy Jacinda Ardern in Auckland, New Zealand Online by Gerhard Peters and John T. Woolley, The American Presidency Project https://www.presidency.ucsb.edu/node/363726