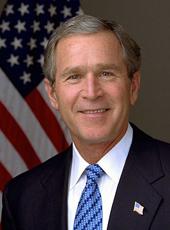 Remarks at the Royal Thai Army Headquarters in Bangkok
Thank you very much, Mr. Minister. Thank you very much. Thank you very much. General Thammarak, commanders of the Royal Thai Armed Forces, members of the Royal Thai Army, veterans, members of the United States military, distinguished guests and citizens of Thailand, Mrs. Bush and I appreciate your kind welcome to the Royal Thai Army Headquarters. We are honored to be here.
We're honored to be in the Kingdom of Thailand. Today I'm pleased to convey the respect of the American Armed Forces and the good wishes of the American people. I'm grateful to His Majesty the King and Her Majesty the Queen for inviting us to this ancient and beautiful land.
Earlier today I met with Prime Minister Thaksin, and I was proud to reaffirm the great friendship between our nations. We share a belief in democracy and human rights and ethnic and religious tolerance. We also share a willingness to defend those values in times of danger. Our alliance of conviction is also an alliance of courage.
The Thai people have proven your commitment to freedom many times. With us today are members of the Free Thai Movement, who showed such fierce courage during World War II. Other veterans have served in Korea and Vietnam, where the Americans and Thais fought and died together, and during the cold war, when our partnership was so vital to the stability of Asia. All the veterans hold an honored place in a great alliance, and I salute your service.
Today, our nations are challenged once again. We're threatened by ruthless enemies unlike others we have faced. Terrorist groups hide in many countries. They emerge to kill the innocent. They seek weapons to kill on a massive scale. One terrorist camp in the mountains of central Asia can bring horror to innocent people living far away, whether they're in Bali, in Riyadh, or in New York City. One murderous dictator pursuing weapons of mass destruction and cultivating ties to terror could threaten the lives of millions.
We must fight terrorism on many fronts. We must stay on the offensive until the terrorist threat is fully and finally defeated. To win the war on terror, we must hunt a scattered and resourceful enemy in dark corners around the world. We must break up their cells, shut off their sources of money. We must oppose the propaganda of hatred that feeds their cause. In the nations where resentment and terrorism have taken root, we must encourage the alternative of progress and tolerance and freedom that leads to peace.
Nations that choose to fight terror are defending their own safety and securing the peace of all mankind. The United States of America has made its choice. The Kingdom of Thailand has made its choice. We will meet this danger and overcome this evil. Whatever is asked of us, no matter how long it takes, we will push on until our work is done.
Three months after my country was attacked on September the 11th, 2001, Prime Minister Thaksin came to America and offered Thailand's help in the war on terror. Since then, Thailand has committed military forces outside Southeast Asia for the first time in more than 50 years. Some of you have just returned from Afghanistan, where you gave many months of service. Thai engineers rebuilt Afghanistan's national airfield and helped restore much of that country's infrastructure. And the Afghan people and the American people are grateful for your service. The Thai task force is a vital part of the multinational division in Karbala, Iraq, once again helping a shattered country rebuild after years of oppression.
Inside your own country, you are pursuing dangerous terrorists and finding them, and America thanks you for ending the lethal career of the terrorist Hambali, who is suspected of planning the attack on Bali and other acts of terror. Thailand pledged to fight the war on terror, and that pledge is being honored in full.
Thailand is also a force of good throughout Southeast Asia. When East Timor was torn by violence, Thai forces joined with Americans and Australians to bring stability, and they helped establish the world's newest nation. This important work has brought dignity to the people of East Timor and greater security to this region.
Together, our two nations are fighting the drug trade by sharing intelligence that helps Thai law enforcement officials interdict shipments and catch drug traffickers. We're fighting the trafficking in human beings to abolish a modern form of slavery.
America supports your country's humane efforts to find, defuse, and dispose of land-mines. And having cooperated for decades to fight hepatitis and malaria, we're now working together to turn the tide against AIDS.
America and Thailand understand that trade and growth are the only sure ways to spread prosperity and lift people and nations out of poverty. And this morning I'm pleased to announce that the United States and Thailand are planning to launch negotiations toward a free trade agreement. This region and our world must one day trade in freedom.
In all our common efforts, we are confident of the outcome. We're confident in the power of freedom to overcome hatred and uplift whole nations. We're confident in the strength of our alliance, and I have acted to designate Thailand a major non-NATO ally of the United States. And we're confident in the character of those who defend us. American and Thai forces serve together and train together and study at military academies in each other's countries. We have come to know and respect one another.
America remembers and honors a young man named Kemaphoom Chanawongse, known to his family and friends as Ahn. He was born in Bangkok, the grandson of a Royal Thai Air Force veteran. He moved to America when he was 9 years old, fulfilled his great ambition to become a United States Marine. Ahn was part of the force that defeated the army of Saddam Hussein. He was killed in action near An Nasariyah. This son of Thailand, this American patriot, was buried among America's greatest military heroes at Arlington National Cemetery. This brave marine brought honor to the Nation he served and honor to the nation of his birth.
Thailand and the United States lie thousands of miles apart. Yet in the ideals we serve, we will always be close. America is grateful for your friendship. We respect the skill and valor of the Royal Thai military, and we're proud to stand by your side in the cause of peace. May God bless you.
NOTE: The President spoke at 12:40 p.m. In his remarks, he referred to Gen. (Ret.) Thammarak Isarangkun an Ayuttha, Thailand's Minister of Defense; King Phumiphon Adunyadet, Queen Sirikit, and Prime Minister Thaksin Chinnawat of Thailand; Nurjaman Riduan Isamuddin (known as Hambali), Al Qaida's chief operational planner in Southeast Asia; and former President Saddam Hussein of Iraq.
George W. Bush, Remarks at the Royal Thai Army Headquarters in Bangkok Online by Gerhard Peters and John T. Woolley, The American Presidency Project https://www.presidency.ucsb.edu/node/214239