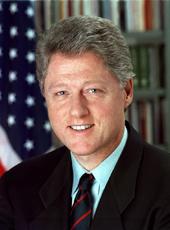 Remarks on the Retirement of General Colin Powell in Arlington, Virginia
Thank you very much. Secretary Aspin, President and Mrs. Bush, General and Mrs. Powell, distinguished Members of Congress, distinguished leaders of United States military forces, my fellow Americans.
Today, a grateful Nation observes the end of a distinguished career and celebrates 35 years of service and victory: a victory for the United States military that gave young Colin Powell a chance to learn and to grow and to lead; a victory for the military and political leaders who continue to elevate him based on their complete confidence and sheer respect; a victory for a Nation well served and, in a larger sense, a victory for the American dream; for the principle that in our Nation, people can rise as far as their talent, their capacities, their dreams, and their discipline will carry them.
A long time ago, Thomas Jefferson wrote, "The Creator has not thought proper to mark those in the forehead who are of stuff to make good generals." The Creator has not thought proper to mark them by the color of their skin or the station of their birth or the place they were born. Thank God for the United States that that is so.
From my first meeting with Colin Powell, before I became President, I knew that one thing I would never have to worry about was having a strong and wise, a forthright and honest Chairman of the Joint Chiefs of Staff. His knowledge and judgment were a source of constant support. The fact that he enjoyed the respect of all of his troops, from the people first entering the service to his colleagues on the Joint Chiefs of Staff; his remarkable balance of prudence and courage and his unfailing sense of humor have been there through the difficult times of now two Presidencies. And he clearly has the warrior spirit and the judgment to know when it should be applied in the Nation's behalf.
General Powell has been a rock of stability in our Nation's military during a time of profound change. He has understood more clearly than virtually any other American the enormous resource that the young men and women in our uniform have been for our Nation. He has been determined to give them the security that knowledge and skills and capacity bring, so that together they could take the changes that we have seen in the last few years.
As the Secretary has noted, he was the first Chairman to begin his tenure under the Goldwater-Nichols act, and he has clearly set a standard by which all future Chairs of the Joint Chiefs of Staff will be judged.
During his term the cold war ended. We began to grapple with the consequences of that, mostly good and some bad. We have seen world-changing events force us to reexamine our missions, our force structures, and our commands. We have also seen a leader in Colin Powell, who has not only responded to those great challenges but one who could be trusted to feel in his heart the awesome responsibility for the lives and livelihood, for the present and future of every man and woman who wore the uniform of the United States of America.
So today, General Powell, I speak for all of them who thank you for guiding and protecting their lives, even as you advance the cause of freedom around the world. I speak for their families who entrusted you with their sons and daughters. I speak for the young children who sent their mothers and fathers under your command in the Gulf, in Somalia, and elsewhere. For all of them I say you did well by them as you did well by America.
We take great pride in what you have done for your country. You have exemplified the military ethic in serving in whatever mission and in getting the job done.
When we marched around the field today, I was glad to hear the long litany of Colin Powell's career, to remind us that in the spotlight and far away from the spotlight, as a young soldier and a not-so-young soldier, he was always first and foremost a good soldier, a role model for those in our military and now a role model for all young Americans, someone we can appreciate for having done a job day-in and dayout, year-in and year-out, with ferocious dedication.
In recognition of your legacy and service, of your courage and accomplishment, today, General Powell, I was honored to present you with the Presidential Medal of Freedom, with distinction. I want to tell all those here in attendance that this was the second Medal of Freedom you have received, the first from President Bush in 1991. And today, you became only the second American citizen in the history of the Republic to be the recipient of two Medals of Freedom.
I want to thank you, too, sir, for your advice and counsel in the work I had to do in selecting your successor. It was a job I think many people were afraid to even contemplate. For you are truly a hard act to follow. I know you share my opinion that we could not have done better than General Shalikashvili.
I also want to say a special word of appreciation to Mrs. Powell for her inspiration and her support, her good-humored endurance of all the times when you could have been either with her, your daughters, or your automobiles, and had, instead, to be at the White House with me or someone else importuning on your time. I thank her, and I thank your family for their sacrifices in your public service.
When you proposed and married Alma Johnson and moved with her to Birmingham, Alabama, and before the year were already sent off as a young captain to serve in Vietnam, that year was 1962. In that same year, General Douglas MacArthur gave his famous farewell speech at West Point. He spoke the following words of praise to all those who serve in our military. I repeat them today because they apply especially well to you. MacArthur said, in reference to the American soldier, "I regarded him as one of the world's noblest figures, not only as one of the finest military characters but also as one of the most stainless."
In closing, General Powell, I am reminded of the words of another young valiant warrior, spoken when, like you, he was finishing one journey and beginning a second. John Bunyan wrote in Pilgrim's Progress of the warrior valiant at the end of his life, as he prepared to present himself to the Almighty, "My sword I give to him that shall succeed me in my pilgrimage and my courage and skill to him that can get them. My marks and scars I carry with me to be a witness for me, to Him who shall be my rewarder."
General Powell, your reward is a grateful Nation and a bright future. Your reward is a stronger Nation, safer and better today for your sword, your courage, and your skill. From the bottom of my heart, on behalf of every man and woman, every boy and girl in this great country, I thank you and wish you Godspeed.
NOTE: The President spoke at 4:30 p.m. at Fort Myer.
William J. Clinton, Remarks on the Retirement of General Colin Powell in Arlington, Virginia Online by Gerhard Peters and John T. Woolley, The American Presidency Project https://www.presidency.ucsb.edu/node/218032