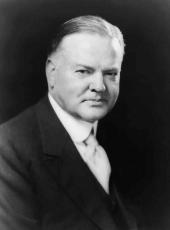 Remarks to the Republican Joint National Planning Committee To Get Out the Negro Vote
I wish to thank you for your coming and for the presentation to me of so touching a statement.
The platform of the Republican Party speaks with justifiable pride of the friendship of our party for the American Negro that has endured unchanged for 70 years. It pledges itself to the continued insistence upon his rights. That the friendship and consideration of the party for the American Negro has borne fruit is in the advancement of the race. That is evident in business, in the arts and sciences, in the professions, and recently we have seen a great achievement of two splendid youths, Tolan and Metcalfe, in world supremacy in the Olympiad.
It has been gratifying to me to have participated in many measures for advancement of education and welfare amongst the Negroes of our Nation. I have received the cooperation and counsel of a distinguished leadership of the Negroes themselves in these institutions and movements. No better example of this leadership than the contributions made by Negro representatives who participated in the recent White House Conference on Child Health and Protection and upon Home Building and Home Ownership. I recall also with great pleasure this cooperation and the evidence of fine leadership in the relief of the Mississippi floods, and more recently in relief of drought, and in the sound advice and assistance I have had in formulating relief from the present distress and unemployment.
You may be assured that our party will not abandon or depart from its traditional duty toward the American Negro. I shall sustain this pledge given in the first instance by the immortal Lincoln and transmitted by him to those who followed as a sacred trust. The right of liberty, justice, and equal opportunity is yours. The President of the United States is ever obligated to the maintenance of those sacred trusts to the full extent of his authority. I appreciate your presence here today as an evidence of your friendship.
Note: The President spoke at 12 noon in ceremonies welcoming 100 black Republicans to the White House. Prior to his remarks, the leaders of the delegation expressed their faith in him and asked for a message to the black community.
In his remarks, the President referred to Eddie Tolan, Olympic champion in the 100 and 200 meter dashes, and Ralph Metcalfe, runner-up in the 100 meter dash.
Herbert Hoover, Remarks to the Republican Joint National Planning Committee To Get Out the Negro Vote Online by Gerhard Peters and John T. Woolley, The American Presidency Project https://www.presidency.ucsb.edu/node/207727