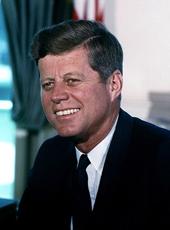 Remarks at the Reading of the Joint Statement Following Discussions With Prime Minister Macmillan
I will read this Joint Statement of the Prime Minister and myself, and perhaps the Prime Minister might have a word to say:
We have had a series of candid and friendly talks. We have discussed the present world situation in general, and in particular the major issues of international relations which affect our two countries. We have reached a very high level of agreement on our estimate of the nature of the problems which we face. We realize all too well that to meet these problems will require from us many sacrifices.
Open and friendly discussions have served to clarify and confirm our common commitment to those who care for freedom. We are in complete agreement as to the gravity and depth of the dangers in the present world situation for those nations who wish to retain their independence and the priceless right of choice.
While we recognize that the core of Western security against armed aggression continues to be the North Atlantic Alliance, we also discussed how our countries can help to strengthen the Free World as a whole.
We have considered what measures it might be advisable to take, together with our allies, to ensure the cohesion, effectiveness and adaptability of the Atlantic community in a changing world.
To this end we have examined the world economic and financial situation, including the problems of imbalance and short-term capital movements; the need for coordination to meet these problems by increased utilization of existing international machinery; the need for more effective assistance to nations in an earlier stage of economic development; and the need for maintenance of world trade at the highest possible level. We have recognized both the urgency and the importance of further steps toward the economic and political unity of Europe.
We reaffirm our vigorous support of the United Nations and our determination to oppose the attempts currently being made to undermine its authority as an instrument for peace and security in the world.
We have given close attention to South East Asia and specifically to the critical problems of Laos and Vietnam.
We are agreed upon both the importance and the difficulty of working towards satisfactory relations with the Soviet Union.
We also reaffirm the determination of our governments to do their utmost to bring to a successful conclusion within a reasonable period of time the negotiations in Geneva for the cessation of nuclear weapons tests under effective inspection and control.
We have talked as partners, but with a full awareness of the rights and interests of the other nations with whom we are closely associated. [Ends reading.]
I want to say, speaking personally, and also as President of the United States, that it has been a source of great satisfaction to me to have the Prime Minister visit this country again. He has enjoyed the closest relations and the fullest confidence with three of my predecessors, President Roosevelt, President Truman, and President Eisenhower; and it is therefore as the fourth in this series of American Presidents it has been the greatest possible pleasure to have had this opportunity to establish close and I think highly satisfactory personal and public relations with him during these last few days.
We are delighted that I had a chance to see him again after our very satisfactory talk in Florida. Each one of our meetings I think has increased the degree of cohesion which exists and must exist between his country and the United States, and therefore I must say, as these talks come to a conclusion, I think I express the sentiment of all of the Americans who participated, our great appreciation to the Prime Minister, to his Secretary of State, Lord Home, and to the other delegates for another happy milestone in the long series of meetings which have existed between the United States and Great Britain in previous years.
Note: The President spoke before a group of newsmen assembled in the Rose Garden at the White House.
The Prime Minister's remarks follow:
Mr. President, I want to thank you very much for the words that you have used. On behalf of myself, of the Secretary of State, and all my colleagues, thank you and Mr. Secretary Rusk for the kindness and courtesy which you have shown us in the last few days.
This has been a very happy visit. I am delighted that we have been able in your own words, to make a friendship both private and public which I feel certain will be good for both our countries and for the future of all the free world.
You, Mr. President, have shown me in particular so many acts of kindness in these days that I really hardly know how to thank you. It has been quite an experience over the last 10 days. I came to lunch with you at Key West, 3,600 miles altogether-very good lunch it was, though. And then, come a week after, here you have given me helicopters and every possible convenience--taken me boating--and everything.
But the point is we have had just friendly talks, sometimes in private and sometimes with our collaborators, which is the basis of confidence that I hope and feel is established between us. And on that friendship I trust that we shall long be able to work for the benefit of our countries and for all the world.
I thank you most warmly.
John F. Kennedy, Remarks at the Reading of the Joint Statement Following Discussions With Prime Minister Macmillan Online by Gerhard Peters and John T. Woolley, The American Presidency Project https://www.presidency.ucsb.edu/node/234543