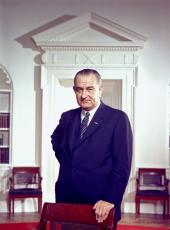 Remarks to the Press on Announcing the Nomination of James J. Wadsworth, Jr., to the Federal Communications Commission.
THE PRESIDENT. I have got a moment here before my Cabinet meeting and I have had a report from the Attorney General who just talked to Ramsey Clark. He is coming over for the Cabinet meeting.
The march has arrived at the capital. Reverend King has addressed them and things are going well and he will give us a full report at the Cabinet meeting. George will give you all the reports after that.
I have just signed and am sending to the Senate a nomination to the Federal Communications Commission. I was unable to give it to you the other day because it needed more checking, but George will work up the biographical data. I have a small amount here.
His name is James Jeremiah Wadsworth, Jr. He was educated at Yale University and attended 1923 to 1927; B.A. degree; member of the football team 3 years; elected to Skull and Crossbones Yale Honor Society. Nothing unfavorable. He was a member of the New York Legislature from 1931 to 1941; registered Republican. He was Deputy U.S. Representative to the U.N. from 1953 to 1960, succeeded Ambassador Lodge as permanent U.S. Representative to the U.N. in 1960 when Ambassador Lodge left to run for the Vice Presidency.
Mr. Macy has gone through it and recommended that someone talk to him. He has been requested to come back to Government service and informed Mr. Macy he would.
Q. What does he do now?
THE PRESIDENT. He resides in Washington and is associated with some organizations, heading them up, in certain fields, and I assume he has some private business connections.
Q. Mr. President, is this a vacancy on the FCC?
THE PRESIDENT. Yes, to succeed Mr. Ford who was named by President Eisenhower and whom I named and has resigned.
Q. What is Mr. Ford's first name, sir?
THE PRESIDENT. Frederick. George will give you any details you want and any background. I thought you ought to get it.
Reporter: Thank you, sir.
Note: The President spoke at 12:50 p.m. in his office at the White House. During the course of his remarks he referred to Ramsey Clark, Deputy Attorney General, Rev. Martin Luther King, Jr., George Reedy, Press Secretary to the President, John W. Macy, Jr., Chairman of the U.S. Civil Service Commission, and Frederick W. Ford, member of the Federal Communications Commission.
In the second paragraph the President referred to a 54-mile civil rights march from Selma, Ala., to the State Capitol Building in Montgomery, where 25,000 marchers planned to present a petition on behalf of Negro rights to Governor George C. Wallace of Alabama.
Lyndon B. Johnson, Remarks to the Press on Announcing the Nomination of James J. Wadsworth, Jr., to the Federal Communications Commission. Online by Gerhard Peters and John T. Woolley, The American Presidency Project https://www.presidency.ucsb.edu/node/242127