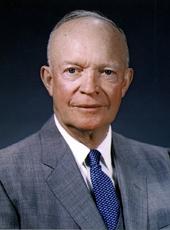 Remarks to the President' s Committee on the Employment of the Physically Handicapped.
General Maas, Secretary Mitchell, members and friends of the Committee on Employment of the Physically Handicapped:
There are numerous bodies working in the United States under the name of a President's committee for this or that--the President's commission for this or the other function. There is none in whose work I take greater satisfaction and follow with keener interest than I do this one.
So, before I say any other word, I should like to express to each of you my lasting thanks, my sincere gratitude, for the work you do, which is in the good of America as well as for the benefit of the individuals with whom you are specifically concerned.
I think my feeling in this matter is deepened by the fact that I had a prominent position in World War II and in carrying out the mission that was assigned to me by the American government, necessarily, many people lost their lives; others were permanently injured. You have helped so many thousands of those, that on their behalf and because of my connection with them, my thanks are even more keenly felt than they would be, possibly, otherwise.
I think it is rather appropriate that I was introduced to you by the Secretary of Labor and you meet in this building dedicated to labor and serving labor; because from every report and from the results achieved, this is a working committee; it is a laboring committee. And it seems to me that as you work for our people, to make them earners, you are almost an extension of the arm that we maintain in this country and call the Department of Labor.
I referred a minute ago to this committee as the President's committee. I am rather proud that they call it the President's committee, but certainly I would be remiss if I didn't point out that my connection with it is of necessity only tenuous, while its success is due to the inspiring leadership of General Maas who has over the past years visited my office time and again. In your work, and in this extraordinary advance that you are making in making useful citizens out of people who at one time in our civilization were merely considered to be on the shelf and a drag upon the economy and society.
In changing them into useful citizens, giving them the feeling of oneness with the rest of us, you are satisfying that human longing to be part of something, to contribute to something that is worth while, so that he can get for himself the satisfaction of saying "I helped to build." And in this case, "I helped to build America." All of us are builders, if we are doing our duty. We are building it bigger and better to hand it on to someone else. And the philosophy that you apply in helping these people become useful, contributing citizens to our great society is the philosophy that underlies America's mutual security program in the international field.
We find states that are physically handicapped. The United States applies some of its energy, some of its techniques, and provides some of its teachers, to helping these countries become earning, contributing members of the society of free nations. And as they grow stronger, we grow stronger. Just as these physically handicapped grow stronger and contribute more, America grows stronger from within.
And so my trip over here this morning is not merely to say thanks but to assure you that from you and your work I gain confidence, and I gain inspiration in the performance of my own.
I should like to make special mention of two things. I noticed that all of the essay winners, when they handed me the report-all the essay winners are girls. I hope that doesn't mean that the ladies are getting to be smarter than the men. But in any event it must mean that they are working a little harder at this particular job, or at least more intelligently. I congratulate them, even though I would hope to see some boys among them next year.
And then I want to congratulate Mr. Definer for his choice as the eminent handicapped man of the year, for the work he has done. In doing it and attaining this distinction he has worked for others as well as himself. He has, as I understand it, tried to make every building in the United States accessible to one who possibly cannot climb stairs. And I hope that he is having every success in that effort, because sometimes they do seem steep--even to me.
Again, as I close, I would like to find words to urge you to work even harder to recruit additional people to assist in what you are doing. The records show we are making tremendous progress, but until we have every American who is given full opportunity to display and utilize all the capacities he has, considering his physical condition, then we still have more work to do.
As I say goodbye, may I say also God bless you and your work.
Note: The President spoke at the annual meeting of the Committee in the Interdepartmental Auditorium at 11:30 a.m. His opening words "General Maas" and "Secretary Mitchell" referred to Melvin J. Maas, Chairman of the Committee, and James P. Mitchell, Secretary of Labor. Later in his remarks he referred to Hugo Definer of Oklahoma City, Okla., who had been chosen as "the eminent handicapped man of the year."
Dwight D. Eisenhower, Remarks to the President' s Committee on the Employment of the Physically Handicapped. Online by Gerhard Peters and John T. Woolley, The American Presidency Project https://www.presidency.ucsb.edu/node/233304