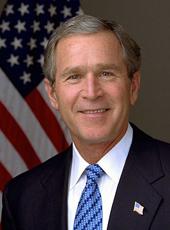 Remarks by the President-Elect Naming Jim Gilmore as Chairman of the Republican National Committee
BUSH: After consulting with the chairman and other Republican leaders, I'm going to ask the Republican Party to make Jim Gilmore the next chairman of our party. There'll be a meeting on January the 18th, and that'll be the moment at which I hope Governor Gilmore is elected, receives the votes necessary to lead our party.
Jim Gilmore has done a fantastic job as the governor of Virginia. He is a man who stands on principle and is able to make a principled case to people from all walks of life. He's a fellow who knows what it means to set an agenda, build consensus to achieve an agenda, and lead. And he's going to make a really good chairman of our party.
Jim not only is a politically savvy person, he also has been really good on different policy matters. He's led some interesting task forces for different governors' groups, for example. And I really appreciate the way he conducts his business, and America will as well.
And we have an opportunity in our party to reach out to people from all walks of life, and we're going to do that. And I can't think of a better person to do it than my buddy and hopefully the next chairman of the Republican Party, Jim Gilmore.
Chairman Nicholson will say a few words and then Governor Gilmore will, then we answer one or two questions for you.
NICHOLSON: Thank you, Mr. President-elect.
I'm real proud to be here today. After two terms as chairman of the Republican National Committee, often strenuous, often challenging, sometimes frustrating, but always important, and I wouldn't have traded the experience for anything.
I came to Washington four years ago like a soldier on a mission. I wanted to restore the party's economic health after a difficult struggle. I wanted to help reunify the Republican Party, and, most importantly, do everything I could to see that we put a Republican president in the White House after the 2000 elections and give him a Republican Congress and to add to our majorities in the state legislatures.
And I'm proud to say, sir, mission accomplished.
(LAUGHTER)
Next month, President-elect Bush and Vice President-elect Cheney will go to the White House. These are the leaders that the Republicans and all Americans have been waiting for. Their integrity, their vision, their compassionate conservatism will renew America, will bring Americans together again as a nation. It will move us forward in a future more glorious than we can imagine.
They will continue the work of other great Republican presidents. It brings to mind the words of Ronald Reagan, who said, "They will preserve all that's best in America and improve the rest."
In addition, I'm very gratified to be turning over the keys to the Republican National Committee to a man that I trust and admire and who has become a good friend. In fact, he's the first guy to ever ask me for money after I got elected chairman of the RNC...
(LAUGHTER)
... about 36 hours later at a coffee pot in Washington, when he told me he was going to be the next governor of Virginia and would I help him.
And help him I did. In fact, I went to the bank and borrowed some money to help Jim Gilmore in his campaign, and he's done a fantastic job since as the governor of Virginia in helping to organize and realign the state of Virginia for the Republican Party.
So I am very, very happy to be turning over to him a party that is in very good shape financially, is in great shape spiritually, we're united and full of positive vision for the future for our country.
So let me close by again thanking you, President-elect Bush, and Vice President-elect Cheney. I want to thank my wife Suzanne--who's here with me today, who's been at my side the whole time, the entire four years that we have been in this endeavor--and all supporters, everywhere throughout America, who have supported this party so generously the last four years to enable us to do what we have done. Nothing could have been a better experience than this. Thank you.
And now I'd like to ask President-elect Bush if he would introduce to you the man who'll be my successor, I'm sure, because the Republican National Committee will have the wisdom to elect him. Thank you.
BUSH: Well, I bragged about him once, I better stop before it goes to his head.
But, Governor, thanks for taking on the assignment. Congratulations. You'll do a great job.
GILMORE: Thank you, Mr. President-elect.
Ladies and gentlemen, I want to tell you how glad I am to be here and to have the support of the president-elect, who has asked me to take on the chairmanship of the Republican National Committee. This is a wonderful opportunity for national service. It's a chance for me to keep my faith with the people of Virginia while I'm governor, and, at the same time, serve this administration and serve the party and serve the United States as chairman of the Republican National Committee.
And, Mr. President-elect, I appreciate very much your confidence and your friendship we have always had together.
The first lady of Virginia has come to Texas with me, my wife, Roxanne. I'm delighted that she's here to stand with me as she always has in new endeavors.
I want to just take a moment and thank Mr. Chairman, Jim Nicholson, and his lovely wife, Suzanne, who's here. We have become good friends of the Nicholsons' over the last number of years, ever since I asked him for that money. We have become very good friends.
NICHOLSON: I gave it to him.
GILMORE: He gave it to me. And it made all the difference in the world, and that is exactly what the RNC's opportunity is--to help people who want to do good things for the people of the United States.
I want to thank Pat Harrison, the vice chairwoman of the RNC. Pat has just done a wonderful job.
And between the leadership of Pat and chairman, what achievements have we had. We have gained more donors to the Republican Party than ever before, by hundreds of thousands. More ads and information was given to the people of the United States in this past campaign than ever before in the history of the nation. More people were working in the grassroots and involved out there, talking to their friends and neighbors, than ever before in history.
And, Jim, I just want you to know I know this is a hard act to follow, and I appreciate the service that you have given to the party and, thereby, to the country.
It's of course an opportunity to lead this party. The president-elect has shared with me, over a long period of time now, his desire to see the party broaden, to broaden its base, and to bring additional people in. He has led by example in this regard here in the state of Texas. He's made it clear that this is the goal that he wishes that the party to achieve, to bring more people in from the Hispanic community, the African-American community, all regions of the United States of America, and to make this party broader even than it is now.
George W. Bush, Remarks by the President-Elect Naming Jim Gilmore as Chairman of the Republican National Committee Online by Gerhard Peters and John T. Woolley, The American Presidency Project https://www.presidency.ucsb.edu/node/285418