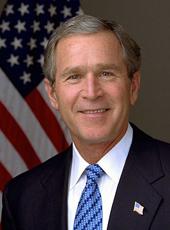 Remarks by the President-Elect Announcing the Nomination of Joe Allbaugh as Director of FEMA and the Appointment of Carl Rove as Senior Advisor and Assistant to the President
BUSH: Good morning.
Today I had the honor of naming two of my close friends and associates to high level positions in my administration. During the course of the campaign much was made of the so-called "Texas Iron Triangle." Previously, I named one of the legs of the triangle to a White House position, and that was Karen Hughes.
Today, it is my honor to report to the nation that the remainder of the "triangle" has agreed to serve in my administration. First, Joe Allbaugh: Joe has been a loyal, strong friend who has agreed to become the director of FEMA, the Federal Emergency Management Agency.
FEMA is an incredibly important part of a president's team. The person who runs FEMA is someone who must have the trust of the president, because the person who runs FEMA really is the first voice often times that someone whose lives have been turned upside down hears from.
I can't think of a better man to take the job than Joe Allbaugh. He's a well-organized individual. He cares a lot about his fellow man. He has been by my side during the natural disasters that took place, over the last six years. He's seen what an effective agency can mean to people, and I'm really pleased that Joe has agreed to take on the assignment. He's going to do a fabulous job.
Secondly, Karl Rove has agreed to serve as the senior adviser and assistant to the president. Karl has got a fantastic mind. He is one of the reasons why I was elected governor, and one of the reasons why I was elected the president. He comes to Washington with a wonderful sense of history, a great understanding of the presidency as an institution in America. He will bring good judgment, good humor and good advice to the White House.
And so it's a wonderful pleasure to announce the "triangle" has been completed, and that these two good men and their families will be joining us in Washington, D.C.
And I'd like to ask Joe Allbaugh to say a few remarks.
ALLBAUGH: Mr. President-elect, thank you so much.
I am humbled by your nomination. I am touched by your confidence. I'm excited about being at FEMA. I can't think of a better place to help out fellow countrymen when they are in time of need. I look forward to joining the thousands of reservists, employees and volunteers that will continue in American tradition of assisting our American citizens when disaster strikes.
And lastly, I'd like to thank my family, for without their love and consideration, I would be incomplete.
Thank you, Mr. President-elect.
BUSH: Mr. Rove?
ROVE: Thank you, Mr. President (sic). I'm honored by your call to service, and I'm looking forward to it. It's going to be a lifetime very rewarded. Thank you, sir; appreciate it.
BUSH: Thank you all; we'll see you at the lunch hour.
George W. Bush, Remarks by the President-Elect Announcing the Nomination of Joe Allbaugh as Director of FEMA and the Appointment of Carl Rove as Senior Advisor and Assistant to the President Online by Gerhard Peters and John T. Woolley, The American Presidency Project https://www.presidency.ucsb.edu/node/285417