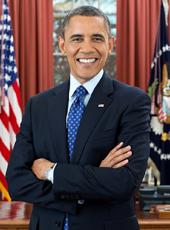 Remarks by the President-Elect Announcing the Nomination of General Eric K. Shinseki as Secretary of Veterans Affairs
Good afternoon.
Earlier this week, I announced key members of my national security team. They have served in uniform and as diplomats; they have worked as legislators, law enforcement officials, and executives. They share my sense of purpose about American leadership in the world, my pragmatism about the use of power, and my vision for how we can protect our people, defeat our enemies, and meet the challenges of the 21st century.
As we seek a new national security strategy that uses all elements of American power, we must also remember those who run the greatest risks and make the greatest sacrifices to implement that strategy – the men and women who wear the uniform of the United States of America. Even as I speak, they are serving brilliantly and bravely in Iraq, Afghanistan, and around the world. And we must show them and their families the same devotion that they have shown this country.
We don't have to do our troops and our veterans a favor, we have a sacred trust to repay one. That starts with recognizing that for many of today's troops and their families, the war doesn't end when they come home. Far too many are suffering from the signature injuries of the wars in Iraq and Afghanistan – Post-Traumatic Stress Disorder and Traumatic Brain Injury. And far too few are receiving the screening and treatment they need. The servicemen and women who embody what's best about America should get the best care we have to offer, and that is what we will provide when I am President.
And in this struggling economy, we also have to do more to ensure that when our troops come home and leave the service, they can find jobs that pay well, provide good benefits, and help them support their families.
But we don't just need to better serve veterans of today's wars. We also need to build a 21st Century VA that will better serve all who have answered our nation's call. That means cutting red tape and easing transition into civilian life. And it means eliminating shortfalls, fully funding VA health care, and providing the benefits our veterans have earned.
That is the kind of VA that will serve our veterans as well as they have served us. And there is no one more distinguished, more determined, or more qualified to build this VA than the leader I am announcing as our next Secretary of Veterans Affairs -- General Eric Shinseki. No one will ever doubt that this former Army Chief of Staff has the courage to stand up for our troops and our veterans. No one will ever question whether he will fight hard enough to make sure they have the support they need.
A graduate of West Point, General Shinseki served two combat tours in Vietnam, where he lost part of his foot, and was awarded two Purple Hearts and three Bronze Stars. Throughout his nearly four decades in the U.S. Army, he won the respect and admiration of our men and women in uniform because they have always been his highest priority. He has always stood on principle – because he has always stood with our troops. And he will bring that same sense of duty and commitment to ensuring that we treat our veterans with the care and dignity they deserve.
A decorated soldier who has served at every level in the Army, General Shinseki understands the changing needs of our troops and their families. And he will be a VA Secretary who finally modernizes our VA to meet the challenges of our time.
Nearly seventy years ago today, "a date which will live in infamy," our harbor was bombed in Hawaii, and our troops went off to war. And after that war was over, after we reclaimed a continent from a madman and beat back danger in the Pacific, those troops came home to a grateful nation – a nation that welcomed them with a GI Bill and a chance to live out in peace the dreams they had fought for, and so many died for, on the battlefield. We owe it to all our veterans to honor them as we honored our Greatest Generation – not just with words, but with deeds.
And with the national security team I announced this week and the extraordinary and courageous Secretary of Veterans Affairs I am announcing today, I am confident that we will never hesitate to defend our security, that we will send our troops into battle only when we must, and that, in the words of Abraham Lincoln, we will truly care for all "who shall have borne the battle."
Now, I'd like to turn it over to our next VA Secretary, General Eric Shinseki.
Barack Obama, Remarks by the President-Elect Announcing the Nomination of General Eric K. Shinseki as Secretary of Veterans Affairs Online by Gerhard Peters and John T. Woolley, The American Presidency Project https://www.presidency.ucsb.edu/node/285202