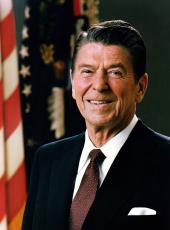 Remarks of the President and Prime Minister Shimon Peres of Israel Following Their Meetings
The President. We've just completed an intensive round of discussions with Prime Minister Peres and Foreign Minister Shamir. And may I say that our discussions reconfirm the close friendship, the mutual respect, and the shared values that bind our countries. Our ties remain unbreakable, continue to grow stronger.
It's been a particular pleasure for me to welcome Mr. Peres to the White House in his new capacity as Prime Minister. Mr. Shamir, of course, has been a frequent visitor to Washington, and I'm very pleased that we were able to meet with him again.
I want to pay special tribute to the leadership qualities of Prime Minister Peres and Foreign Minister Shamir. Both have shown courage and determination to put aside partisan politics and join together in a government of national unity in order to deal with Israel's most pressing problems. This demonstration of unity reminds us of democracy's great strength and the hope it offers for all the people of the world.
In our talks we focused on several issues. We discussed in some detail the plans of Prime Minister Peres and his partners in the new unity government for revitalizing the Israeli economy and putting it on the road to sustained recovery. And I'm impressed by the bold and wide-ranging steps the Prime Minister and his Cabinet colleagues are planning.
I know from our own experience how difficult the problem of economic readjustment is, yet how vitally important a strong economy is to national security. We've made clear our willingness to continue our dialog and to cooperate with Israel in the best way we can as Israel proceeds with its plans.
The new Government of Israel has already taken some steps to reduce .inflation and increase economic growth and is working to develop additional steps. The economic support funds and other funds that the Congress has appropriated for Israel come at an opportune time, for they will enable Israel to develop its programs without having to divert undue attention to balance-of-payments problems. Should such problems arise, the U.S. Government will work closely with the Israeli Government to avert them.
Looking ahead, Prime Minister Peres has described a bright vision of Israel's economic future as a dynamic competitor in world markets. We have agreed to explore with Israel ways to enhance its growth and development prospects through structural adjustment, increased trade and investment, as well as American aid.
And Prime Minister Peres and I have decided to establish a joint economic development group of economic officials from our two governments and private economists to discuss Israel's economic recovery and development program. And this group will be an important forum for exchanging views on the full range of economic issues and examining ways to help support Israel's efforts.
The establishment of a free trade area between our two countries also offers great promise to Israel's economic future and to the United States. This will be the first such agreement that we've entered into with another nation. Prime Minister Peres and I have instructed our delegations to conclude negotiations within 30 days. I'm confident that this unprecedented agreement, by expanding Israel's export markets to the United States, will be important in helping Israel on the way to economic recovery, and it will also boost U.S. exports to Israel.
We also discussed the situation in Lebanon. The Prime Minister made clear the firm Israeli determination to withdraw fully from Lebanon as soon as security arrangements can be put in place to ensure the safety of Israel's northern border. I reassured him that the United States stands ready to help, provided the parties concerned want us to play this role and are committed to finding answers to the difficult issues involved. We agreed to stay in close touch on this subject in the days ahead.
And finally, I reaffirmed our fundamental commitment to Israel's national security. I'm pleased that we've agreed to consult in a systematic way on the U.S.-Israel security assistance program, a way that contributes most effectively to Israel's overall national security and the maintenance of its qualitative edge. Secretary Weinberger will be discussing this process and other security matters when he visits Israel next week.
I made clear to the Prime Minister and his colleagues our firm commitment to the goal of a just and lasting peace between Israel and all its Arab neighbors. Outstanding steps in that direction are United States Security Council Resolution 242, the Camp David accords on the historic Egyptian-Israeli peace treaty.
I reaffirmed today my initiative of September 1, 1982. At that time I set forth U.S. positions designed to bring the parties to the negotiating table, presumably with their own positions. The Prime Minister stressed that his government is also determined to move the peace process forward, and I join him in this great and common objective. In partnership, Israel and the United States will continue to work toward a common vision of peace, security, and economic well-being.
Prime Minister Peres, it's a great pleasure to have you here with us.
The Prime Minister. Thank you very much, Mr. President.
I want to thank the President of the United States for his understanding, his friendship, his hospitality, and may I say, Mr. President, that in our meetings the relations between the United States and America have reached a new level of harmony and understanding, which I am very grateful for.
I would like, from the outset, on behalf of all of the people of Israel, to thank the President, the Congress, and, first and foremost, the people of the United States, for the lasting friendship existing between our two people and countries.
Vice Premier Shamir and myself have had a series of most rewarding discussions with the President, Vice President, the Secretary of State, the Secretary of Defense, and their colleagues. I found in the White House a true friend of Israel and I understand—who understand our problems and dilemmas, aware of our difficulties, and closely follows our efforts to face them.
I'm grateful to the President for his warm and detailed statement and consider it an important contribution to the process of rebuilding the Israeli economy. Equally significant is my hope that the United States will continue to play an important role in reducing tension in our region and revitalizing the peace process.
I detailed to the President the position of our government of national unity on a wide range of issues in the political, security, and economic areas. The government of national unity was formed in the united city of Jerusalem in the spirit and the words of Prophet Ezekiel, who said, "And I shall give them an undivided heart and a new spirit."
Despite the differences between the policies of this government, we are all united in our thankfulness and confidence in the United States of America. We are all united in our desire for peace. We are all united in the desire to bring our boys back from Lebanon, provided that the security of the northern part of Israel will be guaranteed. We are determined to tackle our economic difficulties head on.
Mr. President, our land is not a land for skeptics, but a cradle for believers, and this is more important than any passing economic difficulty. While we certainly build a primary responsibility for dealing with these problems and we have demonstrated our resolve with regard to each, nevertheless, the support of the President, the United States Government, and the American people is a source of strength and inspiration to all of us.
Again, Mr. President, I thank you from the depths of my heart for your understanding, friendship, and support in the long and short range of the destinies of Israel. Thank you very much.
Reporter. Mr. President, the Democrats say your age is now a legitimate issue in the campaign. Do you think it ought to be, sir?
The President. I'll challenge him to an arm wrestle anytime. [Laughter]
Q. Do you have a secret plan to cut Social Security? [Laughter]
Note: The President spoke at 1:32 p.m. in the Rose Garden at the White House.
Earlier, the President and the Prime Minister met in the Oval Office. They then held a working luncheon, together with U.S. and Israeli officials, in the Cabinet Room.
Ronald Reagan, Remarks of the President and Prime Minister Shimon Peres of Israel Following Their Meetings Online by Gerhard Peters and John T. Woolley, The American Presidency Project https://www.presidency.ucsb.edu/node/260623