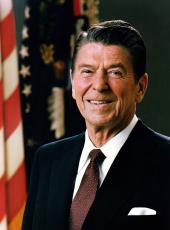 Remarks of the President and Prime Minister Robert D. Muldoon of New Zealand Following Their Meetings
The President. I am delighted that Prime Minister Sir Robert Muldoon has once again come to Washington. I value the wise counsel of such a good friend, and it was a real pleasure to confer with Sir Robert on issues of importance to both our countries.
The Prime Minister's thoughts on the international economic situation have been most helpful. His breadth of experience in international finance as Finance Minister and as Prime Minister is matched by very few people. And I sincerely appreciate his insights on these important international issues.
I also want to thank Sir Robert and all New Zealanders for the key role they play in the South Pacific, a region which should serve as a model for the rest of the world. The South Pacific is tranquil, respects human rights, and has peacefully developed democratic institutions and self-government. These accomplishments would not have been possible without New Zealand's development assistance programs.
New Zealand's contributions to stability and security extend far beyond the South Pacific. We see them as far away as the Sinai Desert and in Singapore. And we have special appreciation for, Sir Robert, your commitment to ANZUS, an alliance which has assured our mutual security in the Pacific for more than 30 years.
I might mention that our ANZUS partners, New Zealand and Australia, are our only allies who have been at our side in all four major conflicts of this century. The strong bonds between our two nations reflect our common values, shared history, and mutual interests.
We are more than good friends. And I am especially grateful to Sir Robert for his untiring efforts to further strengthen our close ties. We will stay in close touch in the future. And, Sir Robert, I thank you for coming to Washington, and on behalf of our countrymen, wish you Godspeed during your visit to America and a safe journey home.
The Prime Minister. Mr. President, I last stood here at the White House with you 30 months ago. The friendship between our countries, as you've said, goes back a long way and, through difficult times for the West, was attested to then by the warmth of your welcome and your hospitality as it has been again today.
July 1981 was the midpoint of the first year of your administration. The economic and political tasks that you had set yourself were of global significance. Among these was a determination to place greater emphasis on consultation with America's allies by being good listeners wherever possible. New Zealand is one ally which welcomed that undertaking as a renewal of the concept which lies at the heart of the ANZUS Treaty.
Mr. President, you've been as good as your word. The period of your first term has been marked by a frequency and closeness of contact which has made New Zealand, geographically your most distant security partner, feel that its voice is listened to in your administration, whether on issues of bilateral concern or wider issues affecting regional and global security. We've not had to shout to be heard.
Much of that is due to the regularity of contact at the Cabinet level between our governments, highlighted, of course, by the visit of Vice President Bush to New Zealand in May 1982. We look forward in July to seeing our good and valued friend, George Shultz, back in the South Pacific region once again.
Political visits are not the sole measure of the relationship and its durability. Rather, it's a matter of the way our citizens relate to each other as people. You've often spoken about the desires of ordinary Americans to live free, in peace and well-being. New Zealanders share that view of the world. It is why, when we've had to, we've acted together with you to preserve such values for ourselves and other peoples. That hasn't changed.
New Zealanders are not isolationists, in spite of our relative geographic isolation. Nor are New Zealanders among those fair-weather friends who are only too ready to attack American motives and policies. In an uncertain world, you need have no doubt about where the New Zealand Government and people stand. Your citizens—private, official, and military—remain more than welcome in our country.
Mr. President, our discussions today have touched upon New Zealand's own trade concerns, your government's aspirations at home and abroad, and the concern of many nations for a new stability in international economic affairs. Our exchanges have been characterized by the easy give and take of ideas which is the hallmark of close friends and allies.
I thank you warmly for your hospitality and that of Mrs. Reagan for my wife. The coming year brings new challenges of government and political life for both of us and our families. I wish you and the First Lady well in all that lies ahead.
Note: The President spoke at 1:21 p.m. at the South Portico of the White House.
Earlier, the President and the Prime Minister, together with their advisers, met in the Oval Office. They then attended a working luncheon in the State Dining Room.
Ronald Reagan, Remarks of the President and Prime Minister Robert D. Muldoon of New Zealand Following Their Meetings Online by Gerhard Peters and John T. Woolley, The American Presidency Project https://www.presidency.ucsb.edu/node/260425