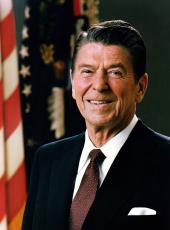 Remarks of the President and Prime Minister Pierre Elliott Trudeau of Canada on the United States-Canadian Discussions in Ottawa
The Prime Minister. The point has been made many times that we are happy to have received President Reagan and his ministers and officials. We want to report briefly this morning on the conversations and discussions that took place between us. I would merely preface them by saying that at the beginning of a new administration we were surprised and delighted that so much ground could be covered in such a positive way. There's no subject and no grievance, if I could use the word, which the United States wasn't prepared to discuss and indicate a will to settle.
We discussed, yesterday morning, mainly the area of international affairs, and we had a very wide-ranging tour d'horizon. Nous avons parle de l'Afghanistan, de la Pologne, du Proche-Orient. [We discussed Afghanistan, Poland, the Near East.] We talked a fair amount of the Caribbean and Central America. And on El Salvador in particular there was agreement, as I could sense it, that the solution there should be a political solution and that we would work in whatever way we could to ensure that the moderates were those who took over and not the extremists of the right or of the left.
We, as you know, reached an agreement on NORAD, which will be signed imminently. We reached an agreement on social security, also. Much of the work in these two areas had been done before we even sat down to talk, because you realize, as we do, that every day of the week there are contacts between officials of both governments on a multitude of subjects. And what we concentrated on in our brief meetings was mainly in the area of disagreement or a need to clarify our respective positions, and I would say that on the two main areas of bilateral concern we were very pleased with the ultimate response of the President of the United States.
It began, of course, with an expression of our deep disappointment at the fact that the fisheries treaty had been withdrawn from the United States from ratification, because from the outset we had argued, when these discussions began several years ago, that linkage between the boundaries settlement and the fisheries was not only necessary, but it was obvious from the very nature of the two agreements. And we are disappointed at the delinkage, and that has been expressed very clearly to the United States. But as I said in the House of Commons a few days ago, I think it's fair to put the best possible light on this, and that is certainly in keeping with the attitude that the discussions assumed.
The fisheries treaty was bogged down for a couple of years in the Senate, and we view the United States gesture of withdrawing that treaty as an indication of their determination to solve the problem in other ways, because we made it quite clear that the two problems have to be solved. It is not just a matter of having the courts determine the boundaries; it is a matter of making sure that though there will be no fish war—we gave each other the assurance of that, and we will take measures to make sure it doesn't happen—no one would benefit if the fish ultimately were fished out by the extraordinary capacities of the Canadian fishermen to go ahead and fish if they see that there are no limits and that the Americans are not respecting them. So, in this sense, we are very happy that the United States administration has undertaken to assure fish conservation measures in that area. And we are hopeful that the problem will be settled in that way. Indeed, we're more than hopeful; we are confident that it will.
The other area, of course, of great concern to Canada was cross-boundary pollution, either through acid rain, Great Lakes water pollution, or the particular case of the Garrison diversion. And on all these matters I think it's fair to say that the United States, as the President had occasion to repeat in the House of Commons a few moments ago—we have the assurances that the United States has the will and the determination to cooperate with us in preserving the environment for ourselves and for posterity.
We talked about the pipeline, the northern gas pipeline, and you heard the President of the United States give us the assurance that they were determined to see it to its successful completion and therefore to carry on the undertakings we'd had from the previous administration. We talked about many other bilateral subjects in the area of trade. We said that the auto pact discussions should be pursued and continued. In the area of mass transit transportation, the United States has agreed to consider ways in which agreement and the buy-American provisions can be made to operate in a fair way to Canada.
We discussed other economic subjects. But I think it's important, in conclusion. to remind you that the impression that I got from our discussions with the American President and ministers was that we were doing this in the best possible of spirits and attitudes. We didn't approach this as a zero-sum game. We think that there can be beneficiaries on both sides in all these areas, whether it be from the environment or trade.
We don't see the negotiations as terminating in a victory for one and some losses for the other. On the contrary, the spirit and reality of these discussions and, I am convinced, of the future of our relations with President Reagan and his administration will be that both sides can come out the gainers if we solve problems of the environment, problems of boundaries or of fisheries, problems of trade, problems of social security, and that both sides have it to their advantage to look at international problems in that same light, too, because we share the main objectives of liberty and justice.
I expressed for my part that there might be some future meetings between the President of the United States and the President of Mexico and the Prime Minister of Canada, if we could have such meetings to try and share common views of people who inhabit the New World, particularly as we regard international developments.
We will be meeting again, the President and I and the other summiteers, in July. And I think that we have shown at least by our meeting in this past day and a half that we intend to continue our consultations. I did make the point—and I think the President agreed—that our reaction to tensions in Poland, as different from our reaction to events in Afghanistan more than a year ago, show that we had learned from the lesson of Afghanistan and that we understood that one of the most important things we could achieve as like-minded countries was to consult in order that we not react in disarray to crises or possible tensions in other parts of the world, but that we act, in fact as we are in spirit, with unison and with dedication to the spirit of freedom.
That's about all I think that I have to say, Mr. President, and it's up to you now to try and satisfy those that were not satisfied by me. [Laughter]
The President. Well, Mr. Prime Minister, I'm sure they are. You gave certainly a very thorough summing-up of the wonderful meetings we've held. I would like first, however, to remark on the kind of welcome that I have received here. That welcome went beyond careful planning and beyond a sincere and warm reception by the Governor General and the Prime Minister. It was truly a welcome, a meeting between neighbor and neighbor.
Our discussion showed that the United States and Canada stand together on many world issues. Understandably, on some issues, we see things differently. Each country has its own national interests and objectives. Each country brings to international issues a distinct point of view. But what has impressed me is the degree to which we are in agreement and, where we have differed, that we have discussed our differences with the kind of openness and understanding that exists between neighbors.
We discussed the major areas of instability in the world, as the Prime Minister told you, including Eastern Europe, the Middle East, Latin America. We considered carefully the Ottawa Summit, which will be held here in July. That meeting will be a very useful opportunity to share views on relationships between the industrialized democracies and the Soviet Union on energy cooperation and on economic relations within the developing nations.
In addition to discussing these world issues, we carefully considered the bilateral U.S.-Canadian relationship. We agreed wholeheartedly that consultation is vitally important to our close and cooperative relationship, and we agreed to foster frank and informal consultation at all levels and at all times. Our bilateral discussions took us into the areas where our two nations are closest. We discussed matters affecting the environment, fisheries, as you've been told, energy, trade, and defense. In each of these areas we were, I believe, able to deal with the issue squarely, in an atmosphere of frankness and understanding. And we did, yes, discuss the pipeline, the Canadian national energy program, took up the continuing problems, as the Prime Minister told you, of east coast boundary and fisheries treaties.
On the environment we addressed the Garrison project and continued joint efforts to deal with both transboundary air pollution and the cleanup of the Great Lakes. We agreed to continue consultations on the auto industry and on reciprocal opportunities for urban mass transit trade. We discussed our defense production sharing agreements. We've had, in short, a busy time.
I look forward to continued contacts between us at the Prime Minister-President level, at the level of Cabinet officers, and at all levels below. To sum it up, our meetings have been, as he said, frank and constructive, and I intend to do all in my power to see that we continue to deal with each other in the same way in the years ahead.
And I would like to close by expressing my thanks to Governor General Schreyer, to Prime Minister Trudeau, and, through them, to the people of Canada for the warm welcome that I and my associates have received here this week. I can assure you we will not forget it. We will remember it with great warmth and pleasure.
Thank you, and I understand that [applause] .
The Prime Minister. We're going to see the signature of a couple of these agreements. I understand that Secretary Haig and Minister MacGuigan [Mark MacGuigan, Canadian Secretary of State for External Affairs] will stay on to answer any questions, and Madame Begin [Monique Begin, Minister for National Health and Welfare] also will answer questions. She may even ask some, if I know her. [Laughter] I person. ally will be giving a press conference tomorrow, and I'll be happy to answer any questions that may not have been dealt with today.
Note: The Prime Minister spoke at 12:08 p.m. to reporters assembled in the Railway Committee Room at the Centre Block.
Following the remarks, the President visited the U.S. Embassy and then returned to Washington, D. C.
Ronald Reagan, Remarks of the President and Prime Minister Pierre Elliott Trudeau of Canada on the United States-Canadian Discussions in Ottawa Online by Gerhard Peters and John T. Woolley, The American Presidency Project https://www.presidency.ucsb.edu/node/247173