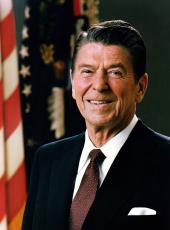 Remarks of the President and Prime Minister Pierre Elliott Trudeau of Canada Following Their Meeting
The President. The Prime Minister and I have just concluded a very useful and a wide-ranging discussion of some of the most crucial issues that are facing the people of Canada and the United States and, indeed, facing people everywhere.
Prime Minister Trudeau briefed me on his recent discussions with leaders in Europe and Asia, on his concerns for world peace and disarmament and improving the East-West dialog. We fully share the concerns for peace which the Prime Minister has expressed. We appreciate his strong statements supporting the joint efforts of the Western allies to negotiate meaningful arms reductions and to promote dialog with other nations.
And I thank you, Mr. Prime Minister, for coming here, sharing your ideas with us. And we wish you Godspeed in your efforts to help build a durable peace.
The Prime Minister. Well, as you have just heard, the President supported what is being known as my peace initiative. But I think he did more than support it. I think he has been showing through his administration and the past months, at least, that as far as we are concerned on the NATO side, we want to change the trend line. We want to make it clear that not only the alliance is strong, that it will defend itself, that it will not be intimidated but that it is also pursuing peace.
And if I were to tell you, for instance, that the President agrees that we shouldn't seek military superiority in NATO, we should seek a balance; that we do not think that a nuclear war can be won; that we think that the ideal would be to see an end to all nuclear arms; it might come as news at least to some of the press in Canada, because we haven't been hearing that. But this is what the President said at the Diet in Japan, and this is what our Foreign Ministers have said just a few days ago in Brussels, that we respect each other's legitimate security interests.
Whether this is news or not, I don't know, but this, at least in perception, is a complete change of a trend line which I saw when I embarked in my initiative several months ago, as one which was going downwards rather than upwards, which was—to use Carrington's phrase—which was characterized by "megaphone diplomacy." In Brussels last week, there was no megaphone diplomacy. There was a call for dialog repeated two or three times in the message and in the communique.
So, I'm grateful—not that I've said anything new this morning—but I'm grateful that I was able to hear from the President of the United States, the leader of the alliance, that these are not just words, that these correspond to the intention of the alliance, and that the other side can know, the Warsaw Pact can know that we're not trying to be superior, we're not trying to not recognize their legitimate security interests. We just want them to realize we want to be at least equal in balance and that they should recognize ours. And I think this is a great step forward.
I'll say nothing though—maybe I will say something about the decision of NATO to send Foreign Ministers to Stockholm. This is really stating that the politicians are taking hold of the peace issue. It is no longer for the nuclear accountants, it is for the political leaders, themselves.
Thank you.
Note: The President spoke at 12:09 p.m. to reporters assembled on the South Grounds of the White House. The Prime Minister spoke in both English and French. His remarks in French were not translated for the American press or included in the White House press release.
Earlier, the President and the Prime Minister, together with U.S. and Canadian officials including the Vice President, Secretary of State George P. Shultz, Secretary of Defense Caspar W Weinberger, and Canadian Secretary of State for External Affairs Allan J. MacEachen, met in the Oval Office.
Ronald Reagan, Remarks of the President and Prime Minister Pierre Elliott Trudeau of Canada Following Their Meeting Online by Gerhard Peters and John T. Woolley, The American Presidency Project https://www.presidency.ucsb.edu/node/262214