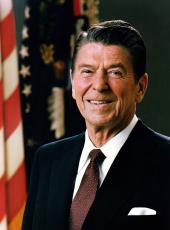 Remarks of the President and Prime Minister Menahem Begin of Israel Following Their Meetings
The President. Well, ladies and gentlemen, the Prime Minister and I have had 2 days of friendly and useful and productive talks. I'm greatly encouraged by the common purpose that I have sensed throughout our discussions, and especially pleased by the friendship and complete candor that has developed between us from the very outset of our meetings.
Your views, Mr. Prime Minister, have been invaluable, and your grasp of issues that concern us is truly impressive. We've made progress in charting a course that we'll be following in the peace process in the months ahead. We'll work together to maintain the peace that was concluded between Israel and Egypt and to build on that peace and broaden it.
The United States stands ready to help advance the peace process in any way that is useful to the parties concerned. In our discussions about the strategic situation in the Middle East, it's only natural that we've found much common ground. As friends and as partners in peace, we share a determination to oppose all forces that threaten the freedom, integrity, and peace of our nations.
The United States will remain committed to Israel's security and well-being. We will work together with you and with our other friends in the region to counter Soviet aggression and to strengthen security of all the countries in the area.
Mr. Prime Minister, this is the first of what I know will be many warm and productive meetings between us. I'm delighted to have had this opportunity to come to know you and to discuss the partnership between our two countries. Through our conversations, I believe we've created new bonds of understanding between the United States and Israel, renewed and strengthened our very special friendship.
So, while I know that you are going to continue a few days longer, and while we part, but you will be here longer, I wish you a very pleasant, continued stay in the United States and, above all, a very safe return to Israel.
The Prime Minister. Mr. President, ladies and gentlemen of the press, I-subscribe without any qualification to the appreciation of the talks we held in Washington with the President and his advisers. The American delegation and the Israeli delegation spoke with candor, in detail.
All of us made our work well-prepared, and, therefore, the results can really be considered unanimously by both the President and his advisers and my colleagues and myself as very fruitful. We draw a distinction, a clear distinction, between problems of defending our country when it becomes necessary and the community of moral values and of direct interests between the United States and Israel, as far as the threat to freedom of many nations in the Middle East and elsewhere is concerned.
As far as defense of Israel is concerned, it is our problem. We will never ask any nation to send its soldiers to defend us. Our army will do its duty. We hate war. We hate bloodshed. We want peace. We gave great sacrifices for the sake of peace. We hope to achieve that peace with the other neighbors. But if it should come at any moment when we will have to defend our independence and our liberty and our land, then our young people will do so as they did in the past, in the spirit of self-sacrifice and, I don't hesitate to say, in heroism.
But, there is another problem in our time: a clear community of interests vis-avisa clear and present danger to every free nation by a totalitarian and an expansionist regime. On this issue, we work together, we will plan together, we will execute those plans together, in agreement, for the benefit both of the United States and Israel and the free world at large.
Mr. President, we are all grateful to you for the wonderful hospitality you accorded to us. To you and to your gracious lady, Mrs. Reagan, I can only repeat again, "We will be awaiting your visit to our country and to Jerusalem." With God's help you will come. And we shall give you the heartiest reception by a people who have got so great a respect for you as anybody who came to see you, to listen to you, to feel your warmth, your friendship, your readiness to give brotherhood to human beings, can feel.
So, I do not say goodby, Mr. President. I say next time, au revoir, in Jerusalem.
Note: The President spoke at 10:12 a.m. on the South Lawn of the White House. Earlier, the President and the Prime Minister held a breakfast meeting in the Oval Office.
Ronald Reagan, Remarks of the President and Prime Minister Menahem Begin of Israel Following Their Meetings Online by Gerhard Peters and John T. Woolley, The American Presidency Project https://www.presidency.ucsb.edu/node/247263