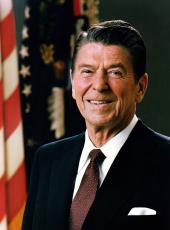 Remarks of the President and Prime Minister Mahathir bin Mohamad of Malaysia Following Their Meetings
The President. Well, it was my pleasure to meet today with Prime Minister Mahathir of Malaysia.
The Prime Minister and I had a valuable exchange of views on international and bilateral issues and found ourselves in agreement to a remarkable degree. We both attach the highest importance to the global economic recovery and believe a more open system of international trade and investment is essential. Our economic upsurge in the United States is helping spark new economic growth worldwide.
Part of our discussion focused on trade and commodities, which is significant to the well-being of Malaysia. Prime Minister Mahathir's creative leadership has been instrumental in developing the U.S.-ASEAN understanding of tin.
Malaysia shines as an example in many areas. Its vibrant economy, complemented by balanced social development and flourishing democratic institutions, should serve as an inspiration to developing nations.
On the international scene we discussed the situation in the Middle East. Although we have differing views on certain aspects of this complicated situation, we both seek an end to the turmoil that has engulfed the area for too long.
We also reviewed the situation in Southeast Asia, where Malaysia is playing a vital role in maintaining the region's peace and stability. Malaysia deserves the world's respect for its continuing efforts on behalf of the many refugees that are fleeing Communist persecution.
The United States applauds ASEAN's determination in these troubled times. We wholeheartedly support, for example, the program for a resolution of the Kampuchean problem. The unity among the member states of ASEAN is an inspiration for all of us.
After my very pleasant meeting with the Prime Minister, I'm confident that ties between Malaysia and the United States are strong and friendly. We can expect increased opportunities for contact between our two peoples on both the official and private level.
For our part, we look forward to continuing the dialog begun today and appreciate very much the Prime Minister's visit. We are pleased to have you here, Mr. Prime Minister.
The Prime Minister. Mr. President, ladies and gentlemen, my delegation and I are pleased with the very frank discussions we had this morning with you and your Cabinet colleagues. We regard this as a part of a continuing useful and constructive dialog.
Quite clearly, there exists a substantial measure of agreement on a variety of areas. I'm particularly happy to note the encouraging signs of economic recovery in the United States, which we consider significant, if not crucial, in assuring a healthy global economy. In fact, if you were to ask me what is it I would want the United States to do with regard to economic policy, my honest and simple response is for the U.S. economy to get ahead and regain its strength, for the healthier and more vibrant the U.S. economy becomes, the better it will be, not only for the United States and Malaysia but all the developing countries in the world.
The overall relations between Malaysia and the U.S. are excellent, with both our countries sharing similar values and concerns. And where we differ in respect to perception or policy, I'm gratified to note that there is a willingness on the part of the United States to achieve closer understanding and cooperation such as our present round of meetings.
In our discussions, among other things, we conducted a comprehensive and forthright review of the relations between the U.S. and Malaysia. And I'm happy to find that there is a higher level of cooperation and respect between our two countries. We pledge to continue this friendly and cooperative relationship for mutual benefits.
We also took a closer look at a number of important developments and trends in the world in both the political and economic context and discussed what could be done to safeguard and promote global peace, economic development, and political stability. We discussed at length major global economic issues. I'm pleased to note that both our governments recognize that, in the interest of global peace and stability, it is important for both the industrially advanced and the developing countries to make progress on these major issues.
We do not expect handouts in our search for a better tomorrow. Quite clearly, of the many issues that we have been discussing, aid placed a minor or even an insignificant role. What we look for are new areas of cooperation and collaboration, particularly in the area of economy and trade interchange to help us in the realization of our aspirations to be a more self-relying and progressive nation.
Mr. President, I would like to thank you very much for the time that you have given me and my colleagues, and also for the time that members of your Cabinet have spent with us this morning. And I would like to thank you for the friendly discussions that we have had.
Thank you very much.
Note: The President spoke at 1:20 p.m. in the East Room at the White House.
Earlier, the President and the Prime Minister met, together with U.S. and Malaysian officials, in the Oval Office. They then held a working luncheon in the State Dining Room.
Ronald Reagan, Remarks of the President and Prime Minister Mahathir bin Mohamad of Malaysia Following Their Meetings Online by Gerhard Peters and John T. Woolley, The American Presidency Project https://www.presidency.ucsb.edu/node/261143