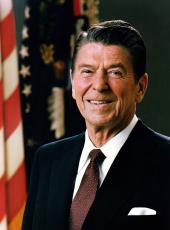 Remarks of the President and Prime Minister Eugenia Charles of Dominica Announcing the Deployment of United States Forces in Grenada
The President. Ladies and gentlemen, on Sunday, October 23d, the United States received an urgent, formal request from the five member nations of the Organization of Eastern Caribbean States to assist in a joint effort to restore order and democracy on the island of Grenada. We acceded to the request to become part of a multinational effort with contingents from Antigua, Barbados, Dominica, Jamaica, St. Lucia, St. Vincent, and the United States. I might add that two of those, Barbados and Jamaica, are not members of the Organization, but were first approached, as we later were, by the OECS and asked to join in that undertaking. And then all of them joined unanimously in asking us to participate.
Early this morning, forces from six Caribbean democracies and the United States began a landing or landings on the island of Grenada in the Eastern Caribbean.
We have taken this decisive action for three reasons. First, and of overriding importance, to protect innocent lives, including up to a thousand Americans, whose personal safety is, of course, my paramount concern. Second, to forestall further chaos. And third, to assist in the restoration of conditions of law and order and of governmental institutions to the island of Grenada, where a brutal group of leftist thugs violently seized power, killing the Prime Minister, three Cabinet members, two labor leaders, and other civilians, including children.
Let there be no misunderstanding, this collective action has been forced on us by events that have no precedent in the eastern Caribbean and no place in any civilized society.
American lives are at stake. We've been following the situation as closely as possible. Between 800 and a thousand Americans, including many medical students and senior citizens, make up the largest single group of foreign residents in Grenada.
From the start we have consciously sought to calm fears. We were determined not to make an already bad situation worse and increase the risks our citizens faced. But when I received reports that a large number of our citizens were seeking to escape the island, thereby exposing themselves to great danger, and after receiving a formal request for help, a unanimous request from our neighboring states, I concluded the United States had no choice but to act strongly and decisively.
Let me repeat, the United States objectives are clear: to protect our own citizens, to facilitate the evacuation of those who want to leave, and to help in the restoration of democratic institutions in Grenada.
I understand that several Caribbean States are asking that the Organization of American States consider the situation in Grenada. Our diplomatic efforts will be in close cooperation with the Organization of Eastern Caribbean States and the other countries participating in this multinational effort.
And now I'm very proud to present to you the Chairman of the Organization of Eastern Caribbean States and the Prime Minister of Dominica, Prime Minister Charles.
The Prime Minister. I think we were all very horrified at the events which took place recently in Grenada. We, as part of the Organization of East Caribbean States, realizing that we are, of course, one region—we belong to each other, are kith and kin; we all have members of our state living in Grenada—we're very concerned that this event should take place again.
It is true that we have managed to live with the regime since March '79. And we felt quite clearly and we had good reason to believe that the Bishop regime was seeing it our way and was on the way to have elections. And we think this is the reason why himself and his Cabinet were destroyed, because he realized that the pressure we put on him to have elections was worthwhile, was right, and he'd begun to see that the democratic institutions must be put in place in any of these small countries.
It is even more important in a small island state, poor island state, to have the democratic institutions. And this we have had for a long time, and we've continued it and we wish to continue it. Grenada was an aberration in this respect. But that these men, who had for all these years accepted the Bishop regime should then, for their own reasons—and I think the power-hungry reasons—decide to destroy the persons whom they had accepted as their leaders for so long, made us realize that this sort of assassination must not he allowed to continue in our country. It means that our people there are not safe. It means that Grenadians had never been given the chance to choose for themselves the country that they want. And, therefore, it is necessary for us to see to it that they have the opportunity to do so.
To do this, we have to isolate the persons who have committed the acts that they did last week, in killing off most of the Cabinet. And we have to ensure that, in fact, an interim government of persons of, not political greed, but persons who are good administrators and who are Grenadians who can run the country for a few months for the pure purpose of putting the country back on the democratic status, so that elections can take place as soon as possible. This is what you want to do so that Grenadians can choose for themselves the government they want and not have, every few years have governments imposed on them by persons who will otherwise
Q. Are all the Americans safe?
Q. Mr. President, did you have information that the Soviets and the Cubans were behind this takeover of Grenada? Did the Joint Chiefs tell you that yesterday afternoon?
The Prime Minister. Want me to answer this? Yes, we do have this information. I can't give you all the details because of the safety of people concerned. But we noted with great—in the 2 weeks before the assassination took place, the movements between the Soviet Embassies and known activists and the activists returning to Grenada, obviously a conduit between some of these Russians and some of these
Q. Mr. President, can you tell us, are all the Americans safe, sir? Can you tell us that? And how long will the American forces be on the ground there? What is their role?
The President. I could—well, we don't know how long that will be. We want to be out as quickly as possible, because our purpose in being there is only for them to enable—to take over their own affairs. As far as we know, the citizens are safe. We have been monitoring that very closely. And one of our prime objectives in the actual invasion that was almost instantly done was the securing of that St. Georges Medical College, where several hundred of the students were.
Q. What is the military situation, sir?
Q. Mr. President, as late as yesterday, your own spokesman said that Americans on Grenada were in no danger. Did you have information that things had changed?
The President. They were in no danger in the sense of that, right now, anything was being done to them. But we know that there was concern on the part of those, because already we'd been informed of several hundred who wanted to leave. But the airports were closed. There was no way of leaving. This was a case of not waiting until something actually happened to them.
But we did manage to get some intelligence out of the island, intelligence information on this. And the tenuous situation was, as I said, the only authority that you could say of a governmental nature on that island was a 24-hour curfew with orders to shoot on sight anyone found moving in those 24 hours.
Q. What is the military situation now, sir, in Grenada? Can you tell us?
The President. I can only tell you that we've secured both the airports, and the landings have been completed. But we are yielding to the influence of General Vessey in that we don't think in these early hours of that landing that we should be on the horn asking the commanders to stop and give us detailed reports.
Q. Mr. President, do you think that the United States has the right to invade another country to change its government?
The Prime Minister. But I don't think it's an invasion—if I may answer that question.
Q. What is it?
The Prime Minister. This is a question of our asking for support. We are one region. Grenada is part and parcel of us, an organization-
Q. But you're sovereign nations, are you not?
The Prime Minister. —-and we don't have the capacity, ourselves, to see to it that Grenadians get the freedom that they're required to have to choose their own government.
Q. With what's happening in Lebanon, are we spread too thin, Mr. President?
The President. Wait one second here. No; we're not spread too thin. And let me augment what the Prime Minister just said. Once these nations, which were once British colonies, were freed, they, themselves, had a treaty. And their treaty was one of mutual support. And Grenada is one of the countries, signatories to that treaty—and observe that treaty at one time when they had a democratic government and a constitution—a constitutional government, the constitution that was left to them by the British. So, this action that is being taken is being taken under the umbrella of an existing treaty.
Q. Mr. Reagan, there are reports that a helicopter has been shot down, that a U.S. helicopter has been shot down on Grenada. Do you have any information of any U.S. casualties on the island, sir?
Deputy Press Secretary Speakes. This is the last question, and we'll cut off after this. Last question.
Q. Do we have any information of any U.S. casualties on the island, sir?
The President. No. I have been in meetings, and we both have been busy since we arrived here. And I've only had the first report of our landings and so forth. So, I don't know whether that's true or not.
Mr. Speakes. Thank you, sir.
The President. What?
Q. What reports have you received on the success of our operation—of the U.S.-Caribbean operation?
The President. What's that?
Q. What reports have you received of the success of the operation?
The President. Of the initial operation, of landings, securing the immediate targets, taking control of the airports: completely successful.
Now, the Prime Minister and I are going to depart, but I know there are going to be a lot more technical questions of that kind and Ambassador Motley is here, and I'm going to put him before you to ask all of the technical questions you may have.
Q. What's the situation in Lebanon now?
Mr. Speakes. I'm sorry, that is the last question.
Q. Were the Soviets behind this? Were the Soviets behind the Grenada takeover?
Mr. Speakes. I'm sorry. The President said that's the last question.
Note: The President spoke at 9:07 a.m. in the Briefing Room at the White House. His remarks were broadcast live on nationwide radio and television.
Ronald Reagan, Remarks of the President and Prime Minister Eugenia Charles of Dominica Announcing the Deployment of United States Forces in Grenada Online by Gerhard Peters and John T. Woolley, The American Presidency Project https://www.presidency.ucsb.edu/node/261906