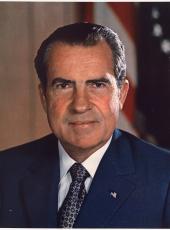 Remarks of the President and President Pompidou of France Following Their Meetings in the Azores
President Pompidou and I have just concluded our very extensive discussions. In those discussions, we have made significant progress in the problem that I know many have been concerned with on the international monetary situation.
That progress will be indicated by the joint statement which will be read to the members of the press after the President and I have addressed you briefly now.
However, in addition to that subject which is covered by our joint statement, the President and I discussed a wide range of international issues, and we also discussed a wide range of bilateral issues.
I can only characterize the meetings by saying that, as was the previous case when I have met with the President, our discussions were not only candid and frank but, above all, they were constructive and, we believe, contributed in this instance not only to good relations between our two countries but also to progress on the economic and other fronts for better understanding in the world.
[At this point, President Pompidou spoke in French. The President then resumed speaking.]
Ladies and gentlemen, I want to express, on my part, on behalf of all of the American party, our very deep gratitude to the Prime Minister of Portugal and to the Government of Portugal and to the people of this city and of this island for their very warm hospitality. We leave here with unforgettable memories of magnificent weather, of very friendly people, and also of hospitality and friendship which cannot be excelled any place in the world. The fact that we met--the President of France and I--under such pleasant circumstances, I am sure, contributed to the fact that our meeting was, we believe, a very successful meeting. Thank you.
Note: The President spoke at 1:33 p.m. in the rose garden outside the Junta Geral at Angra do Heroismo on Terceira Island. A translation of President Pompidou's remarks follows:
The excellent hospitality which the Portuguese Government has afforded us has contributed to giving our conversation an agreeable character. It was not needed to make them friendly. I am happy, following these 2 days of talks, to be able to say, as President Nixon said, that these conversations have been constructive.
They dealt, as you were told, with all conceivable subjects, whether it be bilateral matters of interest to the United States and France, whether it be our respective views on world problems now pending, and more generally about everything that can help the return and the strengthening of peace.
As was natural, part of our conversation was devoted to economic and monetary problems. We have, I believe, well prepared [for] the meeting which the Group of Ten is to hold in the near future, and I think that we will have made a constructive contribution to the solution of these problems.
Richard Nixon, Remarks of the President and President Pompidou of France Following Their Meetings in the Azores Online by Gerhard Peters and John T. Woolley, The American Presidency Project https://www.presidency.ucsb.edu/node/240401