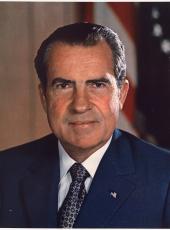 Remarks of the President and President Hasez al Asad of Syria at a State Dinner in Damascus
Mr. President, Mrs. Asad, Your Excellencies, and distinguished guests:
Mr. President, on behalf of all your guests tonight and particularly your American guests, I express appreciation for this magnificent dinner and for the entertainment which accompanied it.
I was somewhat prepared for this evening by our Secretary of State, Henry Kissinger. He told me of his great respect for your quick intelligence, for your tough negotiating ability, and also for your statesmanship. And you, Mr. President, have told me that there is a Syrian saying to the effect that the guest's respect and admiration for his host is directly measured by the amount of food the guest consumes at the host's dinner.
I can now see why Henry Kissinger gained 7 pounds in his 13 trips to Damascus over the past 30 days. And whenever we wear him out on his other travels throughout the world, we will send him back here to build him up.
And tonight, in addition to complimenting those who prepared this magnificent dinner, all of them and those who served it so beautifully, may I pay respects on behalf of all our guests and your guests tonight to the cultural groups who entertained us so beautifully.
And it is my hope, Mr. President, that with the cultural exchange program between our two countries being reestablished, that a group like this--maybe this one--you will choose to send to the United States so that people in Washington and other cities may be able to see it and hear it, as we did tonight.
Mr. President, I am sure you must know how I feel in my position standing here in what is generally agreed to be the oldest continually inhabited city in the world, Damascus, and to realize that this city in 6,000 years has seen more of history than any other continually inhabited city on the whole globe.
And tonight, as you have indicated, this ancient city with its honorable traditions, its great history, sees another event which will mark a new direction in the relations not only between two nations but, we trust, between and among many nations in this part of the world.
That new direction is symbolized by what you have referred to, that this is the first time a President of the United States has ever visited Damascus, has ever stood on Syrian soil. But it symbolizes far more than that.
You have indicated the fact that a first step has been taken toward the just and equitable peace that we want for this area of the world. And you have indicated very eloquently, very directly, very candidly, as you have always done, your concern about what other steps may be taken or should be taken in order that the peace be just and be equitable. You have indicated your concern about such matters as the Palestinians, which we, of course, understand; your concern about your borders, which we, of course, understand; and other matters that are for future negotiations.
I would like to tell you that I have an instant solution for these very complex problems, but you would know with your vast experience in diplomacy and negotiations, as would our other guests here, that I do not bring any instant solution to these problems.
I do know that for 30 years that resort to war by either side, by whatever chance, has not solved these problems.
And I do know that the United States, for that reason as well as for other reasons involving our interests in justice and equity, now is directly involved in attempting to get solutions for these problems through the channels of peace rather than through resort to war.
The fact that a first step has been taken has been credited with very good reason to the persistence and ability of our Secretary of State and his colleagues. But your own statesmanship, your own recognition of what could be accomplished and should be accomplished as a first step, played an indispensable part in obtaining this first disengagement step in this critical area.
Tomorrow we will explore in greater detail all of the factors involved in the problems that you have touched upon tonight.
I can simply state tonight, however, that we do not consider the first step to be the last step. It is a beginning, and a good beginning. But now we must move forward step by step as each case permits it to be done until we reach our goal of a just and equitable peace.
And while, Mr. President, as I said earlier, it would be very easy to make rather overblown promises about what can be accomplished and when it can be accomplished, I can tell you that the United States is committed irreversibly to participating where we can be of assistance in working out an equitable and just peace settlement.
And it is with that spirit of good will, of understanding, and of determination that we will enter our talks tomorrow with you on what various steps can be taken in the future that can be effective.
Having referred to that specific problem, may I return, in conclusion, to the theme which you touched upon so eloquently in your remarks.
America is fortunate to have many of Syrian background as citizens of our country. They are all good American citizens but proud of their Syrian background, and they have enriched the diversity of our American life.
And tonight, Mr. President, as I met you, Mrs. Asad, your wonderful family, had the opportunity to see some exhibits of your culture, I realize how much both of our countries have missed in being apart for so many years over these past 20 years.
As I sensed at this dinner tonight and as I sensed as we rode through Damascus earlier today, it is natural for Syrians and Americans to be friends. It is not natural for us to be enemies. And I would hope and trust that we would never again allow differences to drive us apart as they have over these past few years.
We will not always agree, just as friends do not always agree. But as friends, we will learn from each other, and we will work together for a goal to which we are both deeply dedicated, the cause of peace not only between and among the nations in this area but for all peoples in the world.
And so, I think we can safely say that after 6,000 years of history, this great city is seeing again something happening, something that will change not only the relations between our two countries but something that can change the world and make it a better world for all of us.
And for that and many other reasons, Mr. President, Mrs. Nixon and I, Dr. Kissinger, and all of your American guests are proud to be here tonight in your company as your guests.
Note: The President spoke at approximately 10:45 p.m. in the Orient Club in response to remarks by President Asad.
President Asad spoke in Arabic. His remarks were translated by an interpreter as follows:
Mr. President, Mrs. Nixon, honored guests, ladies and gentlemen:
I am indeed happy to extend a warm welcome to President Richard Nixon and to Mrs. Nixon, also to our honored American guests, wishing them all a happy stay in our country.
Mr. President, as we extend greetings to the American people through you, we also express appreciation for your visit which has a historic significance, considering that you are the first President of the United States to pay a visit to our country. Your visit, Mr. President, is especially meaningful in that it is taking place in an important juncture in the modern history of our region and after a long period of estrangement between our two countries. It is also meaningful in that it constitutes a part of the tour which you have declared to be dedicated to efforts aimed at establishing a just and durable peace in our region.
We welcome every sincere endeavor aimed at achieving a just peace, and we wish you full success in your efforts. I should also make it clear that peace is a genuine attribute of the Arab nation and that we have a real interest in such a peace. We desire a stability based on real freedom in order to ensure for ourselves a many-sided progress that would ultimately restore to our people the ability to play an appropriate role in the activities of the international community, wherewith to serve both themselves and humanity at large.
For a long period of time, the Arab nation has struggled to achieve peace. However, it has faced difficulties, and obstacles have been placed in its way. Moreover, it has been subjected to pressures and threats that have aimed at depriving it both of freedom and of the exercise of its free will, as well as at making it abandon the principles with regards to which it refuses all compromise.
Our nation, whose land was the cradle of the most ancient civilizations and the birthplace of monotheistic religions and which, through its long history, made rich contributions to culture, is a productive nation that harbors no harm to anyone. It has no other aim than living freely in its land and reconstructing its life in all fields so as to be able to resume contributing to humanity under peaceful conditions.
It cannot do this, however, while it feels that its fate and land are threatened and its freedom violated through the occupation of parts of its territory and while millions of our nation, from Palestine and other Arab lands, are dispersed.
For 26 years now, the people of Palestine have lived homeless and completely deprived of their legitimate rights, which have been recognized by international law and conventions as well as confirmed--almost every year since 1947--by resolutions of the United Nations. This made them despair of the justice of man and international organizations, because the more they complained against injustice, the more aggressions were heaped upon them and the more their rights were ignored by their aggressors, who have gone so far as to deny these rights and even to deny the very existence of the Palestinian people. By doing this, they have forced the Palestinian people to follow a path not of their own choice in order to remind the world of their existence and of their case. No peace can be established in this region unless a real and just solution is found for the Palestinian question.
Mr. P. resident, you can imagine the extent of the disappointment of the Arab people during the past years when they saw that the efforts that they had exerted and the sacrifices they had made to achieve peace and justice were being spurned and rejected. They were likewise disheartened by the failure of efforts aimed at redressing their grievances.
The only lasting and durable peace in this region would be a peace that would terminate Israeli occupation, restore the land to its people, remove the grievances inflicted upon the people of Palestine, and ensure them of their legitimate national rights.
During the last few years, efforts were made to impose a fait accompli that has all the elements of renewed war and bloodshed and is far removed from the pathway to peace. We had to resist those efforts, as we did, first, in the October war and, then, in its extension, the Golan war, when it was proved that a fait accompli based on occupation and aggression cannot last.
It was also proved that reliance on force to extract from others what was their legal rights constitutes disregard to human values on one hand and a lack of vision on the other hand. Furthermore, a fact, repeatedly reaffirmed throughout different historical events, has been reasserted, namely, the fact that any triumph which is not based on right and justice, if it may be called a triumph, is only a temporary one and a feeble one which is bound sooner or later to collapse once the strong wind of good right and justice start blowing.
Real peace is an urgent demand and a pressing need for all peoples of the world. Such peace should be based on ensuring the rights of peoples and removing their grievances.
Indeed, world peace in the present age has become the ideal of humanity--an ideal which governments seek and for which peoples struggle. But this peace is almost impossible to achieve without establishing a just peace in this region which is one of the pivotal points of the world.
Mr. President, we hope that your visit to the Syrian Arab Republic will mark the beginning of a new phase of relations between our two countries, a phase based on mutual respect, unselfish cooperation, and adherence to the principles of the United Nations Charter. We are confident that the existence of such relationship serves the interests of our peoples.
We believe that the key to understanding and the essence of sound relations between any two states lies in a frank and clear approach. Hence our eagerness that our talks should be frank and clear in the hope that, through this, we can arrive at a common conception regarding subjects of discussion and a common understanding of the elements constituting a just peace in our region. There is no doubt that this would help us to take firm steps leading to a peace that fulfills the interests of the Arab people and all other peoples of the world.
Mr. President, we fully appreciate your personal role and American political initiatives as well as the importance of these initiatives and their effect on international detente. We appreciate your desire for good and friendly relations in our region and your endeavor to establish a durable and firm peace in it. We have witnessed a manifestation of this new attitude in the mission you entrusted to your Secretary of State, Dr. Henry Kissinger, to contribute to the realization of a first step along the road of a permanent and lasting peace. We appreciate the great efforts he exerted during the talks for the disengagement of forces on the Syrian front.
It is very important that we should regard what has been achieved as a prelude to the next stage which should establish peace on a firm and real foundation. This is the great challenge to meeting which the efforts of all sincere supporters of peace should be directed.
Mr. President, you will be soon celebrating in the United States the Bicentennial of independence. Let us not forget the lofty principles for which you fought the American War of Independence--above all, the principle of liberty.
I am happy to refer to the fact that a large number of U.S. citizens are of Syrian descent and have proved themselves to be good citizens in all fields of life. This should serve as an urge to enhance friendship between the two peoples.
Let us open a new page and begin a new phase in the relations between our two countries in which freedom and justice are emphasized, the causes of aggression are removed, and actions are performed with the support and backing of our two peoples in order to serve the good of the whole humanity.
In conclusion, ladies and gentlemen, I wish to stress the importance of this visit and to extend greetings to President Richard Nixon and Mrs. Nixon and to wish them good health and happiness. Let us also extend greetings to the American people for whom we wish continued success and progress.
Richard Nixon, Remarks of the President and President Hasez al Asad of Syria at a State Dinner in Damascus Online by Gerhard Peters and John T. Woolley, The American Presidency Project https://www.presidency.ucsb.edu/node/255917