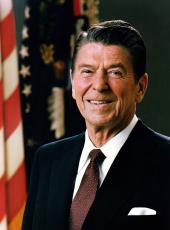 Remarks of the President and President Daniel T. arap Moi of Kenya Following Their Meeting
President Reagan. Ladies and gentlemen, we've been very pleased today to have with us a man who has two most important posts—President Moi, of Kenya, but also Chairman of the Organization of African Unity. The President has ably served in the demanding position as Chairman, and his work has helped bring about solutions to some grievous problems. Let me express my appreciation, Mr. President, for your wise thoughts and candid insights during our discussions, and let me assure you of this administration's interest in and the deep concern for Africa.
I hope our meeting today will be taken as a sign of that interest and concern. We seek the closest of ties with the nations of Africa, and with our allies, are determined to press on in our efforts to find an internationally accepted settlement for Namibia. We've contributed to the African Refugees Conference in Geneva, to the Zimbabwe Donor's Conference, and despite our own domestic belt-tightening, I've asked Congress for significant assistance levels for Africa. We look forward to cooperating with you on many additional initiatives.
And I also want to take this final opportunity to publicly thank your government and nation for its continuing cooperation with the United States. The United States and Kenya have an impressive list of cooperation—or history, I should say—of cooperation and good relations. Under President Moi's leadership this has continued and been strengthened. We share common interests and values, a belief in the democratic form of government, a belief in the free market processes. And Mr. President, your continuing commitment to these values merits emulation and holds the promise to the Kenyan people of continued freedom and increasing prosperity.
In our discussions today, we touched on several areas of common concern and interest. I believe these talks have laid a foundation for expanding cooperation in which the United States can continue its contribution to peace and economic well-being not only in Kenya but elsewhere in Africa. I understand that following talks with Vice President Bush, Secretary Haig, Secretary Weinberger, and others, that you will be quickly moving on to the Commonwealth Conference, so let me wish you, as you leave for Australia, Godspeed and our best wishes.
President Moi. Mr. President, ladies and gentlemen, we have had very useful discussions with the President of the United States, President Reagan, on a number of issues ranging from bilateral to the continent of Africa. We have discussed those matters which are of great concern not only for the two nations but also of international concern. We have discussed those matters that are of urgent concern, that is, the southern part of Africa and elsewhere, including economics and matters touching developing countries in Africa, the continent I represent as Chairman of the Organization of African Unity.
We have reached a greater understanding on these matters, and the United States of America being a great nation, cherishing those ideals of human dignity and human rights and other related matters, I feel that a solution now may be found in that part of Africa. I wish him and the other five nations a success in their discussions.
I thank him for receiving us in this great country, and I hope that the cooperation between not only us, Kenya and the United States, will prosper for the welfare and prosperity of the peoples of the two nations, and also that of Africa and the world at large.
Thank you, Mr. President.
Note: President Reagan spoke at 1 p.m. at the North Portico of the White House. Earlier in the day, the two Presidents held a meeting with their advisers in the Oval Office. The meeting was followed by a luncheon in the Family Dining Room.
Ronald Reagan, Remarks of the President and President Daniel T. arap Moi of Kenya Following Their Meeting Online by Gerhard Peters and John T. Woolley, The American Presidency Project https://www.presidency.ucsb.edu/node/247670