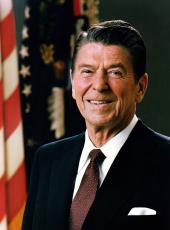 Remarks of the President and Governor General Edward R. Schreyer of Canada at the Welcoming Ceremony in Ottawa
The Governor General. Mr. President, it is with great pleasure and warmth of feeling that we greet you and Mrs. Reagan on behalf of the people of Canada.
You come to us, Mr. President, representing the country that is both our nearest neighbor and also which the history of this twentieth century has made our closest ally. Through the long years of our association, Canada and the United States of America have met and overcome many challenges and problems together. We have, I believe, acted effectively as partners, confident that our differences make our combined efforts that much more effective.
Now, in a period of uncertainty in the world, Canada remains committed to working with the United States to further the fundamental ideals and values of freedom and of equality before the law, which we both share.
Mr. President, I am confident that your visit to Canada will serve to strengthen the firm and rational ties of friendship and practical cooperation which exist firmly and historically between our two countries. While here, I hope that beyond the sometimes formal aspects of state occasions that you will also encounter something of the human, kindred dimension which gives relations between Canada and the United States, and as between the millions of individual Americans and Canadians, their deeper meaning and their unique character.
Monsieur le President, au nom de tousles Canadiens, je vous souhaite la bienvenue dans notre pays qui, comme le votre, compte parmi ces citoyens des personnes de souche ethnique et linguistique multiple et variee. [Mr. President, on behalf of all Canadians, I welcome you in our country, which, as yours, has among its citizens people of multiple and diverse ethnic and linguistic origins.]
Mr. President, if this is the era of the global village, then welcome to the house next door; welcome to Canada.
The President. Your Excellencies, Nancy and I are happy to be here. One can receive no warmer greeting than the heartfelt welcome of a trusted friend. And yes, we, the people of the United States and of Canada, are more than good neighbors; we're good friends. We citizens of North America, while respecting the sovereignty and independence of our respective national identities, are without question friends that can be counted upon. Whether in times of trial and insecurity or in times of peace and commerce, our relationship has never weakened. The faith between us has never wavered.
We each play a separate and important role in international affairs. We have economic interests that bind us in cooperation and, in some cases, put us into competition. But these separate roles are respected by our two peoples and have never diminished the harmony between us.
I hope this visit will make clear my commitment as President of the United States to work in close cooperation with the Government of Canada. Whether in trade or defense or protection of our environment and natural resources, our two nations shall continue the unique relationship that has been the envy of the world, a relationship that has enhanced the standard of living and the freedom of our people. Let us continue, and let us move forward.
It is a great pleasure to be here with you. Merci.
Note: The ceremony, which included full military honors, began at 9:59 a.m. at Hangar 11 at the Canadian Forces Base.
Ronald Reagan, Remarks of the President and Governor General Edward R. Schreyer of Canada at the Welcoming Ceremony in Ottawa Online by Gerhard Peters and John T. Woolley, The American Presidency Project https://www.presidency.ucsb.edu/node/247147