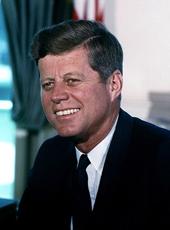 Remarks at the Presentation of the Distinguished Service Medal to Admiral Arleigh A. Burke.
Ladies and gentlemen, Admiral and Mrs. Burke, General Lemnitzer, Members of the Congress, Members of the Naval Establishment:
I want to welcome you all here to the White House, and also express appreciation that you have come to join us in paying honor to an American who wholly deserves this award and this tribute as he finishes a lifetime of service to the United States.
I have served with Admiral Burke in the Government as President--he is a member of the Joint Chiefs of Staff--for only 6 months but I must say that in that period I have come to have the same opinion of him that my predecessors have had, and that is that I know of no American who is more devoted to his country, who is more willing to make any contribution that he can make to its welfare, and who more appropriately typifies the best qualities in the American serviceman.
So Admiral, I'm sure you realize that personally and speaking also as President, that your departure is greatly missed. We are fortunate to have as your successor Admiral Anderson, whom you recommended, but I do say that in the very difficult times that are ahead we will continue to count upon you as an ex officio member of the Joint Chiefs of Staff.
I will therefore read this citation for the Distinguished Service Medal. This is not the most overwhelming honor we could pay the Admiral, as I find that he has two others--this is his third--but he deserves them all.

The citation says:
"The President of the United States takes pleasure in presenting the Distinguished Service Medal (Gold Star in lieu of Third Award) to Admiral Arleigh A. Burke, United States Navy, for service as set forth in the following citation:
"For exceptionally meritorious service to the Government of the United States while serving as Chief of Naval Operations and member of the Joint Chiefs of Staff from August 1955 to August 1961. In this demanding and exacting position, Admiral Burke has displayed the same superb leadership, the same vigor and outstanding professional competence, that marked his courageous and highly successful combat. operations in the Pacific Theater during World War II.
"With broad vision and an untiring devotion to duty, he has done much to increase the strength of United States naval forces, as well as to promote the cause of justice and order throughout the world. Admiral Burke's distinguished achievements on behalf of the Navy and his country, are in keeping with the highest traditions of the United States Naval Service."
Note: The presentation ceremony was held in the Rose Garden at the White House. In his opening remarks the President referred to Gen. Lyman L. Lemnitzer, Chairman of the Joint Chiefs of Staff. Later he referred to Adm. George W. Anderson, Jr.
John F. Kennedy, Remarks at the Presentation of the Distinguished Service Medal to Admiral Arleigh A. Burke. Online by Gerhard Peters and John T. Woolley, The American Presidency Project https://www.presidency.ucsb.edu/node/235249