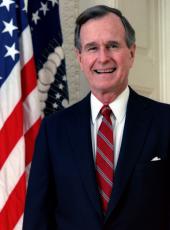 Remarks at the Presentation Ceremony for the Small Business Persons of the Year Awards
To the Members of Congress here and all the distinguished guests, first let me welcome Susan Engeleiter, the Administrator of SBA [Small Business Administration], as well as all the State small business people and their families who came here today. I've participated in these ceremonies before, and I'm especially pleased and honored to present these awards today.
As you probably know, I -- long ago -- was a small businessman myself, and I think, therefore, I know some of the worries that you share -- the what-ifs when you're the one in charge. And I know how it feels to start something from scratch, work with it day and night, and hopefully see it succeed. Success goes to those who work hard, refuse to give up, and learn from their mistakes. And there's a saying: If I had my life to live again, I'd make the same mistakes, only sooner. [Laughter] I think small business men and women can understand those words.
You don't have to sell me on the value of small business. The work you do is vital to this nation's economic well-being. And I brought along some statistics to back that up. Small businesses employ more than half of America's private sector work force. Small businesses account for over a third of our gross national product. And I've saved the best statistics for last. During the past decade, small businesses have created two out of every three new jobs in our economy. And for me, that's the bottom line. Small business is on the business end of growth and at the cutting edge of the economic expansion that's 77 months old and still going strong.
Let me take a moment right here to mention an issue that should be on the top of the list for all small business people: the question of child care. As you know so well, you're more likely to find small business owners sitting around a kitchen table than in a big corporate boardroom someplace. A small business is less a corporation than a family. And like a family, people engaged in a small business enterprise share common aims, a common outlook, and certainly have common interests. And that's the perfect workplace environment for innovative approaches to meet the concerns and needs of employees. I urge America's small businesses to take the lead in developing creative solutions in child care. I think, for example, of pioneers like Gerald Tsai, Jr., or Jenlane Gee and others who we honored out there today, Asians who have a strong bearing and support in their families for child care. I will do nothing as President of the United States, absolutely nothing, that weakens our family structure. And I encourage small businesses to do everything they can to strengthen the family structure by getting together in a cooperative fashion.
My child care tax credit program is going to benefit small businesses, I believe. I do not believe in these mandated government benefits. I think it has to be decided by the Federal Government, making as flexible as possible the use of child-care tax credits. So, I wanted to take this opportunity, a little off the beaten path, you might say, of honoring these honorees today. But it is very, very important that all of you who are out there trying to produce at competitive rates, competitive ways, help as best you can. You know the value of freedom and flexibility. And so, I just want to see us work together to preserve that freedom in child care and in other issues that affect the way we live and work.
A moment ago, I cited some statistics on the large impact of small business in the American economy. Ceremonies like this one are important because they honor the individuals behind the statistics -- the small business people who conceive the idea, take the chance, and make it work. So, today we recognize the best that small business has to offer. And I want to turn now to the awards.
This year there is no fourth place finisher. Instead, we have a tie for third place. And I'll start with Chad Olson of Utah. Chad produces a highly successful line of professional and collegiate sports merchandise. He's marketed franchises in 40 States already. And I understand he's got his eye on all 50. He's got international ambitions as well, with franchise plans for Canada and U.S. military bases overseas. Now, do we do this right now? All right. Chad? Well done.
And sharing this third place award with Chad is Carolyn Stradley of Georgia. She started out as a bookkeeper for a paving company and left that company to do what many here have done -- start out on her own. She used a loan from her brother to buy her truck, built her business by taking the small jobs that no one else thought worthwhile; and today she's a success, and equally important, an inspiration to businesswomen everywhere. And so, congratulations to you.
The winner of this year's second place award comes from Kansas -- Richard Barlow. Dick is well-known to gourmet cookie makers as the manufacturer of REMA insulated bakeware. He started his business with a family friend just 6 years ago selling these cookie sheets in Oklahoma -- in Kansas. And today REMA bakeware is sold in all 50 States and Japan. And so, congratulations to you, Richard. Well done.
And now the 1989 winner, this year's Small Business Person of the Year, Tad Bretting of Wisconsin. I wondered why Senator Kasten was over here. [Laughter] Tad's got business in his blood. His family has been in the machinery business for three generations -- almost 100 years. He joined the family business in 1958. And those 30 years have seen the Bretting Company grow and prosper from 11 employees back in 1958 to 260 today, from $120,000 in sales each year to $30 million. And today his company is the world's leading producer of high-tech, custom-designed machinery for making paper products. And the secret of Tad's success is the one small business people know so well: it all comes down to taking good care of customers. And so, congratulations to you, Tad.
So, there you have our four winners. This room, though, is full of success stories today. It's in this nation's small businesses that the American spirit, entrepreneurial spirit, takes root and grows. And so, our nation needs you -- your drive, your dynamism, your creativity, and your can-do attitude. Congratulations to all of you, and especially to you winners with us here today. Thank you all very much.
Note: The President spoke at 1:40 p.m. in the East Room at the White House. In his remarks, he referred to Gerald Tsai, Jr., member of the board of directors of Primerica, and Jenlane Gee, California Teacher of the Year, 1988.
George Bush, Remarks at the Presentation Ceremony for the Small Business Persons of the Year Awards Online by Gerhard Peters and John T. Woolley, The American Presidency Project https://www.presidency.ucsb.edu/node/263443