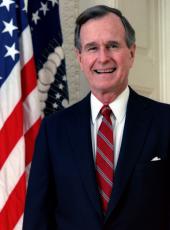 Remarks at the Presentation Ceremony for the National Teacher of the Year Award
Thank you, ladies and gentlemen, Governor, distinguished Members of the Congress. Well, it is my pleasure to welcome so many distinguished guests here to the White House, to honor a teacher who epitomizes excellence in education.
What goes on in the schools is important to me, and I like to get out of the office and talk with the kids whenever the chance presents itself. Last week I was over here in James Madison High in Vienna, Virginia, and had lunch in the cafeteria there. I found the students interested and well informed, the teachers engaged and energetic, but the pizza -- [laughter] -- enough said!
But to the business at hand. The 1989 National Teacher of the Year has made the journey to Washington from Bethel High School in Hampton, Virginia, many times before to give her social studies students a firsthand look at how government really works. But in a more important respect, the journey for this year's winner, Mary Bicouvaris, began almost 30 years ago and 5,000 miles away. Mary, or Mrs. Bic, as her students call her -- and I will, too -- was born in Greece, came to the United States as a college student, and then chose to stay. Ms. Bic was inspiring good citizenship in her students before she herself was an American citizen. And her secret is using the real world as her classroom: getting her students involved in programs like the model U.N. and in political campaigns and bringing people involved in politics in to speak to her students.
And so, now I'd like to ask Barbara to bring Mrs. Bic up here and present this award. Congratulations!
[At this point, Mrs. Bush gave Mrs. Bicouvaris a crystal apple.]
And now let me just take this opportunity, with so many distinguished educators, and Governors, Members of Congress present, to lay out a plan for what we on the Federal level can do to improve our nation's schools.
Six years ago this month, this report that all of us remember, "A Nation At Risk," was first published, and America awakened to the crying need for fundamental change in our educational system. We're at a point today where there's an emerging consensus on education reform and an energy of purpose to take up the challenge. The stakes could hardly be higher. Today's first graders will be high school graduates in the year 2000, a generation on the threshold of a new century. And so, we ask ourselves what can we do today to build accountability into our education system to make sure we don't pass the problem kid who need extra help up through the system, out of the schools and then into the society without the skills that they need? What can we do to make sure our children stay in school, graduate, and get that diploma instead of dropping out and falling into a cycle of chronic joblessness?
I had lunch yesterday with Secretary Cavazos and talked about some of the problems in the severely disadvantaged areas and some on reservations and others where the dropout rates are simply intolerable. What can we do to make sure America has the additional 400,000 scientists -- the National Science Foundation say that we're going to need by the year 2000? What can we do to guarantee that graduates in the year 2000 have the skills and knowledge to make this nation competitive in the global marketplace? And all of these are good questions. And then there's the one I often hear when education is the issue and budget constraints becloud everything on the horizon. And the question is: Well, what are you going to do about it? A fair question. We're going to take action to make excellence in education not just a rallying cry but a classroom reality. And we can start by rewarding what works. We can help those most in need. We can promote choice and flexibility for parents and school administrators. And we can raise expectations and hold ourselves accountable for the results.
These four simple ideas -- rewarding excellence, helping those in need, choice and flexibility, and accountability -- are at the heart of the legislation that I'm sending to the Congress today: Educational Excellence Act of 1989. And I want to take a moment to detail this seven-point plan.
First, merit schools -- if our aim is excellence in education, we've got to single out excellence and reward it, whether that means raising test scores, lowering that dropout rate, or making progress of another kind. My merit school proposal will provide cash awards to schools with a proven formula for success and serve as a powerful incentive to encourage other schools to follow their lead.
Second, merit awards for our top teachers -- I'm asking Congress to fund a President's Award for Excellence in Education, to recognize first-rate teachers in every State and reward them for a job well done.
Third, science scholarships for our best high school seniors -- these awards will go to 570 of the best young scientific minds, at least one from every congressional district across the country. National Science Scholars will receive up to $10,000 a year for 4 years, to be used at the schools of their choice.
Encouraging excellence means more than rewarding successful schools and teachers and students. It means introducing into our educational system elements of flexibility, choice, and competition that will help promote quality education. And that's the idea behind the next two initiatives: magnet schools and alternative certification for teachers.
Magnet schools are an important instrument of choice, a means of promoting healthy competition to attract students and create an incentive for educational innovation. My initiative calls for $100 million a year for each of the next 4 years to help with magnet school start-up or the expansion costs.
Alternative certification is a way to expand the pool of talented teachers and administrators. Not all people who can teach are teachers by training. Whether you're an acclaimed author like Alex Haley or John Updike, who aren't certified to teach the literature courses in which their books are read, or a businessman from Odessa, Texas, anxious to go into the classroom to share what you know, our schools ought to offer that opportunity. And that's why my education package includes $25 million to fund State efforts to encourage more flexible certification systems for teachers and principals.
Above all, our children deserve a chance to learn, especially the least advantaged among us. And the final two initiatives, then, are aimed at securing that change for children in schools plagued by the drug problem and for college-age minority youth.
Drug-free schools -- now, this initiative involves funding urban emergency grants to help our hardest hit school districts rid themselves of drugs. The plain fact is kids can't succeed in the classroom if there's drug dealing in the corridors. Our aim must be to get the drugs out, get back to basics, and let students and teachers get down to the business in an environment where learning can take place.
And the last and not the least of initiatives is expanded Federal help to these historically black colleges and universities in the form of matching grants to build the endowments at these vital institutions, endowments that are lagging far behind many other schools. Historically black schools have served as an avenue of opportunity for millions of young men and women, and they do deserve Federal help.
Each of these seven initiatives are going to make a difference. Let me just mention quickly three more efforts: one, Head Start program for disadvantaged preschool children; the tax-free college savings bond program to help our low- and middle-income families cope with the costs of sending a child to college; and the reauthorization of the Carl D. Perkins Vocational Education Act.
The budget I introduced a couple of months ago calls for a $250 million increase to expand Head Start so that more children from disadvantaged backgrounds enter school ready to learn. I'm pleased to say that the House has moved very swiftly to approve the increase. The college savings bond plan that I called for over a year and a half ago is already on the books, and that's a tribute to the foresight of many of the Members of Congress that are here today. And the legislation we will soon propose for voc-ed, for vocational education, will advance the principles of accountability and flexibility and excellence. Good work was done in the 100th Congress. The 101st can build on that work and advance education reform another step.
These education initiatives don't constitute a cure-all, a quick fix for whatever ails our education system. Real reform, lasting improvement, occurs one step at a time, one student at a time.
And I don't have to tell you about the current Federal budget situation. Money is tight. And we wish that more funds were available to spend on all levels of education. I'm one who recognizes the Federal role and, I think, got it properly in my mind that the States and local governments and private institutions across the country bear the significant responsibility. But the Federal Government has a role. It's important that we measure our success, though, not simply by the resources that we put into the effort but by the kind of students that our schools turn out. For our schools, that's the only test that counts.
I've said before that education is long-term planning at its best. And we'll see the payoff from the work we do in schools today years from now. But there are few tasks that demand more urgent attention than the education of our kids.
Let me share a story with you, a story about two ways to look at the future, told by the French. The master of a house was planning his garden and told his gardener to plant a certain kind of tree. And the gardener objected. And he explained that the tree was slow growing and would take 100 years to reach its full growth. It's the master's response that I find interesting. "In that case," he said, "there's no time to lose. Plant it this afternoon." [Laughter]
And that's why I really do believe that's the way we ought to look at education. As the teachers here today know, the work you do, the seeds you plant, bear fruit across a lifetime. And there's no time to lose in shaping the next generation and no better time to begin than today. And so, we're taking a step forward, and I ask all of you to work with me to advance excellence in education in every possible way.
Secretary Cavazos, why don't you, if you would, sir, bring Senator Kassebaum and Congressman Goodling and our distinguished Governors up here. And Mrs. Bic, if you'll join us, too. And we will sign this, and then I'll have a chance to say hello.
Note: The President spoke at 11:41 a.m. in the Rose Garden at the White House. In his remarks, he referred to Governors Thomas H. Kean of New Jersey, Michael N. Castle of Delaware, Rudy Perpich of Minnesota, and Gerald L. Baliles of Virginia. At the close of his remarks, the President signed the message transmitting his legislative proposal to the Congress.
George Bush, Remarks at the Presentation Ceremony for the National Teacher of the Year Award Online by Gerhard Peters and John T. Woolley, The American Presidency Project https://www.presidency.ucsb.edu/node/248045