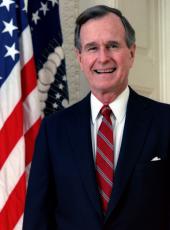 Remarks at the Presentation Ceremony for the Elie Wiesel Foundation Humanitarian Award and an Exchange With Reporters
Dr. Wiesel. This is the award presented to you, Mr. President. It reads: "To George Bush, for he defends the victims of dictatorship and oppression with passion, courage, and fervor. Elie Wiesel Foundation for the Humanity. March 18, 1991."
The President. It's a great honor to receive this. And it's a special honor for me to receive it from you, a man I admire greatly. Thank you, sir, very very much.
Dr. Wiesel. And this is the citation.
Dear Mr. President: At another time, in another age, another President declared that "Victory has a thousand fathers." But the most recent American triumph in the Gulf had only one father. And yet we are here today not only because you have brought about that magnificent victory. We of the Foundation have wished to honor you long before Saddam Hussein invaded Kuwait, thus becoming a symbol of dictatorship and oppression.
Mr. President, 10 months ago, we invited you to accept this award because we perceived in you those qualities that the whole world now celebrates today -- your moral courage and unshakeable resolve. We knew that we shared the common belief that the world must change, not only for the United States and for the West but for all humanity.
Among the tasks our Foundation has set for itself is the unrelenting examination of the roots of hate. Why are some nations trapped in a circle of evil? Why are some peoples the continual targets for persecution? Why do tyrannies flourish in some parts of the world and not in others?
These are the vital questions of our era -- of any era. The difference is that for the first time in this tortured century we are truly on the threshold of "a new world order," to use your inspiring and memorable phrase.
Thanks to you, Mr. President, small nations feel more secure. Thanks to you, evil has been dealt a dramatic blow. Thanks to you, Mr. President, the last decade of the 20th century may well be remembered for its quest for peace rather than its obsession with violence and death.
As for Israel, Mr. President, I am sure that you are aware of the depths of our involvement with her trials and struggles. We thank you for your understanding of those trials and struggles. We thank you for the Patriots. We thank you for helping to rescue Jews from Ethiopia and the Soviet Union.
Mr. President, I, a refugee from Eastern Europe, am now a proud and loyal citizen of the United States. But spiritually I claim Israel's destiny as my own. I do not live in Israel, and yet I cannot imagine living without Israel.
We of the Foundation fervently hope that your administration will continue its resounding commitment to her security. Surely, she will remain our most steadfast ally in the Middle East. We are confident that persuasion other than pressure, trust rather than suspicion, will continue to govern your relationship with Jerusalem, whose prophetic message of peace is at the heart of its legacy.
We believe in your vision, Mr. President. We believe in the dawn of the new world order. For that reason and many others, it is a privilege for us to honor you today.
Signed Elie Wiesel.
I shall sign it for you.
The President. Please do.
Dr. Wiesel. Mr. President, you have given out so many pens, I think the time has come for you to receive one. [Laughter]
The President. I don't give out such nice ones, though. [Laughter] This is beautiful. Thank you very much.
Dr. Wiesel. I hope you will sign the peace agreement between Israel and the Arab States with this pen.
The President. Well, we're going to try. We've just had a meeting with our Secretary of State who had good visits in Israel and in other countries. So, we want to seize the moment. We want to go forward now while there is this feeling of good will and then common agreement -- common position on things that have not always been agreed. I'm thinking of the common stand in getting rid of Saddam's military offense.
So, we will try hard, sir. But I am very honored with this and grateful to you. Receiving it from this one is very special to me, I'll tell you. Thank you, sir, very much. Thank you.
Middle East Peace Process
Q. Dr. Wiesel, what precisely would you like to see the President do to achieve that kind of peace in the Middle East? What do you think is necessary?
Dr. Wiesel. I think the President should be himself, a man who listens. I have known the President for some years -- when he was still Vice President -- and he was always listening. I think the President knows how to listen and knows how to make people talk. What I would like the President to do, of course, is to listen to Israel's fears, just as Israel should listen to the President's hopes.
Q. Mr. President, can you share anything with us about your talk with Secretary Baker?
The President. No. We just met for 45 minutes, and then we'll be meeting again, either today or tomorrow. But I responded to a question down either in Bermuda or in Martinique, where I said that there is reason to be hopeful. And I think he found not just in Israel but in other capitals a recognition of the fact that we ought to try to go forward. And I think the climate for fulfilling some of these hopes is probably better than it's ever been. And I'm talking about on all sides out there. So, we will be working very hard. But there's no -- I don't want to add any specifics. He has some specific ideas that we need to talk about here.
But I found the Secretary of State, in spite of an arduous trip, hopeful that we can move forward. And we're certainly going to try. We are not going to miss this opportunity.
Q. What's the next step, Mr. President?
The President. Well, there are a lot of next steps. Of course, one of them relates -- there's three areas, as you know: the Lebanon, the Israel question with Palestine and all of that, and then, obviously, the Gulf. And so, the next steps -- the earlier, practical steps have to be in getting a cease-fire in the Gulf area. But we will go forward, trying our best to do that, using the United Nations structure, inasmuch as we're operating under the U.N. resolutions there. That is not the case, necessarily, say, in the Lebanon.
I don't think the American people ought to think that you can wave a wand and solve all three of these very difficult problems at once. But all I know is, I think the United States is in a stronger position, a more credible position to be the most important catalyst for peace, and that has been reinforced by what Secretary Baker has told me -- what he's found in Moscow, what he's found in the Arab countries, what he's found in Israel.
Q. He spoke during his trip of a window of opportunity here to try to find elements of peace. Is that window narrow? Does that window close after a certain length of time here just because, in part, of some of the frustrations and failures of the past in that region?
The President. Well, I think the longer one waits to take any initiatives, the danger is things revert back to a status quo. And I think that will be unacceptable. And so we're working on these two tracks as it relates to the State of Israel, trying to get peace going between countries that had been at war and then try to have suggestions for the solution of the Palestinian question that has avoided us for a long, long time -- avoided the countries and various individuals in the area.
So, we're going to try. But I'm not putting any timeframe on this, Norm [Norm Sandler, United Press International]. All I'm saying is that while people are thinking peace and while it is clear that a major threat has been diminished, we ought to try to move forward now. And I like very much the -- I would say, the endorsement by Dr. Wiesel of this concept of a new world order, because encompassed in that are countries living at peace that have heretofore been at war. And that's what we're going to be trying to -- --
Q. Are you encouraged by the -- --
Q. -- -- the talks with Syria?
The President. Well, I think that there's some good talks there. We still have differences, as everyone knows. But let's find common ground. Let's see if we can take these historic enmities and bring them -- eliminate them. And that's what we're going to try to do. But nobody is suggesting it's easy, including the Secretary of State, who tried very hard.
Q. What is the state of play, Mr. President, now on a permanent cease-fire? Are you going to the U.N. this week?
The President. Well, there will be some U.N. action this week, I think, or certainly U.N. consultation is already beginning. But we've got to work out between the coalition partners, get common ground between the coalition partners. But broadly speaking, people know what is required. I would like to see us reduce the flow of weapons into the area, which is an important -- could be an important part of this. But there are a lot of other difficult points.
Iraq must pay reparations or pay damages. The more one looks at the environmental terrorism that they embraced, that they brought about, the more the world understands that they have got to do something about that. So how do you do it? Well, they are potentially a wealthy country. The trouble is they've taken all that wealth and spread it into weapons and then into aggression. And the aggression has been checked, but now we've got to see that they use their resources for helping their own people. And that's a little complicated, given the three areas of contest right now -- almost combat right now -- the south, up to the north, and then some in Baghdad itself.
So anyway, all of these areas have to be dealt with. And we're trying. We're beginning to go to work on all of them.
Q. Mr. President, do you think Arab countries are willing to talk to Israel, and is there a genuine reciprocal view?
The President. Well, Secretary Baker had good discussions with Prime Minister Shamir on that. He had good discussions with the heads of many other governments on that. Talked to the Soviets about that, who still have an interest in the Middle East. And so, we'll just wait and see how all that develops. But I would hope that that would prove to be the case. Israel has restated its willingness to talk, and I think that's a very great thing.
Thank you all.
Q. When will you go to the Middle East?
The President. No plans yet. It's not set.
Note: Dr. Elie Wiesel, founder of the Elie Wiesel Foundation for Humanity, spoke at 10:10 a.m. in the Oval Office at the White House. In his remarks, President Bush referred to Secretary of State James A. Baker III, President Saddam Hussein of Iraq, and Prime Minister Yitzhak Shamir of Israel. A tape was not available for verification of the content of these remarks.
George Bush, Remarks at the Presentation Ceremony for the Elie Wiesel Foundation Humanitarian Award and an Exchange With Reporters Online by Gerhard Peters and John T. Woolley, The American Presidency Project https://www.presidency.ucsb.edu/node/265486