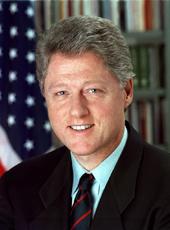 Remarks at the Posthumous Commissioning Ceremony for Johnson C. Whittaker
To the members of the Whittaker family, Secretary West, General Davis, General Gorden, General Griffith, Senator Hollings, Senator Thurmond, Congressmen Spratt and Clyburn, ladies and gentlemen, welcome to all of you.
Today is a good day for the United States. Today we honor the memory of a great American, Johnson Chesnut Whittaker. Born into slavery, he was appointed to West Point in 1876 at the age of 17. Life at West Point was harsh for all cadets, but for the few African-Americans like Johnson Whittaker, it was doubly difficult. He was ostracized by his white peers. Few spoke to him except to issues orders and commands.
From the beginning, the odds were against him. Then in April of 1880, Johnson Whittaker was assaulted in his barracks. Three masked men tied him to his bed and left him battered, bleeding, and unconscious. His superiors charged that Whittaker had mutilated himself and faked unconsciousness to gain attention. After a lengthy court-martial, he was convicted and sentenced to dismissal from the Army.
The court-martial was overturned by President Chester Arthur. But on that very day, the Secretary of War dismissed Johnson Whittaker from West Point. The grounds for dismissal: He had allegedly failed an oral examination in philosophy.
Johnson Whittaker was a rare individual, a pathfinder, a man who through courage, example, and perseverance, paved the way for future generations of African-American military leaders: General Chappie James, Lieutenant General Benjamin O. Davis—who is with us today—General Colin Powell, and so many others. In part because Whittaker and others like him took those first brave steps, America's Armed Forces today serve as a model for equal opportunity to our entire country and indeed to the world.
Johnson Whittaker did more than open doors in our military; he left to his descendants a remarkable legacy of determination and a sense of duty. Two of his sons served as Army officers during World War I. One returned home and served the citizens of his State as president of South Carolina State University. A grandson flew with the famed Tuskegee Airmen during the Second World War. His granddaughter, Cecil Whittaker Pequette, who is here with us today, gave voice to her community as a founder of the Detroit Tribune. And today his greatgrandsons, one a lawyer, the other a surgeon, also carry on the Whittaker tradition.
During his 4 years at West Point, Cadet Whittaker found his greatest source of comfort and strength in the Bible. Today, fading words on the inside cover of that fragile volume reveal a young man whose essential goodness still offers a lesson to all of us: "Try never to injure another by word, by act, or by look even," he wrote in his second year at the academy. "Forgive as soon as you are injured, and forget as soon as you forgive." On the following New Year's Day, Johnson Whittaker resolved, and wrote in his Bible, "never to commit an act at which my kind mother would have to blush, to do right at all times, under whatever circumstances and at whatever cost."
We cannot undo history. But today, finally, we can pay tribute to a great American, and we can acknowledge a great injustice. I would like to do two things today: first, to present to Mrs. Cecil Whittaker Pequette what may have been her grandfather's most prized possession, that old Bible that soothed his loneliness and was confiscated and kept all these years as a part of his court-martial record. And second, I am honored to present the Whittaker family with the bars that Second Lieutenant Johnson Chesnut Whittaker earned but was denied.
May God bless his memory, and may all of us honor his service to the United States of America.
Major, please read the commission.
NOTE: The President spoke at 1:38 p.m. in the Roosevelt Room at the White House. In his remarks, he referred to Secretary of the Army Togo D. West, Jr.; Lt. Gen. Benjamin O. Davis, Jr., USAF (Ret.); Maj. Gen. Fred A. Gorden, Commanding General, U.S. Army Military District of Washington; and Gen. Ronald H. Griffith, Vice Chief of Staff, U.S. Army.
William J. Clinton, Remarks at the Posthumous Commissioning Ceremony for Johnson C. Whittaker Online by Gerhard Peters and John T. Woolley, The American Presidency Project https://www.presidency.ucsb.edu/node/221960