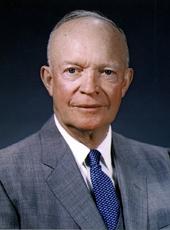 Remarks at the Pennsylvania Republican Rally on the Occasion of the President's Birthday.
Mr. Sharples, Fred, friends:
When the heart is full, the tongue is likely to stumble. But if you will bear with me a little while, I should like to try to tell you something of what this birthday means to me.
In the first place, please don't think there is any regret in my heart that I have reached the age of 63. Considering when I was born, had I not reached it, I know where I would be. And so I consider it something for which to be thankful, and not to regret.
Never, I think, has anyone had such a birthday. I have had that one who has been my life's companion by my side when I came here to meet this countryside filled with cordiality and hospitality. To each one here I say, could I only grasp your hand and try to say to you what I really feel, for your great kindness in coming out.
There have been a number of different emotions gone through my heart as I have seen some of the scenes. Those drilled, picturesque bands over in the stadium, I thought they were wonderful. To each of them I would like to give my thanks--to every waiter at the table, to every person that had anything to do with the decorations or the arranging of this whole party, the Sharples, of course, and Mr. and Mrs. Williams and all the others that I have met that have worked so hard to make this a great gathering of American folk.
Finally, we come down to this present just given to me. I have known about it for a long time. A thing such as this is far too important to risk any chance that it might be misunderstood. I believe here this evening, by this great group of patriots that have established these exchange fellowships, there has been initiated something that could well be the most meaningful thing that has happened in our time. Because, overshadowing everything with which we deal today, my friends, is the question of international relationships--international relationships of friendship and not enmity, not prejudice, not a preconceived notion that the other fellow is a skunk while we are pretty good fellows.
Knowledge itself is not enough. What we need is understanding, and this understanding will come from these young men and women as they go back and forth between our country and others, who have already achieved some place in life, who are marked as leaders, and who will carry back with them not only the skills and techniques of our country, or will bring their skills and techniques to ours, but they will carry understanding, an understanding of America's heart: that she wants peace--nothing else.
Such a birthday! I think I know possibly almost every man and woman whose name is signed at the bottom of this scroll. I tell you now, I could not be prouder than to have my name associated with theirs. Which means, also, because you are guests here this evening along with me and the hosts--I suppose you have a dual capacity--I am honored by the presence here of each of you.
And now, with your forbearance, could I speak a word to all the young folks down at the choir end of this great hall, who really mean the future of the United States.
This is, of course, a Republican gathering, but it is not a partisan gathering. And I should like to tell them, in a simple word, what the Republican Party is trying to do.
The Republican Party is trying to use all of its brains, all of the ability it has, all of its understanding of this world as it now exists, merely to establish the foundations from which you--you people down there, soon to take over--will carry this United States forward to greater blessings of liberty and freedom, under God, than it has ever known before.
Thank you very much, my very good friends.
Note: The President spoke in the Arena in Hershey at 9:36 p.m. In his opening words he referred to Philip T. Sharples, who served as host at the President's Birthday Party, and to orchestra leader Fred Waring. He later referred to Mr. and Mrs. Nathan B. Williams, Jr. Mr. Williams served as chairman of the rally.
Before the President spoke, Mr. Sharples presented him with the plans for the establishment of the first of the Eisenhower Exchange Fellowships
Dwight D. Eisenhower, Remarks at the Pennsylvania Republican Rally on the Occasion of the President's Birthday. Online by Gerhard Peters and John T. Woolley, The American Presidency Project https://www.presidency.ucsb.edu/node/232158