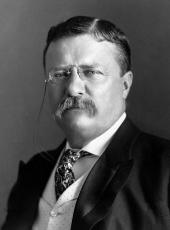 Remarks at the Park in Sacramento, California
Mr. Mayor, and You, Men and Women of Sacramento, and to You, the Children:
I am particularly glad to see the children this afternoon. I want to say a word to the teachers. There is no body of men and women in all our country to whom so much is owing as to those who are training the next generation, because it is the merest truism to say that the next generation determines the fate of this country. It is a great thing to have such commerce, such industry, such manufactures, such agriculture, as I have seen evidences of here in California; but the important thing, after all, is the quality of the citizenship. [Applause] Therefore, the future of the State depends not upon what is material, for that you can produce if you have the heart, the hand, and the head to do it; it depends upon the quality of heart, hand and head in the average American. That is what counts. Therefore a peculiar debt is owing to those who are educating the boys and girls of today, who will be the men and women of tomorrow, and upon whom we must depend to keep alive the traditions of our citizenship. .
I greet with pleasure you boys and girls, and you of the high school, you who in not many years will have to take upon yourselves the duties that come with full growth of body and mind. I am going to repeat to you one bit of advice which I have already given, advice to the young, which applies also to the old. I believe in play and I believe in work. I believe in having a good time, provided it does not interfere with your doing the work there is to do. Play hard while you play, and when you work do not play at all. It has given me the keenest pleasure to witness tonight this wonderful gathering in this beautiful place. I have come from the Atlantic across this continent to the Pacific, and in meeting the different bodies of my fellow-citizens one thing has struck me particularly, and that is the essential unity of our people. East or West, North or South, by the Atlantic, in the great valley of the Mississippi, among the Rockies, and here beside the greatest of all the oceans, wherever I meet a body of our people I meet men and women to whom I can appeal as Americans, and nothing else. I greet you. I thank you for coming. I am proud of you, proud to be your fellow-citizen. I believe in you with all my heart and I believe that the century that is opening contains the promise of the greatest achievement for this nation that any nation has ever enjoyed since the dim days when history dawned. [Cheers and applause]
Theodore Roosevelt, Remarks at the Park in Sacramento, California Online by Gerhard Peters and John T. Woolley, The American Presidency Project https://www.presidency.ucsb.edu/node/298179