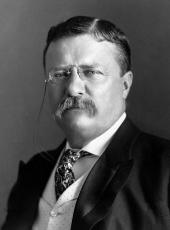 Remarks at the Overflow Meeting of the Centenary of Presbyterian Home Missions at Central Presbyterian Church in New York City
Mr. Chairman, ladies and gentlemen:
I am glad to have the chance of saying a word to you this evening, and I know you will pardon me if it is but a word, for I did not anticipate that there would be another meeting at which to speak.
Of course, the very first thing that any nation has to do is to keep in order the affairs of its own household; to do that which is best for its own life. And as has been so well and truthfully said, Dr. Van Dyke, by you this evening, the vital thing to a nation is the spiritual, not the material. Napoleon said that in war the moral was to the material as ten to one; and it is just exactly as true in civil and social life. I do not mean for one moment to undervalue the material. We must have thrift, business energy, business enterprise and all that spring from them, as the foundation upon which we are to build the great national superstructure. But it is a pretty poor building if you have nothing but the basement. It is an admirable thing to have material development, great material riches, if we do not misestimate the position that that material well-being should occupy in the nation. It is an admirable thing to have wealth if we use it aright and understand its relative value compared to the things of the spirit. Now that sounds like preaching. But it is only an expression of a political truism if you look at it in the right way. We have spread during the last century over this whole continent. One hundred years ago the home missionary work was begun. Do you realize that at that time anyone who went west of the Mississippi went into a foreign land? He did; and as late as 1846 anyone who went, in this latitude, to the Pacific Coast, went into a foreign land. But as we expanded nationally, so it was our good fortune that there should go hand in hand with such expansion the expansion of the church work, and of all that goes with church work. I do not think we can realize the all-importance of the way in which the vital need was met by the men who went out as missionaries, and pastors, and workers in the little raw, struggling communities whose people were laying deep the foundations of the great States that today fill the valley of the Mississippi and stud the Pacific Coast.
The men who went out have by their efforts given to what would other wise have been the merely material development of our people the spiritual lift that was vital to it— the spiritual lift that made in the end a great nation instead of merely a nation of well-to-do people. We want well to-do people, but if they are only well-to-do people, they have come far short of what we have a right to demand. A giant work looms up before the churches in this country, and it is work which the churches must do. Our civilization has progressed in many ways for the right; in some ways it has gone wrong. The tremendous sweep of our industrial development has already brought us face to face on this continent with many a problem which has puzzled for generations the wisest people of the old world. With that growth in the complexity of our civilization, of our industrialism, has grown an increase in the effective power alike of the forces that tell for good and of the forces that tell for evil. The forces for evil, as our great cities grow, become more concentrated, more menacing to the community, and if the community is to go forward and not back they must be met and overcome by forces for good that have grown in corresponding degree. More and more in the future our churches must realize that we have a right to expect that they shall take the lead in shaping those forces for good.
I am not going to verge on the domain of theology, and still less of dogma. I do not think that at the present time there will be any dissent from the proposition that after all in this work-a-day world we must largely judge men by their fruits; that we cannot accept a long succession of thistle crops as indicating fig trees; and that we have a right to look to the churches for setting the highest possible standard of conduct and of service, public and private, for the whole land; that the church must make itself felt by finding its expression through the life work of its members; not merely on Sunday, but on week days; not merely within these walls, but at home and in business. We have a right to expect that you will show your faith by your works; that the people who have the inestimable advantages of the church-life and the home-life should be made to remember that as much has been given them, much will be expected of them; that they must lead upright lives themselves and be living forces in the war for decency among their surroundings; that we have a right to expect of you and those like you that you shall not merely speak for righteousness, but do righteousness in your own homes and in the world at large.
Theodore Roosevelt, Remarks at the Overflow Meeting of the Centenary of Presbyterian Home Missions at Central Presbyterian Church in New York City Online by Gerhard Peters and John T. Woolley, The American Presidency Project https://www.presidency.ucsb.edu/node/343537